We here at Steel City Underground believe (and yes, we admit we may be a bit biased) that the fans who make up Steelers Nation are the greatest fans in the world.  As such, we thought it would be a cool idea to get to know some of those fans, and to spend some time looking at the huge number of fan groups and clubs that have formed all over the country (and in fact, the world).
To help us do this, we introduced the concept of the "Fan Club Spotlight".
The response has been pretty awesome – and we picked our inaugural group to visit and spend time with during the Steelers/Jaguars game.
That group was the SE PA Steelers Fans, a group that has been around for a little over 7 years, and meets every Steelers game day at Dave and Buster's in Plymouth Meeting Mall which is located in Plymouth Meeting PA.
I met with the head of the group, Royce Repka and we did a live interview via Periscope on the Steel City Underground Twitter feed, which you can view here.
fan club spotlight https://t.co/jLnnNuzuWO

— SteelCityUnderground (@steelcityundrgr) October 8, 2017
The group consists of about 500 members, and can have as many as 120 – 150 show up for game day. The group consisted of a lot of extremely vocal and supportive members of Steelers Nation, and I talked to a few during the course of the game.
Our partner here at SCU, Total Sports Enterprises (TSE) was kind enough to provide both a signed custom Le'Veon Bell jersey which was raffled off during the game (and a portion of the proceeds went to support the March of Dimes, which you know is near and dear to my heart).  The jersey was won by one lucky member of the group.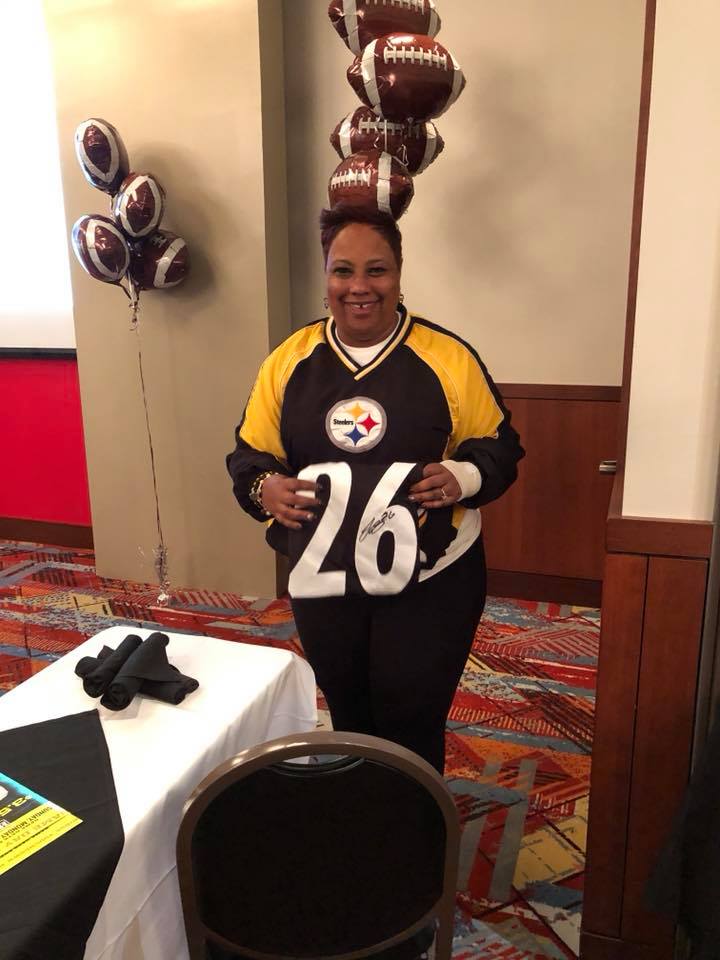 In addition, TSE also provided a special discount code (SEPAFANS) which is good for a 35% discount on most items available at TSEShop.com. (The code is good for a week, and if you want to join in the celebration of this fan group, you can go ahead and take advantage of it as well, we promise not to tell).
Unfortunately, the game itself put a bit of damper on the festivities as the Steelers lost to the Jaguars 30-9. Still, the majority of the crowd stayed to support the Steelers until the very end.
While we certainly wish it had been a more positive game outcome, it was great to spend the afternoon with a great group of Steelers fans.  They were welcoming and supportive and tried their best to cheer the Steelers to victory.
If you live in the Philadelphia area, you can't lose taking a trip to visit this group and hang with a bunch of Steelers die-hard's while watching the Black and Gold play. If you want to check out the group, here is a link to their Facebook page: https://www.facebook.com/groups/886474034808990/
If you can't actually get to the game, watching with these guys is about as close as you can get!  I know I'll be back. Thanks again to the SE PA Steeler Fans – our inaugural "Fan Club Spotlight" group!
If you have a group of Steelers fans that you like to be considered for the Fan Club Spotlight, contact us at fanmail@steelcityunderground and tell us about it!