I will let you in on a little secret: I don't watch baseball, basketball, golf, or even hockey. (I know, this disqualifies me from being a true Yinzer.) However, while the rest of you are enjoying these sports, I'm studying game film to help keep you in the loop and to give you insight on which players the Steelers should be looking to draft when April 26th rolls around.
Since the end of the college football season, my posse and I have been diligently studying countless NFL draft prospects. After hours of extensive research and film study, I comprised a positional big board for the first five rounds of the 2018 draft.
Keep in mind that this board is not exclusively a "Steelers" board. Rather, an overall big board on how I have each of these players ranked. Take a look: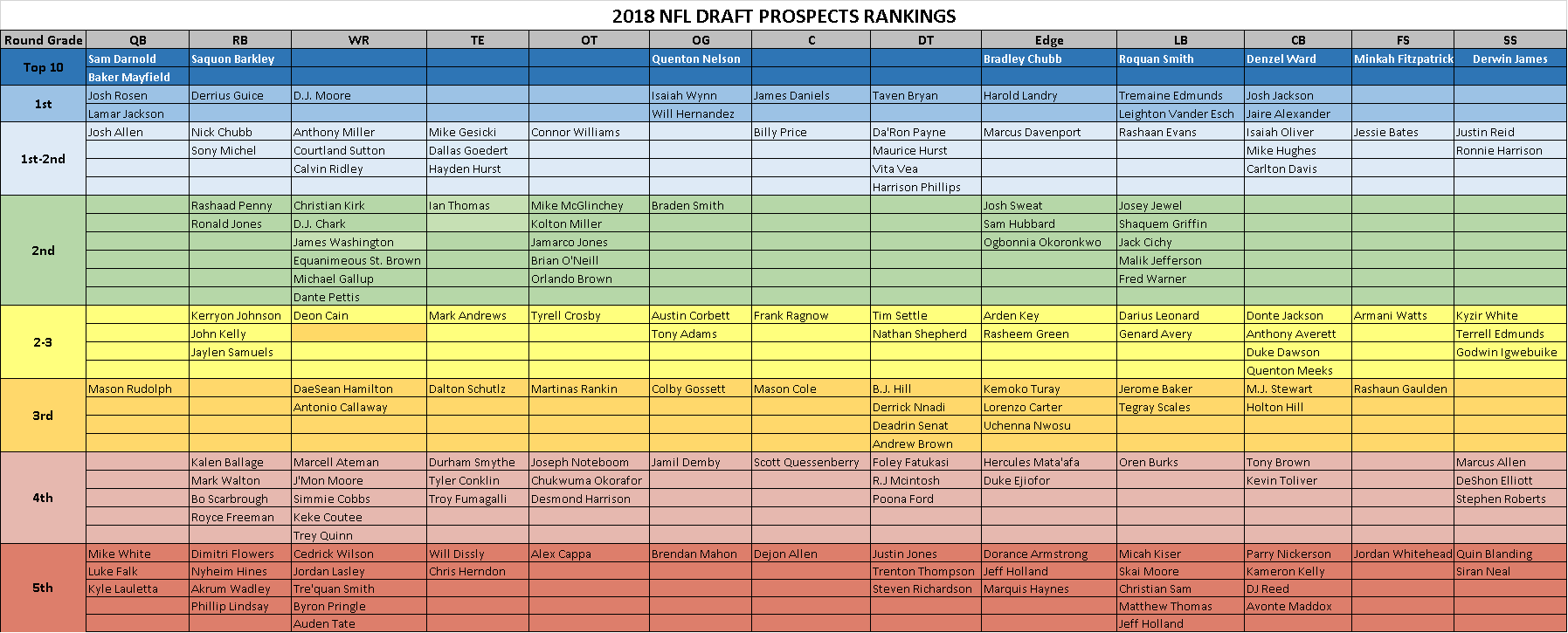 Click or tap on the image to open it in a new tab/window. This will help you scale it to better read.
Players I like for the Steelers
Leighton Vander Esch
I am extremely high on Boise State linebacker, Leighton Vander Esch. I think he is one of the few players in this draft who could fill in at Mack linebacker after the loss of Ryan Shazier. He excels at each level, and his potential is out of the ceiling. However, it's becoming less and less likely he will be available at pick 28.
Taven Bryan
I have to say I am a pretty big Taven Bryan fan. His college statistics are nothing to ride home about, and he lacks discipline at times. However, the burst, strength, and explosion are all there. He could play numerous positions across the Steelers defensive front and would be one of their best interior rushers on third downs from day one. The sky is the limit for Bryan.
Josh Jackson
If Josh Jackson falls, he is a player Pittsburgh should definitely consider. Jackson isn't known for his tackling ability, but he's a long, rangy corner with amazing ball skills. Cornerback isn't really a position of need at the moment, but the Steelers should be willing to make an exception in his case.
Derrius Guice
Running back isn't a major need with Bell on the team for one more year, but it could be after the 2018 season. Guice is a top 15 player in this draft. He has a chance to be a top-five RB at the next level if he falls on the right team. If he fell to the Steelers, they should take him based on value alone.
Jack Cichy
Cichy may not get drafted in the first two rounds. However, put on his 2016 film and you will find a player that would have been in consideration for a late 1st round pick had it not been for two significant knee injuries. Cichy would be a solid upside pick in the second or a steal in the third.
Equanimeous St. Brown
If the Steelers have no plans to resign Martavis after the 2018 offseason, then St. Brown makes perfect sense. The nearly six-foot-five receiver is raw, but he can stretch the field and would fill in nicely as the Z receiver.
Shaquem Griffin
Shaq Griffin is much more than a feel-good story - he is a remarkable football player. He constantly looks like the best player on the field. The Steelers could use him at strong safety on run downs, nickel linebacker in passing situations, or even have him rushing off the edge. I think he will still be a solid player, despite having just one hand.
Harrison Phillips
Phillips is a powerful, athletic defensive tackle that could play zero-tech nose tackle for the Steelers in their base defense, but can also stay on the field on passing downs. What's not to like?
Jaylen Samuels
Though he was listed as a TE, Samuels projects as a running back at the next level. I can foresee him being a very solid receiving/blocking back who can do a little bit of everything for the team. He could be a great way to bridge the gap if Le'Veon Bell leaves next year.
Players I don't like for the Steelers
Rashaan Evans
This may come as a surprise to you, but this is a player that concerns me. Evans has solid good tape, but was really lacking in college production and rarely dropped back in coverage. On top of this, he tested very poor at his Pro Day and elected not to run the 40-yard dash. Evans would be best suited as a Buck linebacker (which the Steelers already have). I don't think he would be an ideal fit next to Vince Williams or Jon Bostic.
Mason Rudolph
There are a lot of mixed opinions on Rudolph, but I am not a huge fan. Yes, his college statistics were great, and he can throw a pretty deep ball from time to time. However, he played in a gimmicky air-raid offense and he can be wildly inaccurate at times. I see a player who is better suited as a backup at the next level than a franchise signal caller.
Offensive Tackles
The Steelers just lost Chris Hubbard in free agency, so it's not unfathomable that they could draft another tackle. I'm just opposed to drafting a tackle early. The tackle prospects in this draft are just so-so, and there isn't a single one I would consider in the first.
Safeties
The problem I have with safeties in this class is I don't believe Justin Reid, Jessie Bates, or Ronnie Harrison will be the best players available when the Steelers pick in the first round. The other problem is that they will all be gone before the Steelers second-round pick. After these three, there is a huge dip in quality at the position. Still, I wouldn't reach for one if another first-round talent is still on the board.
Jerome Baker
You watch Baker on tape, and it is very underwhelming. Though he tested as a great athlete, it doesn't translate on the field. He can be seen getting manhandled by offensive linemen on most run plays. I don't know if he's a guy that could hold up as more than a part-time linebacker on the linebacker on the Steelers.