SCU Sim Saturday: 2016 Week 1 – Steelers vs Redskins
Welcome to a new segment here at Steel City Underground: SCU Sim Saturday!
We figured out the best way to get an accurate, and realistic, portrayal of the upcoming Steelers game: a Madden 17 simulation.
(Okay it may not be either of those, but it's fun!)
The Steelers will begin the season by facing the Washington Redskins. I ran a Madden simulation as a way to sort-of get a preview of what we can expect from this game. The settings included: all-pro difficulty, 15 minute quarters, and 20 second accelerated clock.
Football is finally back! Unfortunately, the simulation didn't go quite as hoped…
Final Score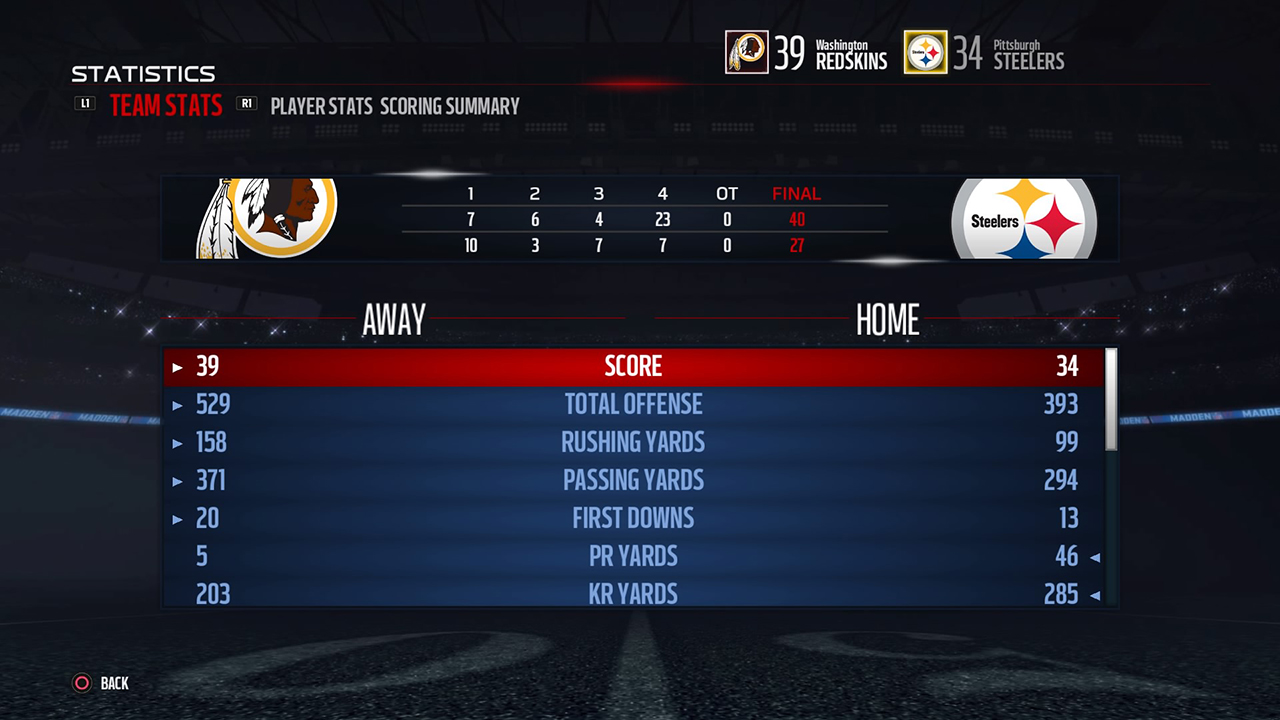 The final score is 39-34 in favor of the Redskins.
Key Stats – Steelers
Passing
Ben Roethlisberger: 294 yards, 1 touchdown, 1 interception, 55% completion
Rushing
DeAngelo Williams: 25 rushes, 69 yards
Fitzgerald Toussaint: 8 rushes, 28 yards, 1 touchdown
Receiving
Antonio Brown: 6 receptions, 114 yards
Darrius Heyward-Bey: 4 receptions, 55 yards
Markus Wheaton: 3 receptions, 42 yards. 1 touchdown
Jesse James: 3 receptions, 43 yards
DeAngelo Williams: 3 receptions, 37 yards
Defense
Cam Heyward: 6 tackles, 2.5 sacks
Lawrence Timmons: 5 tackles, 1 sack
Stephon Tuitt: 4 tackles, 1 sack
Javon Hargrave: 2 tackles, 1 sack
Robert Golden: 4 tackles, 1 interception
Takeaways
Antonio Brown led the receivers in catches and yardage, of course. Whether real life or video games, Brown is incredible and cannot be stopped by any cornerback. Ben also spread the ball per usual to all of his guys.
The Steelers did a great job pressuring the Redskins. None of our outside linebackers recorded a sack, but our defensive line had a field day. The defensive line leading the team in sacks at the end of the year isn't an outlandish thought.
@Jay_MostWanted gets his first #NFL sack in our upcoming #Madden17 sim of #Steelers #Redskins #MNF @easports https://t.co/pJyGvFsTad

— SteelCityUnderground (@steelcityundrgr) September 9, 2016
Justin Gilbert proved his value right away by scoring a touchdown on a 97 yard kick return. With his 4.3 speed, bringing a kick to the house certainly isn't out of the question for the newest Steeler. (Gilbert has been listed on the depth chart as the #2 kick returner.)
Chris Boswell got his chance to truly shine in the game; when he scored on a trick play, rushing for a 5 yard touchdown on a fake field goal.
@WizardOfBoz09 scores a rushing TD in our upcoming #Madden17 sim of #Steelers #MNF (Comically @DeAngeloRB d… https://t.co/HF5drAbaxC

— SteelCityUnderground (@steelcityundrgr) September 9, 2016
Key Stats – Redskins
Passing
Kirk Cousins: 405 yards, 3 touchdowns, 1 interception, 78% completion
Rushing
Matt Jones: 22 rushes, 142 yards, 1 touchdown, 1 fumble
Receiving
Jordan Reed: 7 receptions, 104 yards
Matt Jones: 5 receptions, 35 yards 1 touchdown
DeSean Jackson: 5 receptions, 143 yards, 1 touchdown
Jamison Crowder: 4 receptions, 23 yards
Vernon Davis: 4 receptions, 56 yards
Defense
Josh Norman: 7 tackles, 1 interception
Takeaways
The Steelers seemed to have no answer for Matt Jones. The Steelers run defense and defensive line is one of their strengths, so hopefully this won't be the case Monday.
Unfortunately, Kirk Cousins managed to shred the Steelers secondary. Pass defense has been a real issue for the Steelers in past years. Though they have doubled down on their efforts by acquiring new players like Sean Davis and Artie Burns, the secondary remains full of question marks.
The Redskins didn't sack Ben once. This is great news for the Steelers, for keeping Ben healthy is key. The recent investments in the Steelers offensive line will surely pay dividends this season.
Final Thoughts
This Madden simulation is clearly no indication of what will happen Monday, but some details are believable.
The Redskins have a strong receiver corps and certainly could cause headaches for this Steelers secondary.
The Redskins also could have trouble getting to our quarterback due to the Steelers having one of the best offensive lines in the league.
I do believe the game will be high scoring as well, which is enforced by the simulation.
I have confidence that the Steelers will prove this simulation wrong, and beat the Redskins. It won't be a cakewalk like some fans believe though: both teams will certainly get some splash plays, and commit at least one turnover.
However, I have faith in my team.
Madden be damned!