Why isn't Le'Veon Bell in the NFL MVP conversation?
Of all the things the NFL can get me fired up about lately, one of those is something that we really don't need to care about, but as fans still do: the NFL's Most Valuable Player award.
I say "as fans" because Le'Veon Bell himself shied away from talk that he could be in the running as the league's MVP nearly one month ago:
"I'm not really worried about an award. I gotta do whatever it takes for us to win the Super Bowl. Whatever happens, happens."
Now, I don't want the title to sound misleading: Bell is in the conversation for the prestigious award, voted on by entities such as the Associated Press (AP), the Newspaper Enterprise Association (NEA), Pro Football Writers of America (PFWA), and United Press International (UPI).
However, he's not in serious contention, based on some of the weekly voting results.
And that Steelers Nation, is a crying shame.
That's not to say there aren't other players who deserving of such an honor, such as Atlanta Falcons QB Matt Ryan, or Dallas Cowboys RB Ezekiel Elliott. Those athletes are as deserving as anyone, as each has taken their team to new heights on account of their great seasons.
My gripe is with the near runaway status of the guy who was headlining these talks for the better part of 2016: New England Patriots QB Tom Brady.
Brady vs. Bell
Did Brady have a good season? Yes.
Did he play a complete season? No.
And therein lies my issue with leaving Bell out of the main part of the conversation. Yes, Le'Veon missed three games this year, but Tom Brady missed four… well technically, each missed more than that, as Brady was benched after the Pats already had a healthy lead on the New York Jets in Week 16, while Bell didn't play at all in the Steelers Week 17 finale against the Cleveland Browns.
Yet, Brady's inclusion near and/or at the top of the MVP list should rub Steelers fans the wrong way. It's not just because of Brady missing games, but the reason he missed those games: he was accused of cheating.
This will open Pandora's Box, as Le'Veon Bell supposedly missed a drug test, but Bell's suspension was in fact reduced from 4 games to 3, with a special concession that his next miss/fail would only result in the latter suspension and not the next step, to 10 games: an admission of the league's guilt amidst rumors they mishandled their own policies, and were at least at partial fault.
Contrast that to Tom Brady's punishment for his potential involvement in fixing game balls, something that has a literal impact the outcome of what happens on the field, and there's no contest: Brady should "sit" a year out for any kind of accolades in much the same way college teams are forced to sit out Bowl games for violating NCAA rules.
QB-only award?
But let's forget all of that and treat things equal for a moment. Both men missed games, for whatever reasons, but was Brady's season better than Bell's? Should the NFL MVP award simply be handed over to quarterbacks, year-in, and year-out?
Those are as subjective of questions as voting for whom is the "best" player in the league, but questions that must be touched upon. Quarterbacks have won the award the last 4 straight years, with a running back, Minnesota RB Adrian Peterson, being the last non-quarterback to win in 2012.
Prior to Peterson's win, five quarterbacks claimed the trophy before him, and only three non-quarterbacks, all running backs, have been named MVP since 2000: the Rams' Marshall Faulk (2000), the Seahawks' Shaun Alexander (2005), and the Chargers' LaDainian Tomlinson (2006).
So skewed is the voting toward the team's signal callers, that the award was actually shared by two quarterbacks in 2003: Peyton Manning and Steve McNair.
Yet, it's the Steelers own quarterback, Ben Roethlisberger, who feels Bell should be considered for MVP:
"I think they [Ezekiel Elliott and Le'Veon Bell] at least deserve to be in the conversation. At least my guy, I know it. I know, obviously, what Ezekiel has done. But I put my vote for 26 any day."
Bell's big year
And rightfully so.
Bell led the AFC with 1,884 scrimmage yards (1,268 rush, 616 receiving) while averaging 157.0 scrimmage yards per game: the third-highest single-season average in NFL history.
26 also added something to his resume that only one other running back has done before: With 236 rushing yards, three touchdowns, and four catches for 62 yards in Week 14, Bell became the second player in NFL history with at least 225 rushing yards, three rushing touchdowns and 50 receiving yards in a single game.
He joined Pro Football Hall of Famer Jim Brown as the only other player to do so, a statistic which has stood the test of time since the former Browns great did it on November 19, 1961.
Bell also crushed his numbers toward the end of the season:
Scrimmage Yards Per Game Avg:
Dec./Jan. 2016

1. #Steelers Le'Veon Bell (@L_Bell26) 187.0
2. LeSean McCoy 125.8
3. Ezekiel Elliott 123.0

— Dom Rinelli (@drinelli) January 5, 2017
Adding to his milestone month, Bell was selected to the Pro Bowl, named AFC Offensive Player of Month for December/January, and AFC Offensive Player of Week (for that huge game in Week 14).
And to think, he did all of this, and also lead the entire league in rushing for the month, without playing in the final game!
Who is more valuable?
As for what that contribution meant to the Steelers?
The team didn't lose a single game during that span, and hasn't lost since November 13th (to the league-best Dallas Cowboys).
Brady's team is also on a 7-game winning streak, but saw a flub of a game against the Denver Broncos, completing only 50% of his attempted passing, with no touchdowns. (Good for a 68.2 QB rating.)
Over the same span, Bell never failed to reach at least 100 all-purpose yards in a game, and averaged a whopping 175 scrimmage yards. In his worst game of the season, Le'Veon was held to 70 total yards in a loss to the Baltimore Ravens; while the Patriots were still able to defeat the Broncos despite Brady's bad game.
The takeaway here is, while both players are clearly MVP's of their respective teams, a bad game by Brady didn't sink the Pats, while a bad game by Bell hurt the Steelers.
That means Bell is indeed more valuable than Brady, and though this became a Bell-versus-Brady topic, it's relelvent as Brady had lead the MVP talks for the better part of the season.
Who deserves it more?
ESPN's most recent poll saw Brady overtaken by Matt Ryan, but with Tom hanging on as a clear second: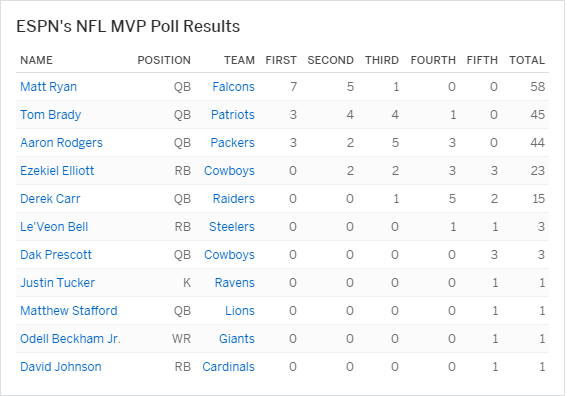 Many of those named are also deserving, but from a pure perspective of Brady being the "best" we can make an argument that Bell is more deserving… and especially more deserving than say, Justin Tucker, a kicker for a Ravens team which didn't make the postseason (but still received as many fifth place votes as Bell!)
As we all know, this is much ado over nothing. It would be nice for a change to have a Pittsburgh Steeler recognized for their efforts. Yet, as long as Tom Brady and Bill Belichick reign over a weak AFC East division, in a larger Boston TV market, it's expected that Bell, Antonio Brown, or Big Ben's accomplishments, will continue to fly under the radar.