Steelers select QB Joshua Dobbs in fourth round of 2017 NFL Draft
The Pittsburgh Steelers opened day three of the 2017 NFL Draft by selecting quarterback Joshua Dobbs from the University of Tennessee.
With the 135th pick in the 2017 #NFLDraft, we select QB Joshua Dobbs. pic.twitter.com/kefGLhF63X

— Pittsburgh Steelers (@steelers) April 29, 2017
Dobbs was the 135th overall pick and may be the quarterback so many fans seemed to be asking the Steelers to get in the draft this year. Our own writer Zac Celedonia even wrote a piece on why the steelers should draft Dobb weeks ago.
Dobbs was predicted early to go higher in the draft, leaving many to wonder why he was still available in the third round; some projected him to go in the second round.  Senior Bowl executive director Phil Savage admitted that Dobbs may slide as early as last week.
Josh Dobbs he seems to be on fire right now in terms of a lot of the buzz that's out there, but (NFL draft week) is a week of a lot of smoke because most of the teams have their boards set, and there's a lot more time to have conversations with other clubs and members of the media. – Savage
Expectations were extremely high for Dobbs as he entered the 2016 college season at Tennessee, but many scouts and pro teams are looking at performances that stand out – SEC East titles, Heisman Trophy Awards – and that didn't happen for the Vols or their quarterback. As an aerospace engineering major, Dobbs has plenty of intelligence on and off the football field. Last season, he recorded 2,946 yards and 27 touchdowns via the pass and added 831 yards and 12 TDs on the ground. His 12 interceptions were a concern.
Dobbs finished his Tennessee career with a 23-12 overall record, including 3-0 in bowl games. He set Tennessee records for career rushing yards by a quarterback (2,160), career rushing touchdowns by a QB (32), single-season rushing yards by a QB (831 in 2016) and single-season rushing touchdowns by a QB (12 in 2016).
And then Dobbs went to the Senior Bowl and NFL Scouting Combine. At the Combine Dobbs beat Deshaun Watson (Clemson), who was selected no. 12 overall in round one of the 2017 Draft by the Houston Texans, in some events. Dobbs was faster in the 40, had a higher vertical jump, pushed himself farther in the broad jump and tied Watson in the 20-yard shuttle.
Besides first round selection TJ Watt, Dobbs may be the most athletic player selected in the Steelers draft.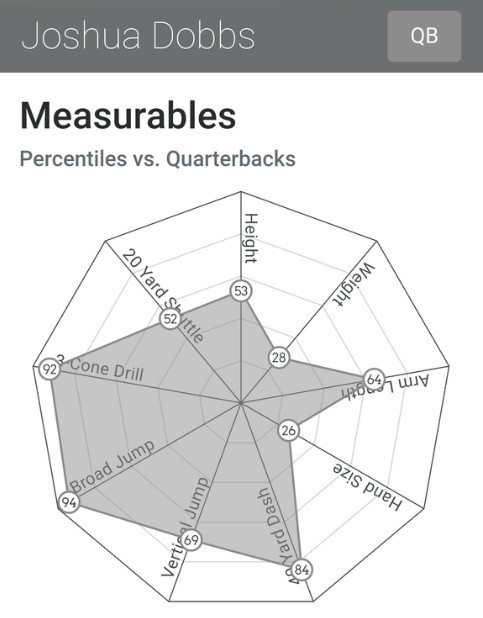 Dobbs is more than just an athlete though.
"He continues to impress me," ESPN analyst Louis Riddick, a former NFL pro scout and director of pro personnel for the Washington Redskins and Philadelphia Eagles, said of Dobbs on Combine Saturday.
He looked very comfortable, looked a little bit robotic in some of his drops, but his accuracy, again, was good, and he didn't flinch at all in this, which I think continues to bode well for his prospects once he continues to get the kind of NFL environment coaching he's going to get. – Riddick
Athlon's 2016 SEC Offensive Player of the Year will now join Ben Roethlisberger, Landry Jones and Zach Mettenberger on the Pittsburgh Steelers' roster. As one of just three SEC quarterbacks to ever record 15 passing touchdowns and ten rushing touchdowns in multiple seasons, Dobbs will get an opportunity to show how quickly he can pick up Todd Haley's offensive playbook and give the backup position a real run for its money behind Roethlisberger for the 2017 season.
Welcome to Pittsburgh Josh!
Press conference on 4th-Rd pick, QB Joshua Dobbs. Watch more on @nflnetwork https://t.co/TexgcKpw4d

— Pittsburgh Steelers (@steelers) April 29, 2017
---
Suggested articles from our sponsors