Steelers new safety Daimion Stafford more than a camp body
Over the course of the summer, the Pittsburgh Steelers' 90-man roster is in constant motion and continually changing. As players get cut from other teams, players get injured, and needs become more apparent, the coaching staff continually makes moves with the intent of bettering the team.
Fans have been frustrated with how the Steelers have handled the safety position. While Mike Mitchell and Sean Davis are locked in as the starters, the players behind them aren't exactly inspiring. To the surprise of many, the Steelers didn't address the position in either free agency or the NFL draft. Back-up Jordan Dangerfield seemed like a lock to make this roster not because of his talent, but because of the lack of competition behind him. That changed recently with the signing of safety Daimion Stafford.
Stafford isn't a big name by any means, but some digging shows that he is a player with some promise. Stafford attended the University of Nebraska and was selected in the 7th round of the 2013 NFL Draft by the Tennessee Titans. He has good size at 6'0, 221 lbs. However, a look at his combine results shows one of the reasons he fell in the draft: his testing wasn't pretty.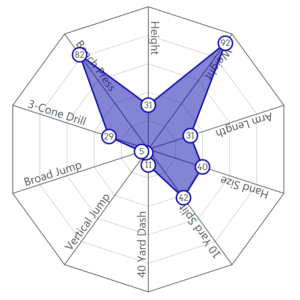 Despite this poor testing, he managed to make the Titans' 53-man roster. He compensates for a lack of overall athleticism with physicality and used that to hone his run support and special teams skills.
Over the course of his career he gradually received more playing time and during his final season with the Titans in 2016, he started 6 games while playing in 15 total – playing 57% of the snaps on defense. He finished with 1 interception, 1 fumble recovery, 1 sack, and 41 total tackles – 3rd highest on the defense.
A look at Pro Football Focus shows that Stafford was a very efficient run defender. He finished the 2016 season with a grade  in this area of 78.9 – the highest grade in the Titans secondary and ranked #32 among all NFL safeties. To put that number in perspective, the highest grade in the Steelers secondary belonged to Mitchell with a grade of 74.8 – ranked #50 among NFL safeties. That's not the only area he bested the Steelers safeties in however.
Stafford also received a favorable PFF grade for his run stop percentage.
The Steelers have signed former Titans safety Damion Stafford, who brings run-stopping prowess to the Pittsburgh secondary. pic.twitter.com/2WKD0WsavN

— Pro Football Focus (@PFF) May 30, 2017
While an efficient run defender, special teams is where Stafford has truly shined. During his first 3 seasons with the Titans, he led the team in special teams tackles. Stafford was also voted as special teams captain for the Titans in 2016. This is a common avenue for players to make the Steelers roster and Stafford's exceptional special teams record will certainly help him in his fight to make the 53-man roster in Pittsburgh.
All of this information points to a role for Stafford on the Steelers roster as a special teams ace and acceptable back-up on defense. His experience, leadership, and strong tackling put him in a spot to have a shot at being with Pittsburgh in 2017. Dangerfield played admirably during his first season with the Steelers in 2016, but his performance didn't offer a reason to call him a lock to make this team. Like Dangerfield and many other fringe players, Stafford will have to earn a roster spot because of his special teams ability.
While he may not fare much better than Robert Golden with his pass defense skills, Stafford still adds solid depth and experience to this safety group. A brief look at Stafford clearly shows he hones the physicality and tough mindset the Steelers love. This physicality, along with his experience on special teams and playing defense, makes Stafford a legitimate contender for a roster spot.