Video: Two second-half Dalton INTs propel Steelers to victory
When you think of the word rivalry when it comes to the Pittsburgh Steelers, you think of the Baltimore Ravens, without even hesitating. The Cincinnati Bengals seem to disagree and claim that the real showdown and true AFC North rivalry is with the Steelers. We all know the truth and it's a bittersweet moment when Pittsburgh comes away with the victory like they did Sunday evening, 29-14, against Cincinnati.
In this short film breakdown, we are going to discuss two interceptions that occurred in the second-half of the football game that gave the Steelers momentum, ultimately resulting in a solid victory over a division foe.
This season, the Steelers defense came ready to play. The additions of veteran cornerback Joe Haden, and giving slot corner Mike Hilton an opportunity to showcase what he got, really solidified what was once a shaky secondary. Drafting T.J. Watt out of the University of Wisconsin in the first round is looking good so far, as he is tied with inside linebacker Vince Williams and defensive end Cameron Heyward for the most sacks (4) on the team.
Revamping this Steelers defense has taken some time, but it has paid off. The defense has kept this team in multiple games due to the offense still struggling to get touchdowns instead of field goals. Yesterday, kicker Chris Boswell went 5/5 on field goals and 2/2 on extra points. Any fan of this organization would love to see these numbers switched. It's a good thing that the secondary came to play in the second-half after struggling mildly in the first two quarters of play.
After watching a little bit of the early afternoon Browns game and seeing how terrible their offense is, there were times in the game where I saw the Titans running a cover 1 defense (one high safety in the middle of the field while every other athlete is manned up using outside leverage position) and Hue Jackson and company didn't take the one-on-one deep shot. Why not throw the deep ball to your best receiver with the hopes that he comes down with it, or that a pass interference is called?
Early in this game, the Bengals had an opportunity to exploit the Steelers defense when they were running cover 1. Spoiler Alert: Dalton didn't check out of the run (must not have seen the coverage). A.J. Green one-on-one with a high safety is exactly what you want if you're the Bengals.
Veteran quarterback Andy Dalton finished the game going 17/30 for 140 yards, two touchdowns, and two interceptions. In the first half of play, Dalton was red hot missing only one target and throwing for two touchdowns. He had a 114.6 passer rating in the first half compared to a 10.7 passer rating in the second half. You can say that Keith Butler and Mike Tomlin really made some halftime adjustments. When you throw the football out of bounds with the game on the line on 4th and 3, you know it's a rough day at the office for Dalton.
Let's dive into the two interceptions.
Joe Haden's First Steelers INT
Basic Review: In the above clip, veteran corner Joe Haden is seen playing press man-to-man on Green at the top of the screen. At the last possible second, Haden drops back and is no longer playing press man. Dalton hikes the football, steps back, and throws the quick slant, which is open. Green tries to use his right hand to snag in a one-handed catch but can't. The football stays on Green's back for second and Haden grabs it for his first career interception with the Steelers. What a way to capture your first INT.
In-Depth Review: The defensive play call above was a cover 3 zone. When you run this three-deep, four-under zone defense, you can expect four defensive athletes to rush the passer and seven to drop into coverage. In this case, linebacker Bud Dupree's job was to cover the flats after slightly jamming tight end C.J. Uzomah. Rookie linebacker T.J. Watt either recognized the quick throw by Dalton and dropped back into coverage to try and bat the ball down, or his job was to cover the flats as well with just a three-man rush by the front defensive linemen. Linebackers Ryan Shazier and Vince Williams dropped into coverage. Shazier has the curl-flat while Williams has the middle hook.
Dalton had to lead Green on the slant route due to Watt dropping so quickly back into coverage. The throw was led too far and Green could only get one hand on the football, resulting in a solid interception by Haden.
The Bengals offense ran a 12 personnel package (2 TE set, 1 RB, 2 WRs).
Basic Review: The Bengals had an opportunity down 26-14 at the 44-yard line to put some points on the board and get back into this football game. On 3rd down and 4, quarterback Andy Dalton was looking for wide receiver Josh Malone on a post-route, but it was broken up by strong safety Sean Davis, who perfectly jumped the route and broke the pass up in the air for fellow corner William Gay to intercept the football.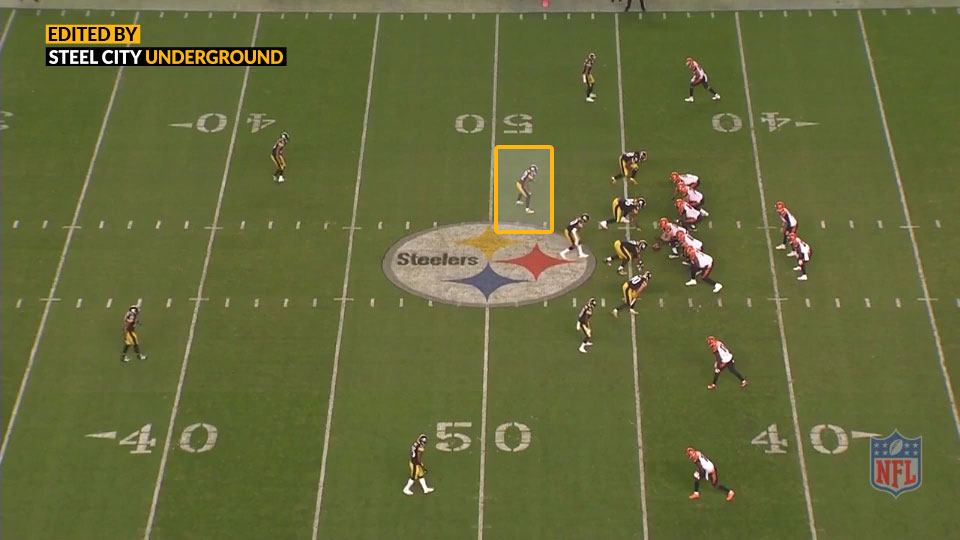 In-Depth Review: Pittsburgh was running a two man-under type of coverage. Outside cornerbacks Joe Haden and Artie Burns seem to be playing zone instead of man. Cornerbacks William Gay and Mike Hilton are following their athletes (man-to-man). It's a 4-3 with a dime package (six defensive backs on the field, normally two safeties and four cornerbacks). In this case, the four corners are Hilton, Haden, Burns, Gay. The two safeties are Davis and Mitchell.
The Bengals offense ran an 11 personnel package (3 WRs, 1 TE, 1 RB).
Conclusion
A year ago after losing to the New England Patriots in the AFC Championship Game, everyone wanted defensive coordinator Keith Butler fired for running a zone defense against Tom Brady. At the time, this defense did not have the personnel to play man coverage and to pressure Brady. A season later, I believe they have what it takes to be a force that can dethrone the Patriots.
The additions of Mike Hilton and Joe Haden really solidified this secondary without a doubt. Have to continue to get consistent pressure from the defensive front. Butler needs to continue to bring a corner blitz here and there with Hilton, who has a PFF grade of 83.0 on the season (ranking 19th of all corners in the league). That is quite impressive for an undrafted athlete.
Pittsburgh's defense is looking stronger than ever! Can't wait to continue to watch the process unfold in front of our eyes. Go Steelers!