3 reasons Le'Veon Bell may already be in "running back decline"
If you were to nitpick through Le'Veon Bell's 2017 statistics, you will find things that will no doubt be appealing to the naked eye. For instance, he led the entire NFL in rushing with 1,291 yards and scored 9 touchdowns on the ground. In the passing game, Bell finished 10th out of all players in receptions (85) and added another 655 yards and 2 touchdowns through the air.
Most fans would look at these statistics and make a case why the Steelers should pay Le'Veon Bell anything he wants to stick around. Before you come up with the same conclusion, let me share a few more stats with you and show you why Bell is no longer the running back he once was.
Inefficiency
Though Bell still garnered some mind-boggling statistics in 2017, his efficiency took a major dip since the 2016 season.
Counting both the regular season and the playoffs each of the past two seasons, Bell has dropped his rushing average by an entire yard per carry. His receiving average and efficiency also dropped as well:
| Year | Attempts | Y/C | Targets | Y/R | Y/Target |
| --- | --- | --- | --- | --- | --- |
| 2016 | 326 | 5.0 | 94 | 8.2 | 6.5 |
| 2017 | 337 | 4.0 | 105 | 7.7 | 6.1 |
Bell has had a massive workload the past couple of years, but he is clearly more inefficient now than he has been since coming into the league. The statistics back this up, as Bell has seen by far his lowest rushing yards per attempt since coming into the league in 2013.
Need for Speed
Le'Veon Bell has never been known as a fast player, but his lack of a second gear was on full display in 2017. Astonishingly, Bell was only able to muster 3 runs of 20+ yards despite heavily leading the league in carries with 321 in the regular season.
Here's a little perspective of just how often Bell hit a big play this season:
When looking at how Bell stacks up to some of the other top running backs of 2017, the numbers are horrific. Bell had just 3 big plays (20+ yard runs) on 321 rushing attempts. That's just 1 20+ yard run every 107 attempts. These runs were so few and far between that Bell ranked just 36th in big play percentage out of 47 qualifying running backs (at least 100 carries).
It didn't help that Bell never managed better than a 27-yard run all year long. In fact, there were 10 quarterbacks with longer runs on the season.
Running Back Shelf-life
I can talk all day long about my view on running backs and how quick their shelf-life is, but I'll let the numbers speak for themselves. Just take a look at some of these charts: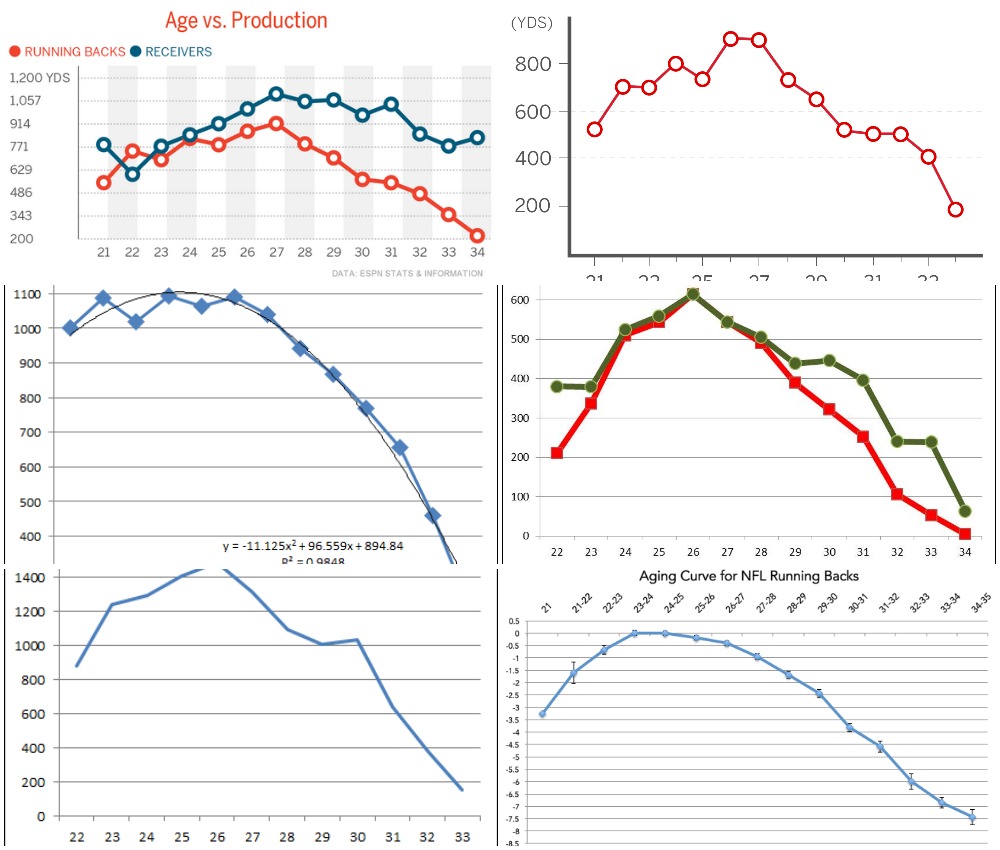 Research shows that the average decline age begins at 26 for running backs (which, by the way, is the age Bell turns this month).
This isn't to say that all running backs decline at this rate. Marshawn Lynch, for example, had his best years from ages 25-28. However, it is a rarity to see running backs performing better in the second half of their careers.
Le'Veon Bell already has a whopping 1,229 regular season carries. If the trend continues, he will head down this rapid decline like DeMarco Murray and so many others before him.
Conclusion
Take these statistics as you will. I have no problem with fans formulating their own opinions on the topic. However, we would be naive to think that Bell is immune to a decline because of the player he used to be.
Whatever your opinions on Bell, just know that at some point, all good things must come to an end. I believe the All-Pro running back has already played his best years.