It's that time of year where we can start using days to count down to the NFL Draft. Now that the Combine is over, we are beginning to see things a little more clearly.
If you follow the Steelers closely, then there is no surprise which areas they need the most help. The Loss of Ryan Shazier leaves a huge vacancy in the middle of their defense, and the safety position was a disaster last year. The Steelers don't always pick strictly on team needs, however, it certainly factors into their evaluations.
If you look closely enough, it's not hard to see which players Pittsburgh will really be interested in and consider for first-round contention. Here are my top 10 most likely picks for the Steelers when the first round of the draft rolls around on April 26th.
1. Rashaan Evans, LB, Alabama
Evans is a three-down, thumping linebacker that can run sideline-to-sideline and stuff ball carriers in their tracks. The Steelers don't typically take a lot of Alabama players, but Evans has the pedigree of playing for a national championship team in the nations best conference (SEC).
Rashaan Evans is quick to diagnose plays and takes excellent angles to the ball. He hasn't shown a lot in terms of pass coverage - partly because he is a solid blitzer on third downs. Evans would start right away at the Mack linebacker position in the Steelers 3-4 front. He should be a solid starter with reasonable upside who's career path could follow that of former Steelers linebacker, Lawrence Timmons.
Size/Athletic Measurables: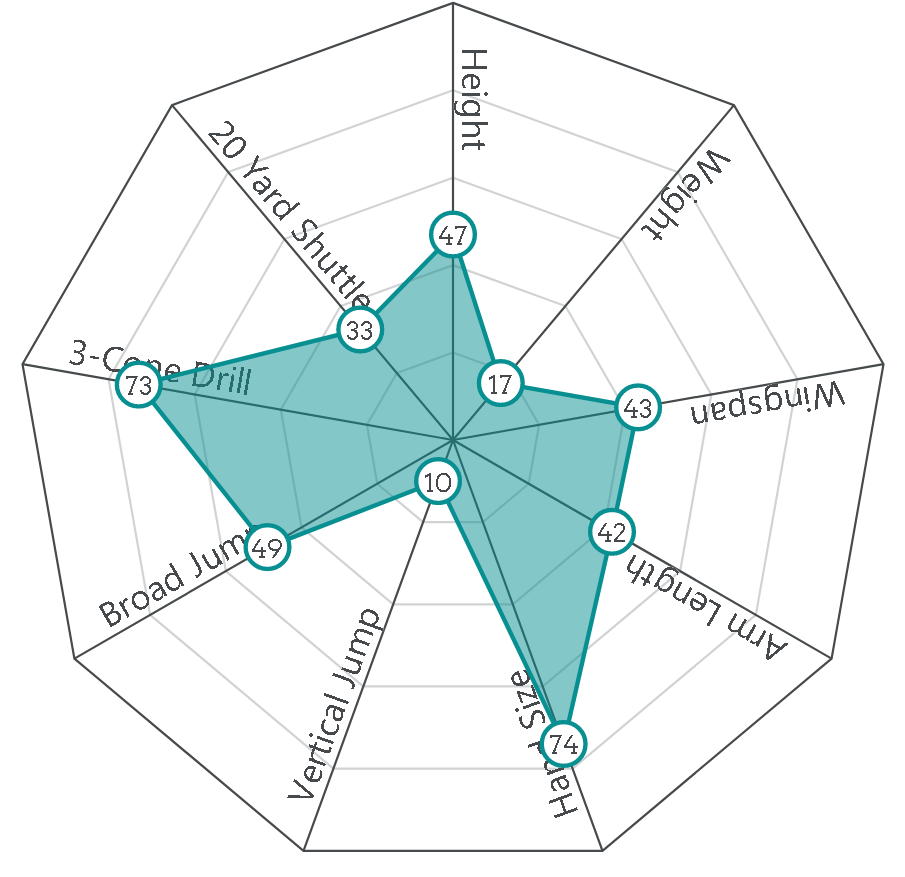 2. Justin Reid, S, Stanford
Justin Reid is the fastest rising name associated with the Steelers this draft season. Pittsburgh is likely to dump the large salaries of either Mike Mitchell or J.J. Wilcox before the draft. Even if Mitchell stays, the safety position is in need of a major overhaul.
Reid is a smart, instinctual safety with a solid football IQ. He has very good athleticism and has been described as the safety teams are looking for in today's NFL. Reid possesses the ability to play man or off coverage and has experience covering single-high.
The Steelers have already expressed interest, and it would not be surprising at all to see Justin Reid's name called to Pittsburgh on draft day.
Size/Athletic Measurables: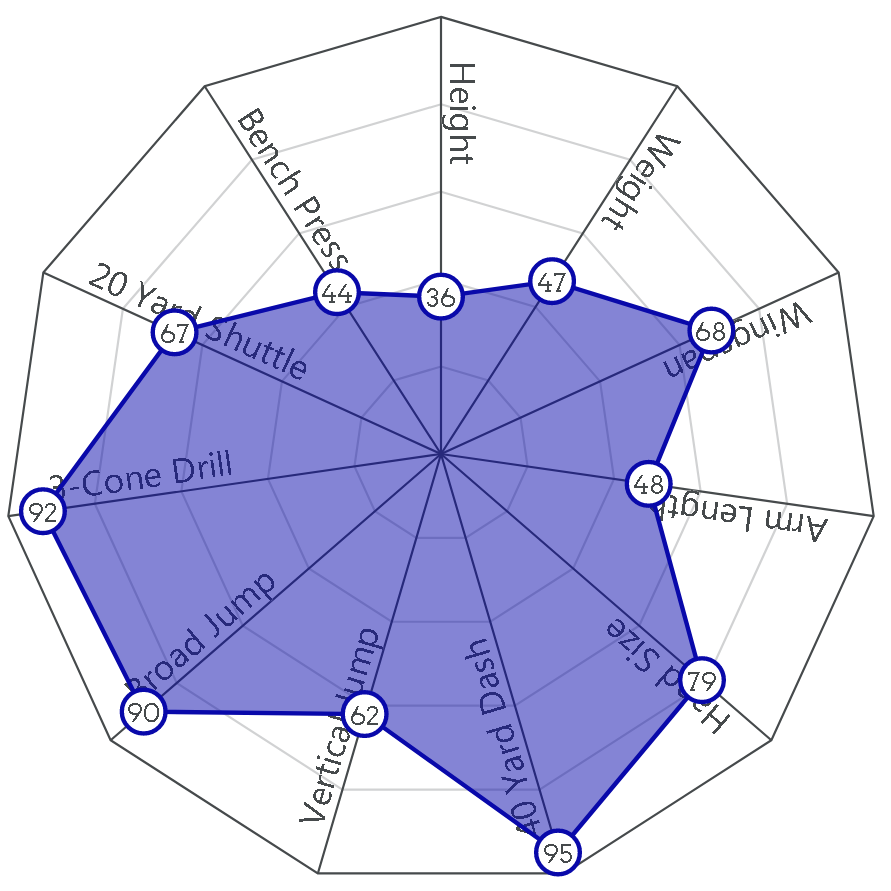 Much like Reid, I believe Alabama safety Ronnie Harrison is going to be one of the most likely first-round picks for the Steelers this year. Pittsburgh desperately needs to find help at the position, and there is a dip in talent after Reid and Harrison. I would have liked to see Harrison participate in more testing at the Combine, but his athletic traits aren't really in question.
Harrison has ideal size and speed for the position. He's more of a punishing tackler than Reid but needs to clean up his technique. Harrison can fly around the field and is loaded with physical gifts, but one NFC team executive described him as "not really the brains of the defense."
Regardless, Harrison would start early, and his potential in coverage and physical traits should give him a chance to be Pro Bowl caliber player somewhere down the line.
Size/Athletic Measurables: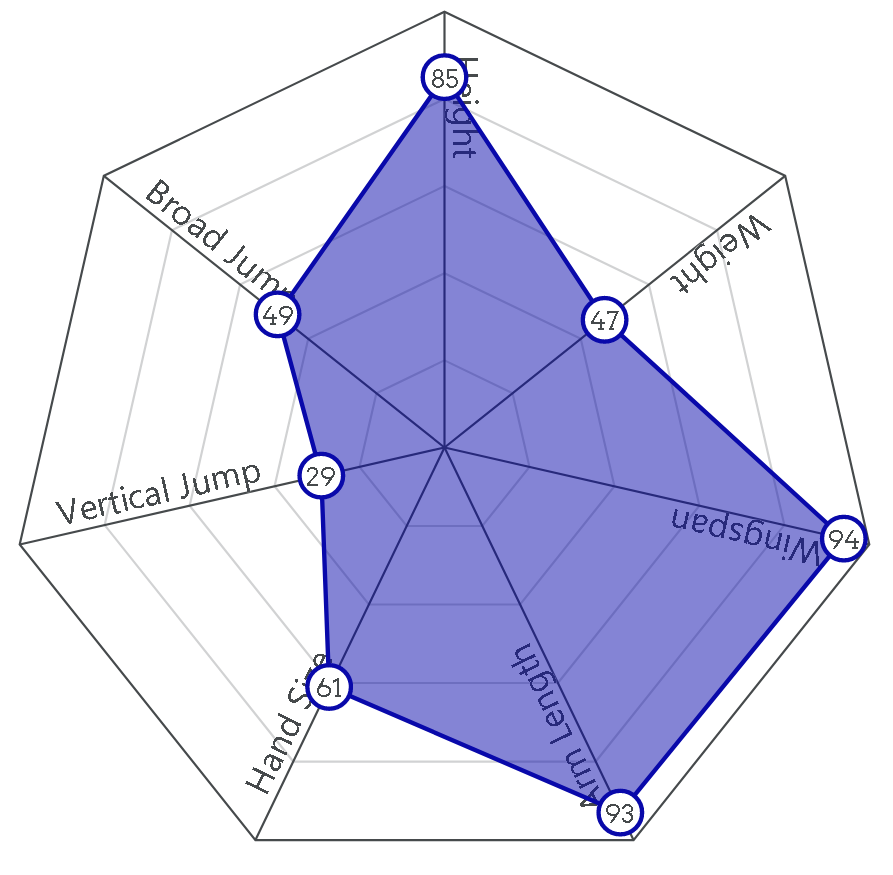 4. Leighton Vander Esch, LB, Boise State
The Steelers hardly ever go for non-Power 5 school players in the first round, but I think there's a chance they make an exception for Leighton Vander Esch.
The former walk-on player possesses an incredibly rare combination of size, speed, and strength to go with unbelievable production this year (141 tackles, 3 interceptions, 5 passes defensed). Vander Esch glides across the field, takes solid angles and is a great arm tackler. The Boise State product also shows rare ability to drop back in coverage for a linebacker his size.
The question with Vander Esch becomes how much stock do you place in a former walk-on and one-year-wonder? Playing at a non-power 5 school could also drop him in the Steelers' eyes. All the traits are there and the sky is the limit for Vander Esch, but I don't think he's as likely as the top three players on this list.
Size/Athletic Measurables: 
5. Mike Gesicki, TE, Penn State
Tight end may seem like a luxury pick for the Steelers at this point in time, but remember, they showed a lot of interest in last years' tight end class. There were reports that David Njoku would have been there pick in the first round of the 2017 draft (which may be the reason why Cleveland elected to jump back up in front of the Steelers in the draft).
Gesicki is far and away the most physically gifted tight end in this draft class, and there really isn't a close second. Though he doesn't always play to the extent of his athletic ability, Gesicki possesses a rare combination of size and speed. He can contort his body in the air to make adjustments for the ball, and he can line up all over the field.
While Gesicki has a long way to go as a blocker, he already has the traits necessary to become an elite receiving tight end at the next level. The Steelers could use Gesicki like they intended to do with Ladarius Green before his injuries.
Size/Athletic Measurables: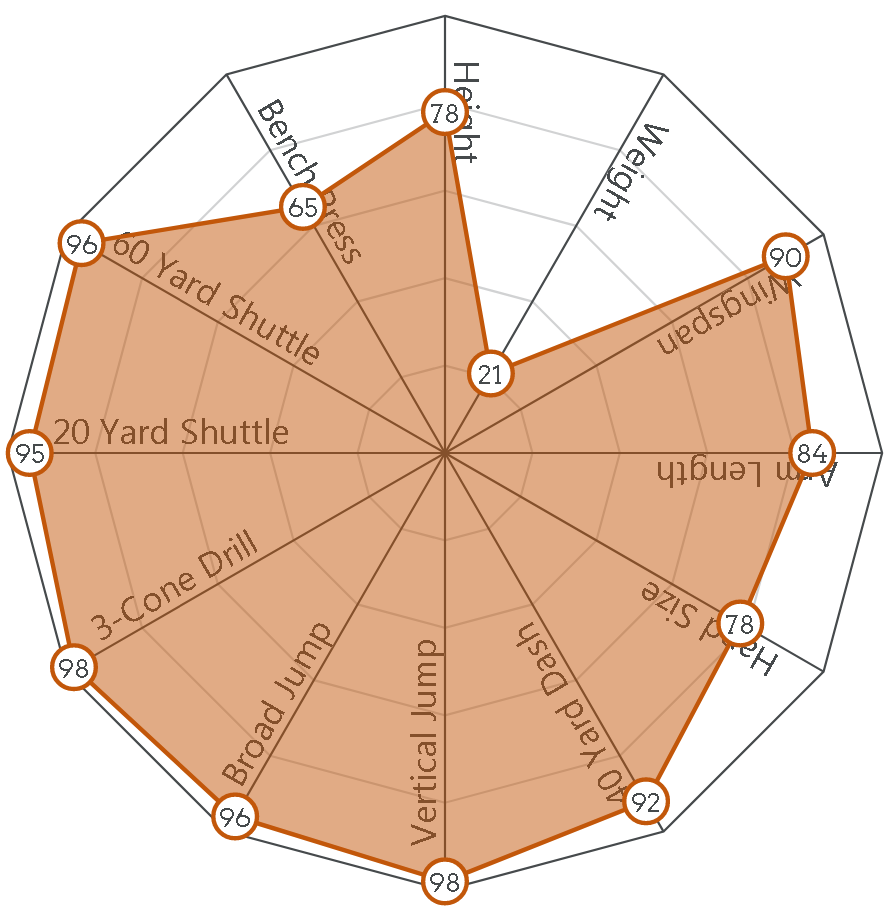 6. Isaiah Oliver, CB, Colorado
Oliver is a player that hasn't been talked about much regarding the Steelers but could make a lot of sense in the first round. It's very likely that both Denzel Ward and Josh Jackson are unavailable to the Steelers. If Jaire Alexander is on the board, he is certainly worth warranting as well. However, Oliver is a tall, long corner in the mold of Artie Burns.
Though he's not a finished product, Oliver could make a difference down the line, and step into a full-time starting role before his rookie season is finished. Cornerback isn't the Steelers biggest position of need, and they currently have three capable players. However, Oliver would add much-needed depth and competition in the secondary.
Size/Athletic Measurables: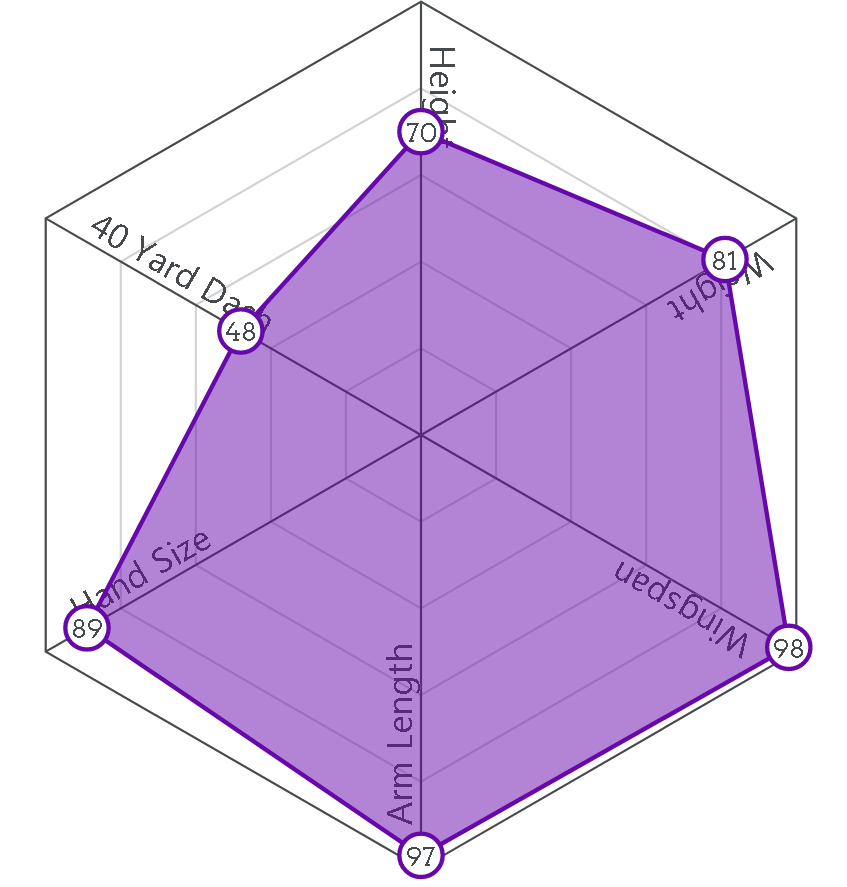 7. Hayden Hurst, TE, South Carolina
Honestly, I would hate to see this happen, but there have been rumors that the Steelers are interested in Haden Hurst. The South Carolina tight end is probably the most well-rounded player at his position in this draft class. Hurst is reliable with a relentless motor and plays every snap like his last.
However, Hurst will turn 25 years old before the start of the season, and his age and athleticism put a cap on his NFL ceiling.
The Steelers will like Hurst because he can step in as a full-time tight end right away and handle both work in the pass and run game. They expressed a ton of interest in last years' tight ends (which was evident by their visits), and I would not be shocked to see the Steelers go after one early if they don't believe the value is good enough at linebacker or safety.
Size/Athletic Measurables: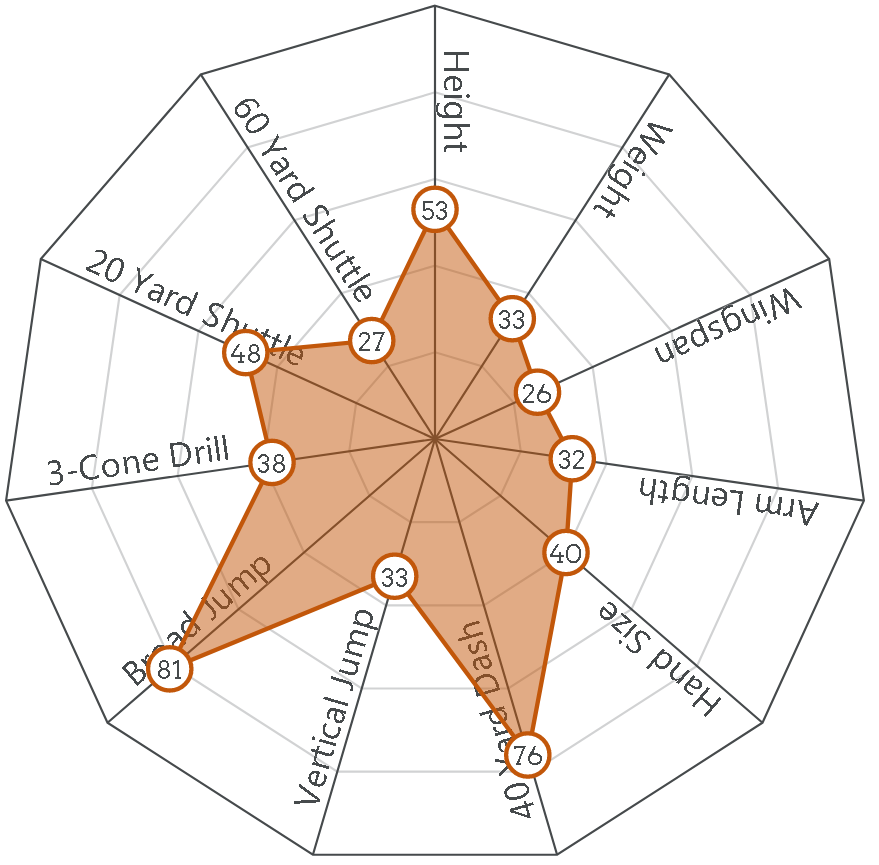 8. Jaire Alexander, CB, Louisville
Alexander is another defensive back the Steelers could target in the first. I have to believe the Steelers are most interested in linebacker and safety at pick 28. However, if they don't feel the value is there, Kevin Colbert and company may elect to address the cornerback position with Alexander. The 5'11'' corner was a standout at the NFL Combine where he posted a 4.38s 40-yard dash, as well as a mind-boggling 3.98s 3-cone drill.
Alexander is twitchy, quick, and instinctive. He's a smooth mover who can turn and mirror receivers with ease. There is a chance Alexander elevated himself above pick 28 because of his standout performance at the Combine, but if available, there will be some interest on the part of the Steelers.
Size/Athletic Measurables: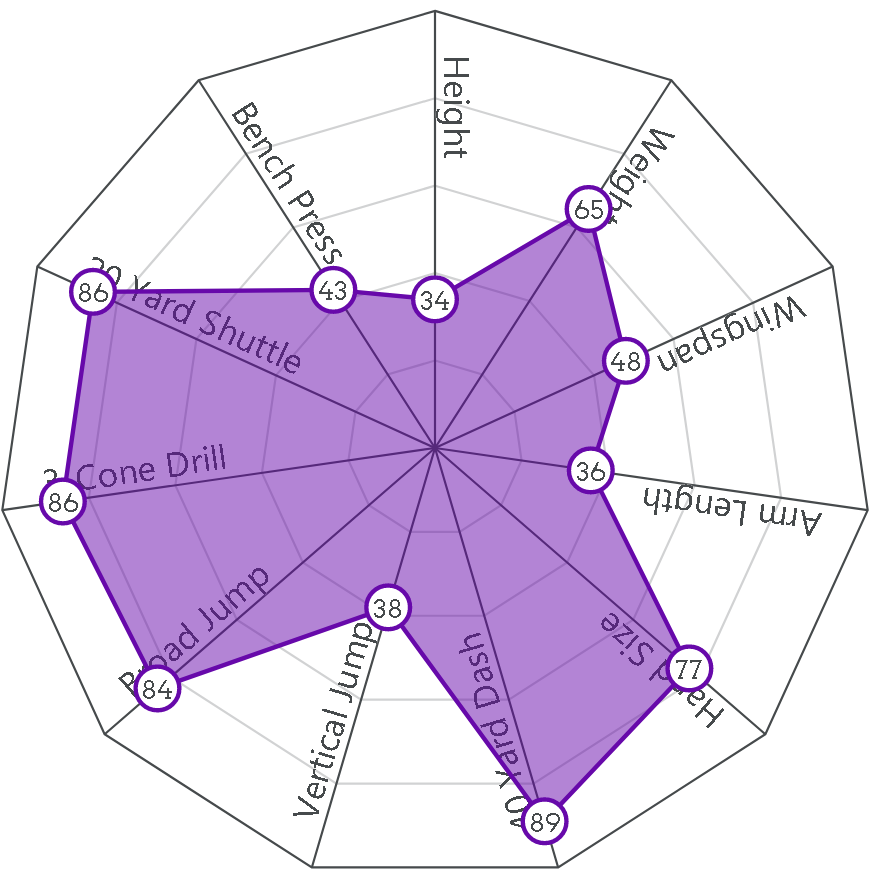 9. Sam Hubbard, EDGE, Ohio State
Hubbard is a player that I really like, though I don't know how exactly the Steelers will view him. He's probably best suited as a hand-in-the-dirt left end for a base 4-3 defense, but we have seen the Steelers do quite well with transitioning players like LaMarr Woodley.
Hubbard is a young, relentless player who may never be the best on your defense, but will always be working his butt off. He doesn't have anyone trait in particular that stands out, however, he is well rounded and shows the ability to stop the run and get after the quarterback. Hubbard is best on stunts or with some space in front of him. He's got solid hand fight and power to collapse the pocket. Assuming players like Harold Landry and Marcus Davenport are long gone, Hubbard is the next best available. He comes from a big school and possesses the grit and toughness the Steelers look for (much like T.J. Watt). It will be interesting to see if the Steelers bring him in for a visit.
Size/Athletic Measurables: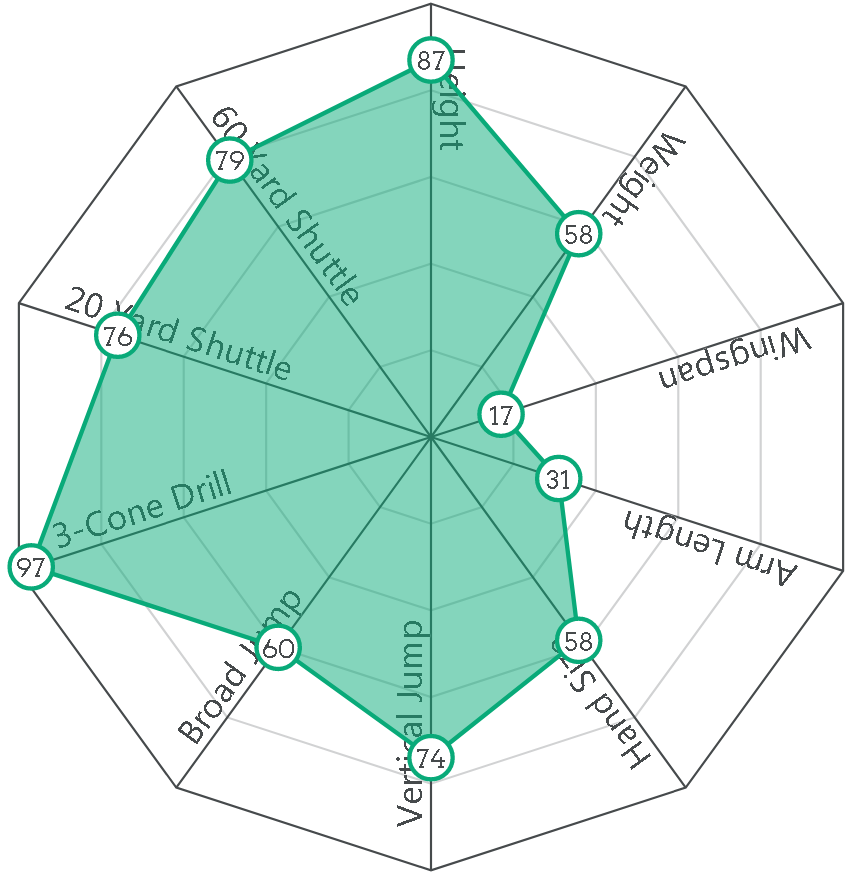 10. Lamar Jackson, QB, Louisville
This may come as a surprise to many fans, but I wouldn't put it past the Steelers. Finding a franchise quarterback is the hardest thing to do in the NFL. At age 36, Ben Roethlisberger isn't getting any younger, and regardless of the Steelers opinions of Joshua Dobbs, they know how difficult it is to find an elite signal caller.
The Steelers are no stranger to duel-threat quarterbacks. In the Kevin Colbert era alone, they have drafted or brought in players like Dennis Dixon, Josh Dobbs, and even Michael Vick. Although Jackson wouldn't necessarily be an ideal fit in Pittsburgh, a great quarterback is hard to come by. If Jackson ends up slipping this far in the draft, and the Steelers believe he's a franchise guy, you better believe they will take a long, hard look.
Size/Athletic Measurables: