With the 2018 NFL Draft behind us, it's time to evaluate each positional group of the Steelers roster. Though nobody knows for sure how the rookies will impact the team from the gate, we do know which positions the Steelers addressed in the offseason, and which positions are still lacking talent.
I have comprised a rating scale to grade each positional group, where a score of 5 represents the NFL average, a 1 would be worst in the league, and 10 would be the best. Checking out the strengths and weaknesses of positional groups on other teams and trying to be as objective and unbiased as possible, I came up with the final rating for each position on the Steelers roster. Here's what I came up with.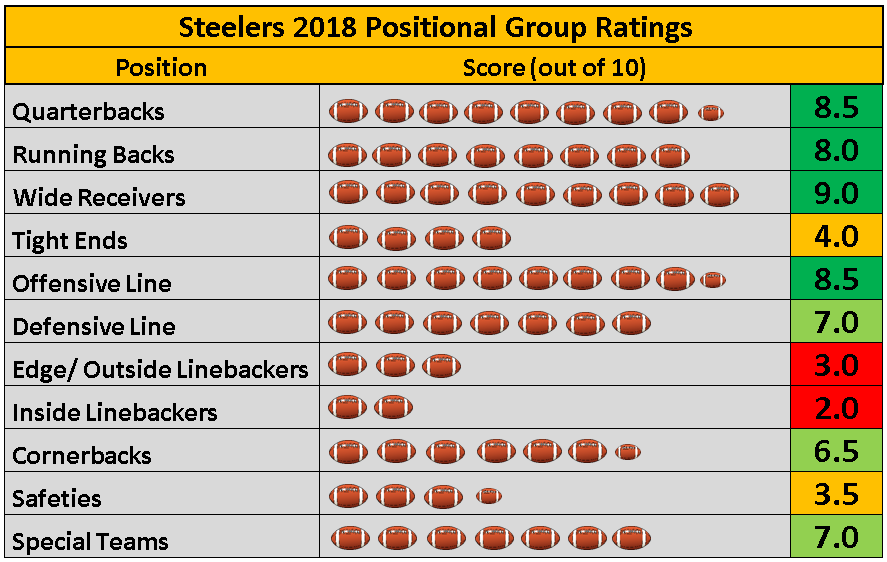 Quarterbacks
Rating: 8.5/10
Note: Very Strong up front with a solid backup and youth with some upside.
The Steelers still have one of the most capable starting quarterbacks in the league with Ben Roethlisberger. Though at the ripe age of 36, Pittsburgh isn't without options behind him with Landry Jones, Joshua Dobbs, and now Mason Rudolph. A surplus of quarterbacks isn't a bad thing to have, and the Steelers have one of the best groups in the league right now.
Running Backs
Rating: 8.0/10
Note: Top 10 starter with capable backups in Conner and Samuels.
Le'Veon Bell is still one of the most versatile running backs in the league despite a drop in efficiency last season. Behind him, James Conner showed promise as a runner on limited touches in his rookie season. Jaylen Samuels should be able to win the third spot pretty easily. He offers a lot in terms of catching out of the backfield and versatility.
Wide Receivers
Rating: 9.0/10
Note: Best in the league up front, but lacks depth after WR3.
The Steelers have one of the best wide receivers in the game in Antonio Brown. JuJu Smith-Schuster is a great WR2, and newly acquired OSU product, James Washington, should be a solid WR3. This positional group would receiver an even higher grade if the depth at the back end was better than Darrius Heyward-Bey and Justin Hunter.
Tight Ends
Rating: 4.0/10
Note: Average at the top with poor depth.
Pittsburgh did nothing to address their TE group this offseason. I do like Vance McDonald, but he may be best served as a TE2, and he has never played a 16-game season. Jesse James is just okay, and there is no depth beyond him (unless the Steelers plan on using Jaylen Samuels here as well). As a whole, they are below average.
Offensive Line
Rating: 8.5/10
Note: Rock-solid up front with 3 Pro Bowlers, a solid backup in B.J. Finney, and potential with Chukwuma Okorafor.
As a unit, the Steelers offensive line is easily one of the best on their team. They are solid across the board up front - headlined by All-Pro guard, David DeCastro. Pittsburgh also has one of the better backups in the league in former UDFA B.J. Finney, and potential with rookie Chukwuma Okorafor and possibly former 4th round pick Jerald Hawkins.
Defensive Line
Rating: 7.0/10
Note: Solid up front with adequate depth. 
Even with Cameron Heyward being named as an All-Pro player this past season, the Steelers defensive line is just solid. Stephon Tuitt is good, Javon Hargrave is getting there, and you could do much worse than Tyson Alualu for a rotational player. L.T. Walton is a fringe rotational player and 7th round rookie Joshua Frazier might not be able to crack the 53. Pittsburgh could use one more high-caliber rotational piece here.
EDGE/Outside Linebacker
Rating: 3.0/10
Note: One building-block but in need of another starter and very poor depth. 
T.J. Watt is already a solid player with good upside. However, Bud Dupree hasn't shown much in terms of pass rush in his first three years, and the Steelers could stand for an upgrade at left edge. Pittsburgh is also lacking serious depth at the position with just Anthony Chickillo and Keion Adams behind them.
Inside Linebacker
Rating: 2.0/10
Note: No true "starting" linebackers, just a group of backups.
Apart from bringing in former Colts linebacker Jon Bostic, the Steelers did nothing to improve the position with Ryan Shazier done for the foreseeable future. Perhaps the Steelers will use rookie Terrell Edmunds in the box on sub-packages, but as of now, their linebackers are made up of 2nd and 3rd string players. Williams, Bostic, and Matakevich are all best suited to be your teams' number three linebacker.
Cornerbacks
Rating: 6.5/10
Note: Solid up front with some potential and decent depth.
The Steelers cornerback group has a chance to be higher than this, but as of now, they earn a 6.5. Joe Haden is solid when healthy and had a couple great games last season. Artie Burns was shaky at times but flashes potential. Mike Hilton is probably their best all-around corner but is limited to the slot. Pittsburgh has a couple of unproven players behind them in Cameron Sutton and Brian Allen. Coty Sensabaugh is also still on the roster, but he's not good.
Safeties
Rating: 3.5/10
Note: Lots of upside but average and unproven players at the top.
Morgan Burnett is just an average NFL safety, and the Steelers are hoping they have a better long-term solution. Sean Davis hasn't progressed since his rookie season, and hopes for him are beginning to dwindle. Terrell Edmunds is obviously the most valuable piece the Steelers have at this position, but most thought he was over-drafted and will need time to develop. They also drafted Penn State native Marcus Allen and picked up Giants special teamer, Nat Berhe. They are going to need some young guys to step up in a big way.
Special Teams
Rating: 7.0/10
Note: Great kicker, good punter, lack of returners.
Chris Boswell was one of the best in the business last season and is the star of the Steelers special teams. Jordan Berry had a solid season last year and is more than capable of being the Steelers punter in 2018. Antonio Brown is one of the best punt returners in the game, but the Steelers are shying away from using him at that spot to preserve their star wide receiver. JuJu is pretty good at returning kicks, but the Steelers would benefit from a true specialist that could do field both kick and punt returns.