Steelers Training Camp Update: Ramon Foster's Injury
So before the firestorm starts as football season is now heating up, and I do mean heating up (it's hot out there!), I wanted to make sure we put into perspective the first reported injury at Pittsburgh Steelers training camp so that no one panics. As you know, part of my job at Steel City Underground is to report on the medical injuries when they occur and to help give insight to fans based on my medical background and research; on the realities of that injury so that speculation does not overtake common sense.
On Saturday, veteran offensive guard Ramon Foster went down during the first weekend of camp, in pain during on-field drills. Whenever a player goes down there is always that concern that the player's season could be over. That seems to be the worst-case scenario everyone looks for when they see a cart being brought out to take a player off the field. Foster's injury was no different. Foster, who is one of the beloved players on the team, a team leader, and in the final year of his contract, had all of us praying that once he'd been evaluated the news would be positive.
Well, thank God it was. Today, it was reported that Foster hyperextended his left knee, which means that he bent it backward, probably from landing on it wrong. That actually happens frequently in any contact sport. It is very painful when it first happens and you feel as if you can't straighten out your knee. I know from personal experience. A hyperextended knee can damage ligaments, cartilage and other stabilizing structures in the knee.
Aditi Kinkhabwala from NFL Network reported the following:
Huge sigh of relief from #Steelers camp. LG Ramon Foster hyperextended his knee, but did not suffer any ligament damage and will NOT need surgery. Should be out 4-5 weeks.
Remember: no Steeler has logged more snaps since 2009 than him.

— Aditi Kinkhabwala (@AKinkhabwala) July 29, 2018
#Steelers LG Ramon Foster also has some bone bruising. But his (and the team's) goal is still that he returns in time for Game 1.

— Aditi Kinkhabwala (@AKinkhabwala) July 29, 2018
Steelers President Art Rooney II, on Steelers Live today after practice, said, "the good news is, that it looks like it is not that serious of an injury. Hopefully Ramon is going to be back by the regular season."
#Steelers President Art Rooney II joined #SteelersLive to discuss #SteelersCamp, Ramon Foster and more. pic.twitter.com/ZSrUQEXj0E

— Pittsburgh Steelers (@steelers) July 30, 2018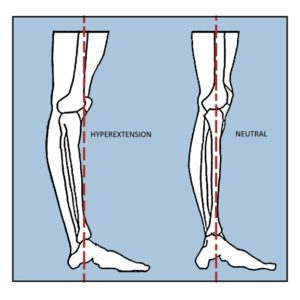 WHAT TO EXPECT & TREATMENT
Localized pain in the knee is expected after a hyperextension. Your knee wasn't supposed to bend that way. It hurts. There could be some difficulty bending or straightening the leg after a hyperextension injury due to the swelling and possible bruising that typically occurs.
Bruising may occur to the surrounding area, but that is nothing to be alarmed about when there is no ligament or tissue damage. That is how your body responds to the injury in a mild case.
Like many other soft tissue injuries of this nature, and according to the AAOS guidelines, on this type of injury, the RICE principle is usually the advised plan to follow:
REST- Anti-inflammatory medications to decrease welling and to take a break from the high impact activities.
ICE- Ice the affected knee for 15 minutes multiple times per day. Ice (no not ice cream), can help bring down the swelling and manage pain.
COMPRESSION- A compression wrap or elastic bandage can help reduce swelling and pain.
ELEVATION- Elevation of the leg above the heart whenever possible. Lying in bed with your leg on a pillow or in a reclining chair will also help alleviate pain and swelling.
RECOVERY TIME
According to Dr. Peggy Pletcher, MD., at Healthline.com, recovery from a mild to moderate sprain following a knee hyperextension injury can take 2-4 weeks. Some reports from training camp and the media are saying 4-5 weeks, and that Foster should be ready for regular season. I would take that bet, and even say we could see him in a preseason game to get some reps in.
So, relax everyone. As long as Foster continues to follow doctor's orders – and when he returns to play, takes extra careful attention to properly warm up and cool down before and after every athletic workout – he should be fine for the season. Here we go!
---
Suggested articles from our sponsors