Each week a panel of SCU contributors will pick their winners and losers. Let's see who does the best by the end of the season!
Can the NFL get anymore wacky than it has been so far this season?
The Lions upset the Patriots, the Browns get their first win in 635 days, the Bills blast the Vikings and our panel unanimously flopped on our Texans/Giants and Jaguars/Titans picks in addition to that Patriots/Lions game.
This week several of the SCU staffers look to improve their mediocre scores. Below are our Week 4 picks. Enjoy!
Week 4 Picks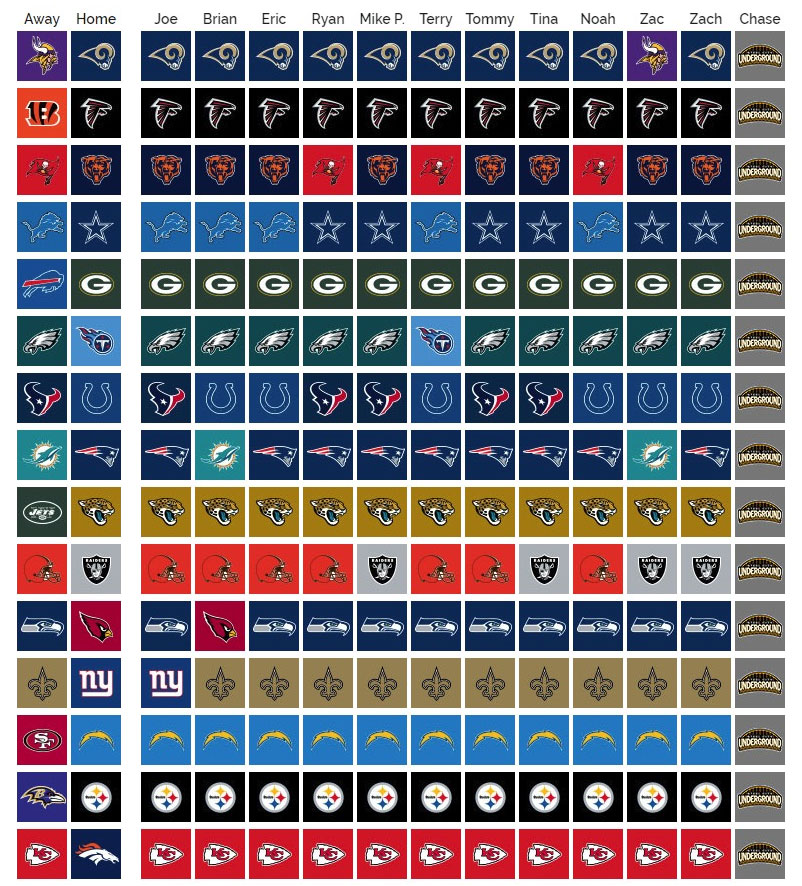 Last Week's Picks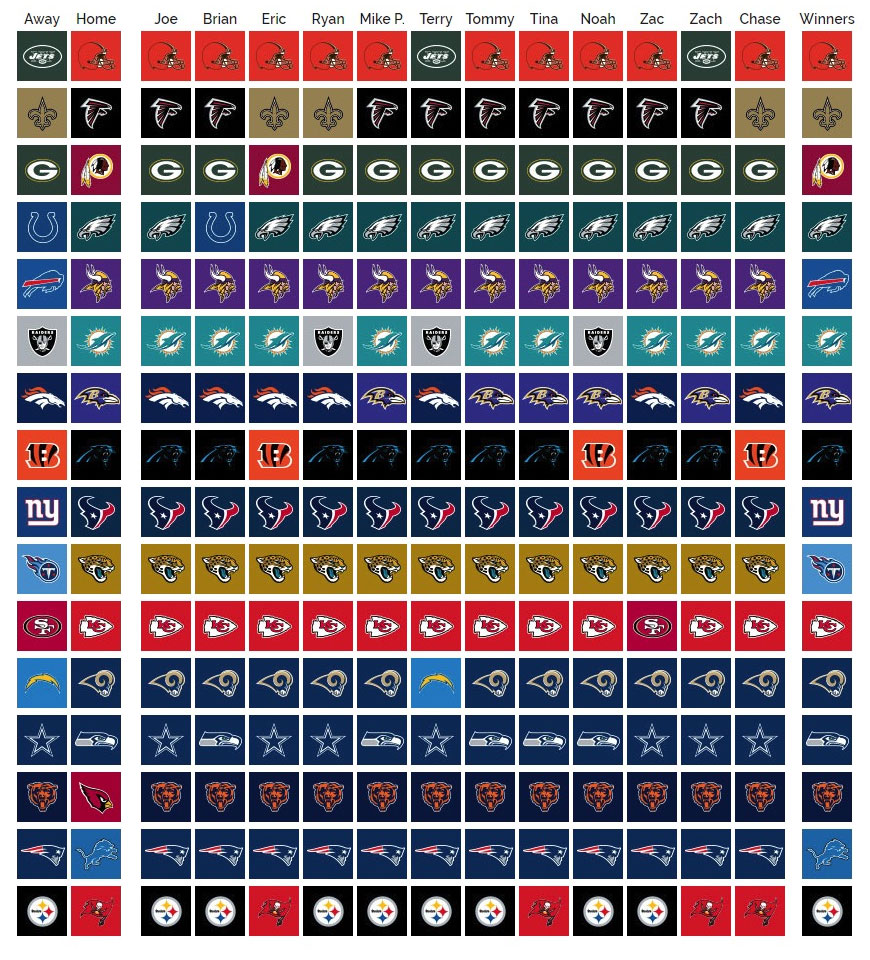 Overall Weekly Record
| Name | Record |
| --- | --- |
| Mike P. | 10-6 |
| Tommy | 10-6 |
| Tina | 9-7 |
| Brian | 8-8 |
| Eric | 8-8 |
| Joe | 8-8 |
| Noah | 8-8 |
| Ryan | 8-8 |
| Chase | 7-9 |
| Zac | 7-9 |
| Zach | 7-9 |
| Terry | 5-11 |
Overall Season Records
| | Joe | Brian | Eric | Ryan | Mike P. | Terry | Tommy | Tina | Noah | Zac | Zach | Chase |
| --- | --- | --- | --- | --- | --- | --- | --- | --- | --- | --- | --- | --- |
| WK 1 | 6-9 | 7-8 | 8-7 | 10-5 | 9-6 | 7-8 | 8-7 | 8-7 | 10-5 | 9-6 | 8-7 | 8-7 |
| WK 2 | 8-7 | 7-8 | 7-8 | 7-8 | 7-8 | 5-10 | 8-7 | 8-7 | 6-9 | 9-6 | 7-8 | 8-7 |
| WK 3 | 8-8 | 8-8 | 8-8 | 8-8 | 10-6 | 5-11 | 10-6 | 9-7 | 8-8 | 7-9 | 7-9 | 7-9 |
| TOTAL | 22-24 | 22-24 | 23-23 | 25-21 | 26-20 | 17-29 | 26-20 | 25-21 | 24-22 | 25-21 | 22-24 | 23-23 |
Current Season Standings
| Place | Name | Record |
| --- | --- | --- |
| 1 | Mike P. | 26-20 |
| 1 | Tommy | 26-20 |
| 2 | Ryan | 25-21 |
| 2 | Tina | 25-21 |
| 2 | Zac | 25-21 |
| 3 | Noah | 24-22 |
| 4 | Chase | 23-23 |
| 4 | Eric | 23-23 |
| 5 | Brian | 22-24 |
| 5 | Joe | 22-24 |
| 5 | Zach | 22-24 |
| 6 | Terry | 17-29 |