Rivertowne Brewing, an independent craft brewery located just outside of Pittsburgh in neighboring Murrysville/Export has joined forces with the surly group known as Stiller Gang to bring Stiller Gang Gold to the fans of the Black & Gold.
Steelers Football is here and at every game, in every stadium there will be Stiller Gang - a movement powered by fans consisting of tailgates, parties, social media, and more - all in the name of Pittsburgh football and Yinzer culture. Stiller Gang welcomes all who bleed Black & Gold and wish to join to get involved by following @stillergang on Instagram, Facebook, and Twitter.
And now the gang has their very own craft beer – Stiller Gang Gold – a crisp, clean golden ale that should appeal to the masses while also satisfying lovers of well-crafted beer.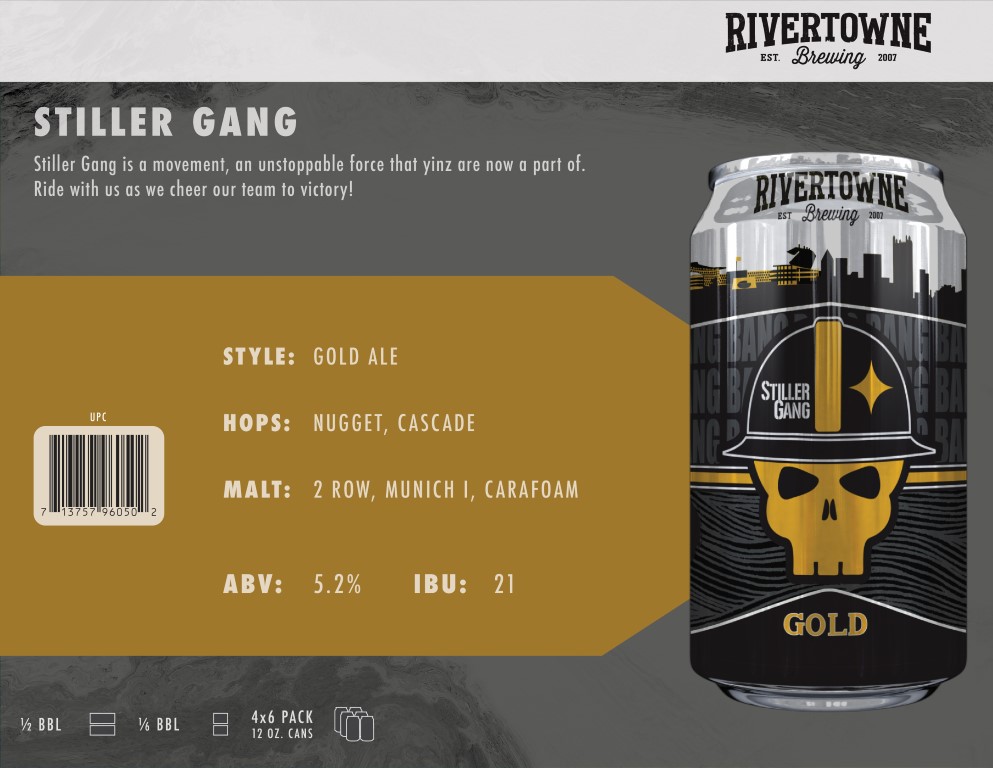 VP of Sales & Marketing at Rivertowne, Rob Johnson, had this to say:
When first approached by Stiller Gang, I wasn't sure what to make of them and their interest in having us collaborate. It only took a few short discussions for me to be convinced that this could be a really rad partnership. There is strength in numbers and those numbers translate to a lot of feet on the streets. Feet on the streets is exactly what you need to successfully promote and support a collaboration of this nature.
Rob also added:
We're really stoked about how the beer and can imagery turned-out.  The packaging has a well-balanced, perfectly blended feel of Rivertowne Brewing and Stiller Gang. We think that the members will really dig what we have created on their behalf.
https://www.instagram.com/p/BonO1BXlEzq/?taken-by=stillergang
John Irvin, CEO of Stiller Gang, had this to add:
This collaboration between our brands is a natural fit. A great beer and a great movement, both representing an even greater city... Tastes like a win!
That collaboration began with a bang on Saturday evening during a release party for Stiller Gang gold at Rivertowne's North Shore location, situated right in the shadow of the Pittsburgh Steelers home of Heinz Field.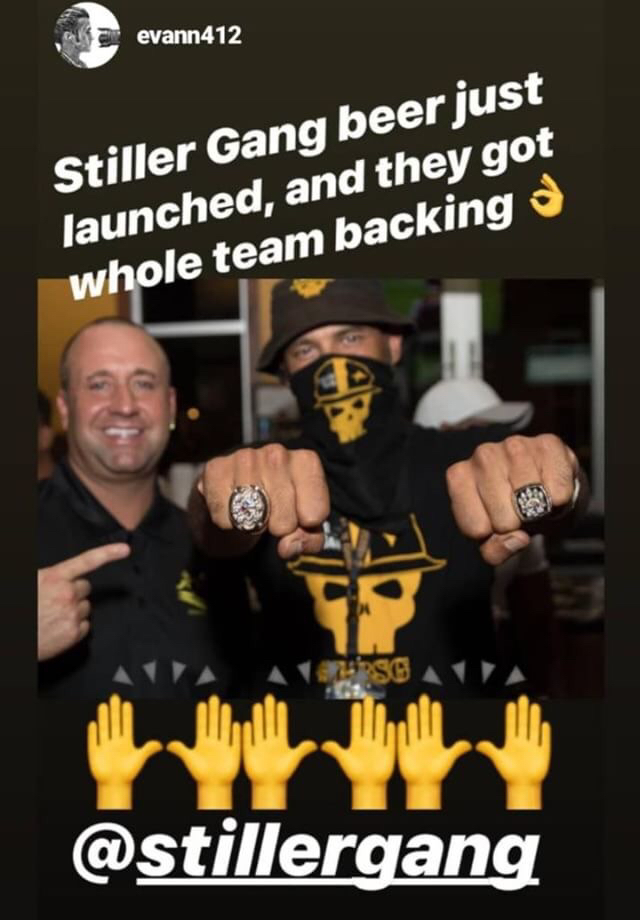 Actually, it may be more appropriate to say it launched with "bang bang", a catchphrase which typically accompanies the words "Stiller Gang" on social media, complete with their own hashtag #BBSG. Former Steelers placekicker and two-time Super Bowl Champion Jeff Reed was a guest of honor during the much-anticipated unveiling! When asked about the Stiller Gang Reed had this to say:
Stiller Gang is a special group of individuals... they not only love their Steelers, but they are from all walks of life and numerous countries... it's only fitting that they created their own brew with one helluva taste and image... I wish them infinite success in all they do... they are an awesome group that knows how to party!
Stiller Gang Gold is now available on tap at the North Shore Rivertowne Brewing location and will be available in cans starting October 15th in the brewery's local distribution market including select areas throughout Pennsylvania, Ohio, West Virginia and North Carolina.
Rivertowne Brewing is dedicated to producing exceptional, approachable craft beer. Our team of passionate, innovative brewers work tirelessly to create unique recipes with high-quality ingredients and hold each beer to the highest of standards, ensuring the finalproduct in your glass is something you'll enjoy and come back to. Our sustainable packaging allows you to enjoy your favorites at home, the ballpark, or making your way down a peaceful river. At Rivertowne, we emphasize the entire craft beer experience and value the devotion our fans have to our product.
Stiller Gang is a worldwide collective of Steelers fans from all walks of life who stay connected via social media and gather at games and events to tailgate, party, and more. Though based in Pittsburgh, their 500,000 members have chapters from NJ to Long Beach, the Bahamas to Germany, and all points in between. You can recognize them by their logo: a skull and a hard hat, symbolizing their undying loyalty and the blue-collar work ethic of the city that birthed it all.