Each week a panel of SCU contributors will pick their winners and losers. Let's see who does the best by the end of the season!
Our SCU geniuses actually looked smarter this past weekend as everyone (well, just about everyone) rebounded from having bad guesses through the first quarter of the season.
Could it be that the NFL is finally turning back to normal?
The Steelers won (despite several of our own picking against them), the Patriots won too (boo), and everyone picked the Saints, Rams, Chargers, and Panthers.
Then again, no one picked the Bills…
You can't win them all, but we can sure try this week! Below are our Week 6 picks. Enjoy!
Week 6 Picks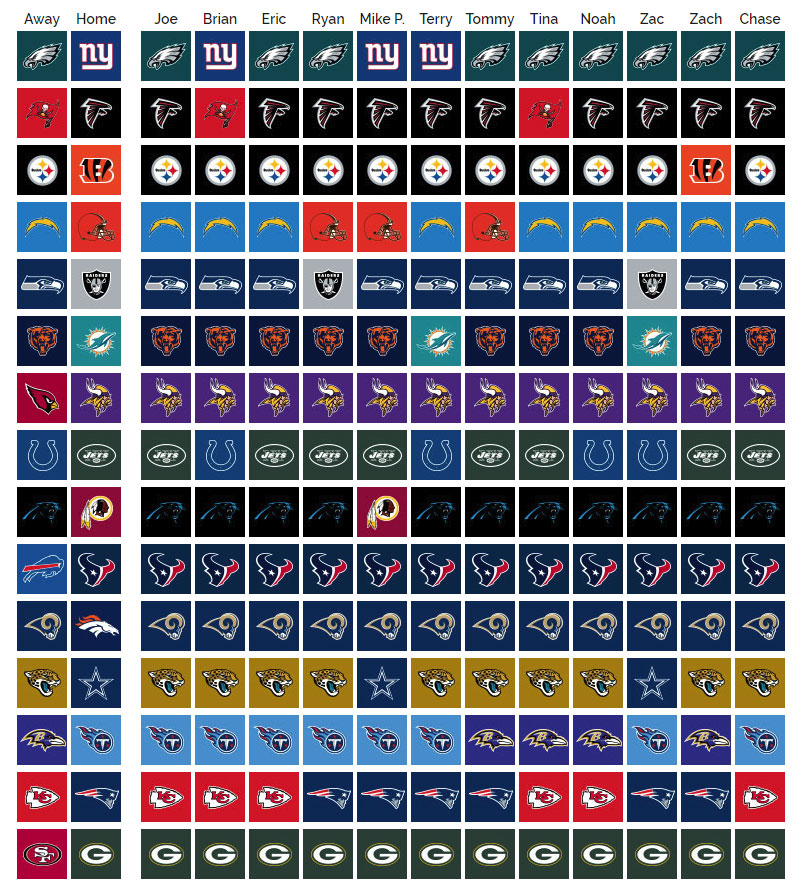 Last Week's Picks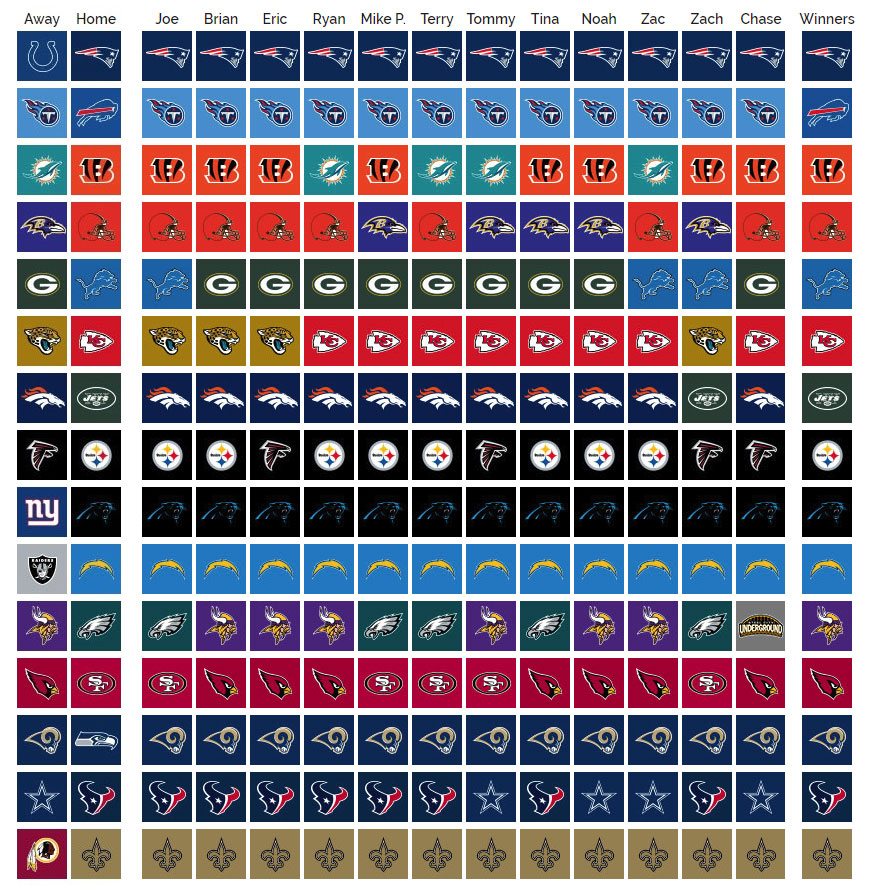 Overall Weekly Record
| Name | Record |
| --- | --- |
| Brian | 11-4 |
| Ryan | 11-4 |
| Zac | 11-4 |
| Eric | 10-5 |
| Joe | 10-5 |
| Noah | 10-5 |
| Tina | 10-5 |
| Chase | 9-6 |
| Mike P. | 9-6 |
| Terry | 9-6 |
| Zach | 9-6 |
| Tommy | 7-8 |
Overall Season Records
| | Joe | Brian | Eric | Ryan | Mike P. | Terry | Tommy | Tina | Noah | Zac | Zach | Chase |
| --- | --- | --- | --- | --- | --- | --- | --- | --- | --- | --- | --- | --- |
| WK 1 | 6-9 | 7-8 | 8-7 | 10-5 | 9-6 | 7-8 | 8-7 | 8-7 | 10-5 | 9-6 | 8-7 | 8-7 |
| WK 2 | 8-7 | 7-8 | 7-8 | 7-8 | 7-8 | 5-10 | 8-7 | 8-7 | 6-9 | 9-6 | 7-8 | 8-7 |
| WK 3 | 8-8 | 8-8 | 8-8 | 8-8 | 10-6 | 5-11 | 10-6 | 9-7 | 8-8 | 7-9 | 7-9 | 7-9 |
| WK 4 | 9-6 | 7-8 | 9-6 | 10-5 | 12-3 | 9-6 | 11-4 | 12-3 | 8-7 | 9-6 | 11-4 | 0-15 |
| WK 5 | 10-5 | 11-4 | 10-5 | 11-4 | 9-6 | 9-6 | 7-8 | 10-5 | 10-5 | 11-4 | 9-6 | 9-6 |
| TOTAL | 41-35 | 40-36 | 42-34 | 46-30 | 47-29 | 35-41 | 44-32 | 47-29 | 42-34 | 45-31 | 42-34 | 32-44 |
Current Season Standings
| Place | Name | Record |
| --- | --- | --- |
| 1 | Mike P. | 47-29 |
| 1 | Tina | 47-29 |
| 2 | Ryan | 46-30 |
| 3 | Zac | 45-31 |
| 4 | Tommy | 44-32 |
| 5 | Eric | 42-34 |
| 5 | Noah | 42-34 |
| 5 | Zach | 42-34 |
| 6 | Joe | 41-35 |
| 7 | Brian | 40-36 |
| 8 | Terry | 35-41 |
| 9 | Chase | 32-44 |