Each week a panel of SCU contributors will pick their winners and losers. Let's see who does the best by the end of the season!
Looks like Joe and Brian need to stop spending time on the Steel City Underground Podcast and start paying attention to their picks!
The co-hosts finished at the bottom once again this week as several of the SCU staff nearly nailed all of their picks. Several clean sweeps went across the board as the Chargers held on in the UK to beat the Titans and the Rams demolished the 49ers.
This week the picks vary but not by as much. You can take a look at our Week 8 picks below.
Week 8 Picks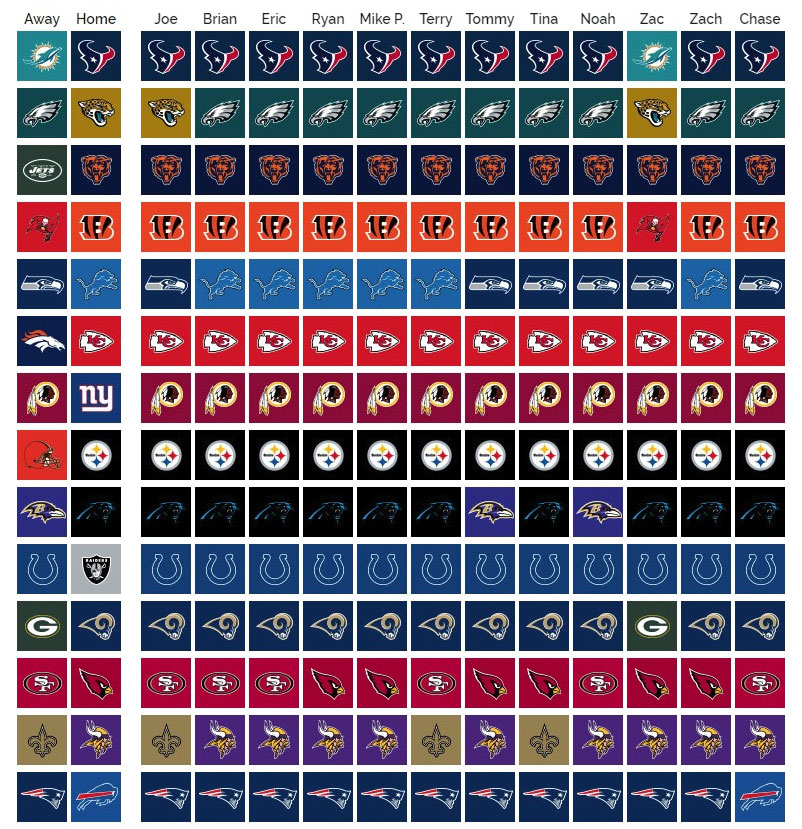 Last Week's Picks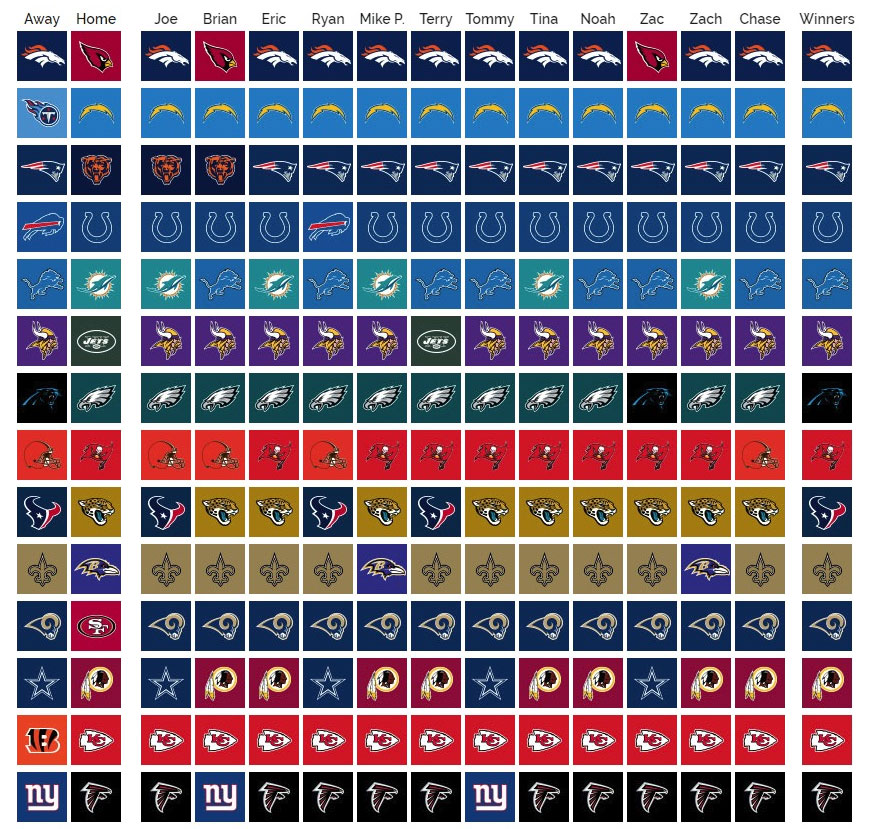 Overall Weekly Record
| Name | Record |
| --- | --- |
| Noah | 13-1 |
| Terry | 13-1 |
| Chase | 12-2 |
| Eric | 12-2 |
| Tina | 12-2 |
| Zac | 12-2 |
| Mike P. | 11-3 |
| Ryan | 11-3 |
| Tommy | 11-3 |
| Zach | 11-3 |
| Joe | 10-4 |
| Brian | 9-5 |
Overall Season Records
| | Joe | Brian | Eric | Ryan | Mike P. | Terry | Tommy | Tina | Noah | Zac | Zach | Chase |
| --- | --- | --- | --- | --- | --- | --- | --- | --- | --- | --- | --- | --- |
| WK 1 | 6-9 | 7-8 | 8-7 | 10-5 | 9-6 | 7-8 | 8-7 | 8-7 | 10-5 | 9-6 | 8-7 | 8-7 |
| WK 2 | 8-7 | 7-8 | 7-8 | 7-8 | 7-8 | 5-10 | 8-7 | 8-7 | 6-9 | 9-6 | 7-8 | 8-7 |
| WK 3 | 8-8 | 8-8 | 8-8 | 8-8 | 10-6 | 5-11 | 10-6 | 9-7 | 8-8 | 7-9 | 7-9 | 7-9 |
| WK 4 | 9-6 | 7-8 | 9-6 | 10-5 | 12-3 | 9-6 | 11-4 | 12-3 | 8-7 | 9-6 | 11-4 | 0-15 |
| WK 5 | 10-5 | 11-4 | 10-5 | 11-4 | 9-6 | 9-6 | 7-8 | 10-5 | 10-5 | 11-4 | 9-6 | 9-6 |
| WK 6 | 10-5 | 7-8 | 10-5 | 9-6 | 11-4 | 10-5 | 11-4 | 10-5 | 10-5 | 11-4 | 11-4 | 10-5 |
| WK 7 | 10-4 | 9-5 | 12-2 | 11-3 | 11-3 | 13-1 | 11-3 | 12-2 | 13-1 | 12-2 | 11-3 | 12-2 |
| TOTAL | 61-44 | 56-49 | 64-41 | 66-39 | 69-36 | 58-47 | 66-39 | 69-36 | 65-40 | 68-37 | 64-41 | 54-51 |
Current Season Standings
| Place | Name | Record |
| --- | --- | --- |
| 1 | Mike P. | 69-36 |
| 1 | Tina | 69-36 |
| 2 | Zac | 68-37 |
| 3 | Ryan | 66-39 |
| 3 | Tommy | 66-39 |
| 4 | Noah | 65-40 |
| 5 | Eric | 64-41 |
| 5 | Zach | 64-41 |
| 6 | Joe | 61-44 |
| 7 | Terry | 58-47 |
| 8 | Brian | 56-49 |
| 9 | Chase | 54-51 |