Each week a panel of SCU contributors will pick their winners and losers. Let's see who does the best by the end of the season!
Parity is still present in our picks but some bold choices helped lift myself and Mike Pelaia to 11-2 records this week. Even Brian E. Roach had a good week while everyone else followed up the rear.
This week's picks feature several sweeps chosen by our panel.
Here's the SCU Week 10 picks!
Week 10 Picks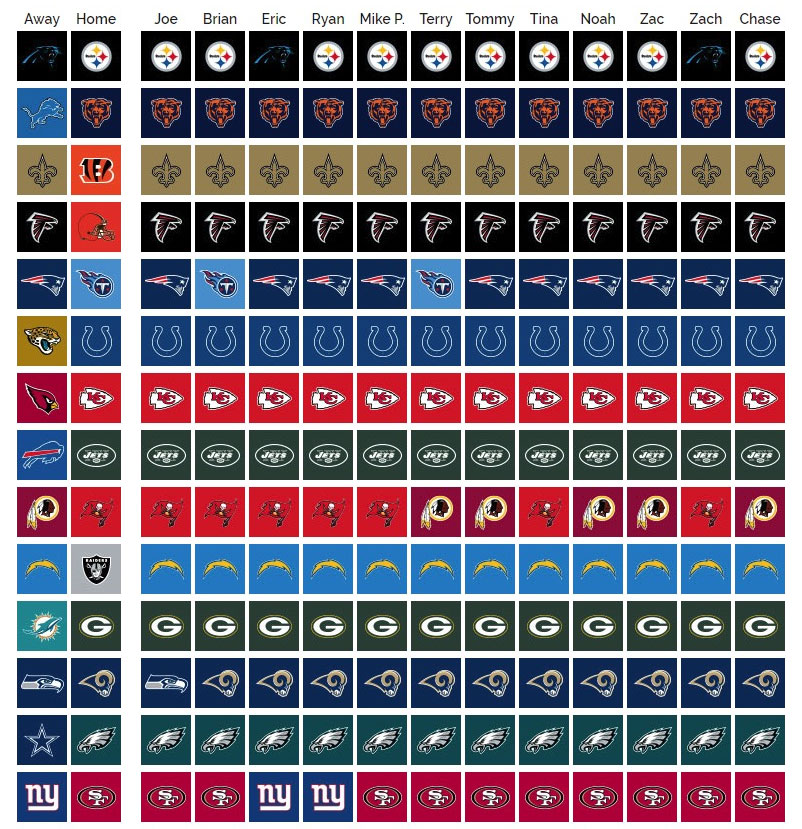 Last Week's Picks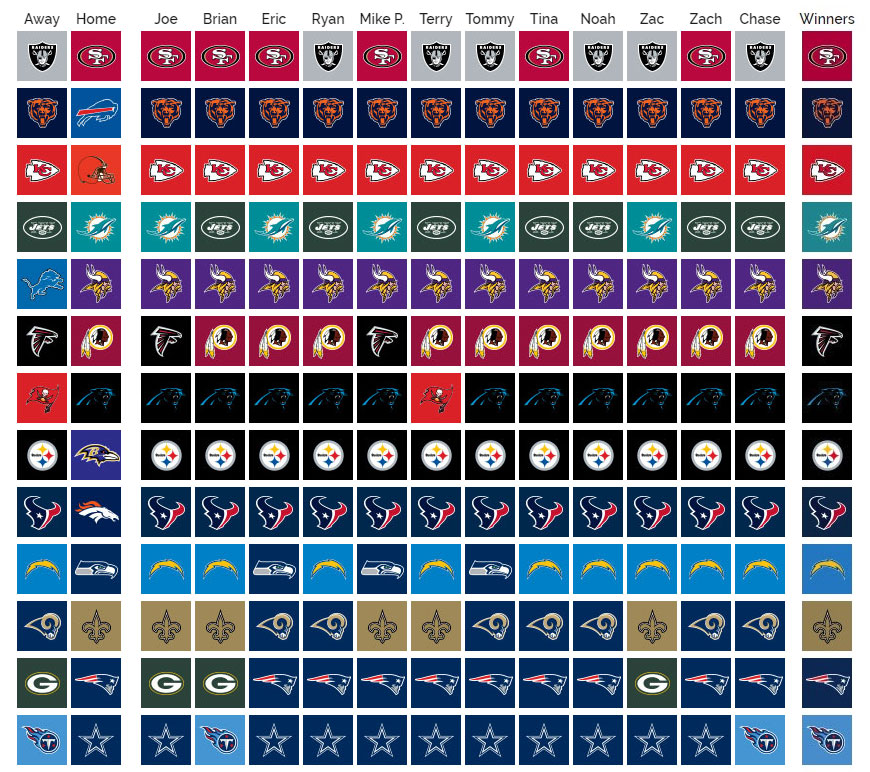 Overall Weekly Record
| Name | Record |
| --- | --- |
| Joe | 11-2 |
| Mike P. | 11-2 |
| Brian | 10-3 |
| Chase | 9-4 |
| Eric | 9-4 |
| Tina | 9-4 |
| Zac | 9-4 |
| Zach | 9-4 |
| Noah | 8-5 |
| Ryan | 8-5 |
| Terry | 8-5 |
| Tommy | 8-5 |
Overall Season Records
| | Joe | Brian | Eric | Ryan | Mike P. | Terry | Tommy | Tina | Noah | Zac | Zach | Chase |
| --- | --- | --- | --- | --- | --- | --- | --- | --- | --- | --- | --- | --- |
| WK 1 | 6-9 | 7-8 | 8-7 | 10-5 | 9-6 | 7-8 | 8-7 | 8-7 | 10-5 | 9-6 | 8-7 | 8-7 |
| WK 2 | 8-7 | 7-8 | 7-8 | 7-8 | 7-8 | 5-10 | 8-7 | 8-7 | 6-9 | 9-6 | 7-8 | 8-7 |
| WK 3 | 8-8 | 8-8 | 8-8 | 8-8 | 10-6 | 5-11 | 10-6 | 9-7 | 8-8 | 7-9 | 7-9 | 7-9 |
| WK 4 | 9-6 | 7-8 | 9-6 | 10-5 | 12-3 | 9-6 | 11-4 | 12-3 | 8-7 | 9-6 | 11-4 | 0-15 |
| WK 5 | 10-5 | 11-4 | 10-5 | 11-4 | 9-6 | 9-6 | 7-8 | 10-5 | 10-5 | 11-4 | 9-6 | 9-6 |
| WK 6 | 10-5 | 7-8 | 10-5 | 9-6 | 11-4 | 10-5 | 11-4 | 10-5 | 10-5 | 11-4 | 11-4 | 10-5 |
| WK 7 | 9-5 | 8-6 | 11-3 | 10-4 | 10-4 | 12-2 | 10-4 | 11-3 | 12-2 | 11-3 | 10-4 | 11-3 |
| WK 8 | 12-2 | 11-3 | 11-3 | 12-2 | 12-2 | 12-2 | 12-2 | 14-0 | 11-3 | 9-5 | 12-2 | 11-3 |
| WK 9 | 11-2 | 10-3 | 9-4 | 8-5 | 11-2 | 8-5 | 8-5 | 9-4 | 8-5 | 9-4 | 9-4 | 9-4 |
| TOTAL | 83-49 | 76-56 | 83-49 | 85-47 | 91-41 | 77-55 | 85-47 | 91-41 | 83-49 | 85-47 | 84-48 | 73-59 |
Current Season Standings
| Place | Name | Record |
| --- | --- | --- |
| 1 | Mike P. | 91-41 |
| 1 | Tina | 91-41 |
| 2 | Ryan | 85-47 |
| 2 | Tommy | 85-47 |
| 2 | Zac | 85-47 |
| 3 | Zach | 84-48 |
| 4 | Eric | 83-49 |
| 4 | Joe | 83-49 |
| 4 | Noah | 83-49 |
| 5 | Terry | 77-55 |
| 6 | Brian | 76-56 |
| 7 | Chase | 73-59 |