Each week a panel of SCU contributors will pick their winners and losers. Let's see who does the best by the end of the season!
The Steel City Underground crew tries to rebound from possibly their worst week all season. With several unanimously incorrect predictions last week, we'll see if everyone can successfully navigate the waters this week with better picks.
I mean, come on now! Lions? Raiders? Broncos?
The Raiders?!
Don't worry, there are some more non-contrarian picks this week. Here are SCU's Week 12 picks!
Week 12 Picks
Last Week's Picks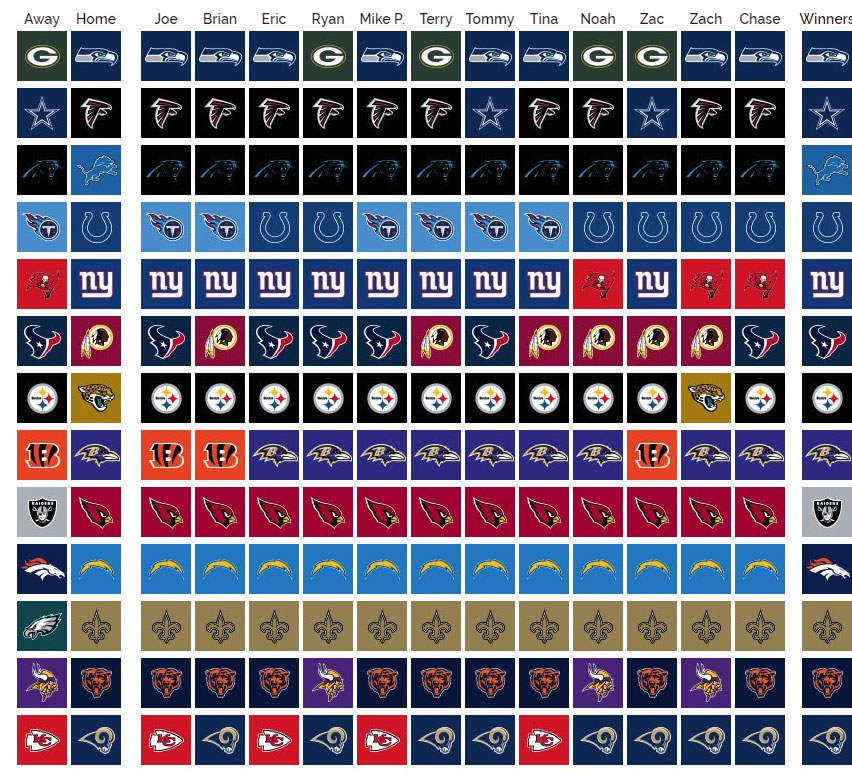 Overall Weekly Record
| Name | Record |
| --- | --- |
| Tommy | 9-4 |
| Chase | 8-5 |
| Eric | 8-5 |
| Mike P. | 7-6 |
| Ryan | 7-6 |
| Zac | 7-6 |
| Brian | 6-7 |
| Joe | 6-7 |
| Terry | 6-7 |
| Tina | 6-7 |
| Noah | 5-8 |
| Zach | 5-8 |
Overall Season Records
| | Joe | Brian | Eric | Ryan | Mike P. | Terry | Tommy | Tina | Noah | Zac | Zach | Chase |
| --- | --- | --- | --- | --- | --- | --- | --- | --- | --- | --- | --- | --- |
| WK 1 | 6-9 | 7-8 | 8-7 | 10-5 | 9-6 | 7-8 | 8-7 | 8-7 | 10-5 | 9-6 | 8-7 | 8-7 |
| WK 2 | 8-7 | 7-8 | 7-8 | 7-8 | 7-8 | 5-10 | 8-7 | 8-7 | 6-9 | 9-6 | 7-8 | 8-7 |
| WK 3 | 8-8 | 8-8 | 8-8 | 8-8 | 10-6 | 5-11 | 10-6 | 9-7 | 8-8 | 7-9 | 7-9 | 7-9 |
| WK 4 | 9-6 | 7-8 | 9-6 | 10-5 | 12-3 | 9-6 | 11-4 | 12-3 | 8-7 | 9-6 | 11-4 | 0-15 |
| WK 5 | 10-5 | 11-4 | 10-5 | 11-4 | 9-6 | 9-6 | 7-8 | 10-5 | 10-5 | 11-4 | 9-6 | 9-6 |
| WK 6 | 10-5 | 7-8 | 10-5 | 9-6 | 11-4 | 10-5 | 11-4 | 10-5 | 10-5 | 11-4 | 11-4 | 10-5 |
| WK 7 | 9-5 | 8-6 | 11-3 | 10-4 | 10-4 | 12-2 | 10-4 | 11-3 | 12-2 | 11-3 | 10-4 | 11-3 |
| WK 8 | 12-2 | 11-3 | 11-3 | 12-2 | 12-2 | 12-2 | 12-2 | 14-0 | 11-3 | 9-5 | 12-2 | 11-3 |
| WK 9 | 11-2 | 10-3 | 9-4 | 8-5 | 11-2 | 8-5 | 8-5 | 9-4 | 8-5 | 9-4 | 9-4 | 9-4 |
| WK 10 | 7-7 | 9-5 | 8-6 | 9-5 | 8-6 | 10-4 | 9-5 | 8-6 | 9-5 | 9-5 | 7-7 | 9-5 |
| WK 11 | 6-7 | 6-7 | 8-5 | 7-6 | 7-6 | 6-7 | 9-4 | 6-7 | 5-8 | 7-6 | 5-8 | 8-5 |
| TOTAL | 96-63 | 91-68 | 99-60 | 101-58 | 106-53 | 93-66 | 103-56 | 105-54 | 97-62 | 101-58 | 96-63 | 90-69 |
Current Season Standings
| Place | Name | Record |
| --- | --- | --- |
| 1 | Mike P. | 99-47 |
| 1 | Tina | 99-47 |
| 2 | Ryan | 94-52 |
| 2 | Tommy | 94-52 |
| 2 | Zac | 94-52 |
| 3 | Noah | 92-54 |
| 4 | Eric | 91-55 |
| 4 | Zach | 91-55 |
| 5 | Joe | 90-56 |
| 6 | Terry | 87-59 |
| 7 | Brian | 85-61 |
| 8 | Chase | 82-64 |