Each week a panel of SCU contributors will pick their winners and losers. Let's see who does the best by the end of the season!
What a monumental collapse by our contributors last week!
Anyone predicting the NFC South games were off the mark entirely… as were our biased Steelers crew. The Giants were picked by only one person to win, as were the Jaguars.
And for some odd reason, our resident "Professor" Zach decided on taking the Raiders over the Chiefs.
This week, the picks are interesting but mostly grouped together again. Let's see how our team thinks these teams will do in Week 14.
Week 14 Picks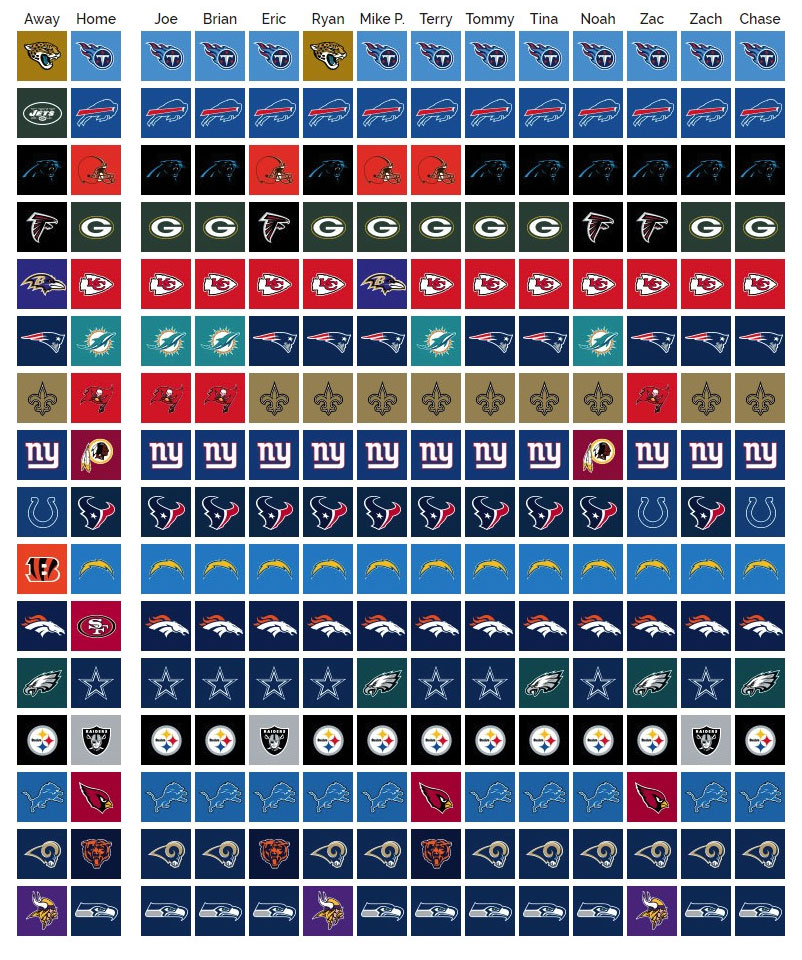 Last Week's Picks
Overall Weekly Record
| Eric | 10-6 |
| --- | --- |
| Mike P. | 10-6 |
| Terry | 10-6 |
| Tommy | 10-6 |
| Chase | 9-7 |
| Noah | 9-7 |
| Zac | 9-7 |
| Ryan | 8-8 |
| Zach | 8-8 |
| Brian | 7-9 |
| Joe | 7-9 |
| Tina | 7-9 |
Overall Season Records
| | Joe | Brian | Eric | Ryan | Mike P. | Terry | Tommy | Tina | Noah | Zac | Zach | Chase |
| --- | --- | --- | --- | --- | --- | --- | --- | --- | --- | --- | --- | --- |
| WK 1 | 6-9 | 7-8 | 8-7 | 10-5 | 9-6 | 7-8 | 8-7 | 8-7 | 10-5 | 9-6 | 8-7 | 8-7 |
| WK 2 | 8-7 | 7-8 | 7-8 | 7-8 | 7-8 | 5-10 | 8-7 | 8-7 | 6-9 | 9-6 | 7-8 | 8-7 |
| WK 3 | 8-8 | 8-8 | 8-8 | 8-8 | 10-6 | 5-11 | 10-6 | 9-7 | 8-8 | 7-9 | 7-9 | 7-9 |
| WK 4 | 9-6 | 7-8 | 9-6 | 10-5 | 12-3 | 9-6 | 11-4 | 12-3 | 8-7 | 9-6 | 11-4 | 0-15 |
| WK 5 | 10-5 | 11-4 | 10-5 | 11-4 | 9-6 | 9-6 | 7-8 | 10-5 | 10-5 | 11-4 | 9-6 | 9-6 |
| WK 6 | 10-5 | 7-8 | 10-5 | 9-6 | 11-4 | 10-5 | 11-4 | 10-5 | 10-5 | 11-4 | 11-4 | 10-5 |
| WK 7 | 9-5 | 8-6 | 11-3 | 10-4 | 10-4 | 12-2 | 10-4 | 11-3 | 12-2 | 11-3 | 10-4 | 11-3 |
| WK 8 | 12-2 | 11-3 | 11-3 | 12-2 | 12-2 | 12-2 | 12-2 | 14-0 | 11-3 | 9-5 | 12-2 | 11-3 |
| WK 9 | 11-2 | 10-3 | 9-4 | 8-5 | 11-2 | 8-5 | 8-5 | 9-4 | 8-5 | 9-4 | 9-4 | 9-4 |
| WK 10 | 7-7 | 9-5 | 8-6 | 9-5 | 8-6 | 10-4 | 9-5 | 8-6 | 9-5 | 9-5 | 7-7 | 9-5 |
| WK 11 | 6-7 | 6-7 | 8-5 | 7-6 | 7-6 | 6-7 | 9-4 | 6-7 | 5-8 | 7-6 | 5-8 | 8-5 |
| WK 12 | 11-4 | 13-2 | 11-4 | 11-4 | 10-5 | 11-4 | 9-6 | 13-2 | 11-4 | 10-5 | 12-3 | 12-3 |
| WK 13 | 7-9 | 7-9 | 10-6 | 8-8 | 10-6 | 10-6 | 10-6 | 7-9 | 9-7 | 9-7 | 8-8 | 9-7 |
| TOTAL | 114-76 | 111-79 | 120-70 | 120-70 | 126-64 | 114-76 | 122-68 | 125-65 | 117-73 | 120-70 | 116-74 | 111-79 |
Current Season Standings
| Place | Name | Record |
| --- | --- | --- |
| 1 | Mike P. | 126-64 |
| 2 | Tina | 125-65 |
| 3 | Tommy | 122-68 |
| 4 | Eric | 120-70 |
| 4 | Ryan | 120-70 |
| 4 | Zac | 120-70 |
| 5 | Noah | 117-73 |
| 6 | Zach | 116-74 |
| 7 | Joe | 114-76 |
| 7 | Terry | 114-76 |
| 8 | Brian | 111-79 |
| 8 | Chase | 111-79 |