Each week a panel of SCU contributors will pick their winners and losers. Let's see who does the best by the end of the season!
The SCU crew heads into Week 17 with everything practically figured out in our final standings, as almost everyone is in lockstep this week with their picks! (Except for those few who don't have faith in the Cleveland Browns beating the Baltimore Ravens… shame on them!)
Without further ado, here are our picks for the last week of the NFL regular season.
Week 17 Picks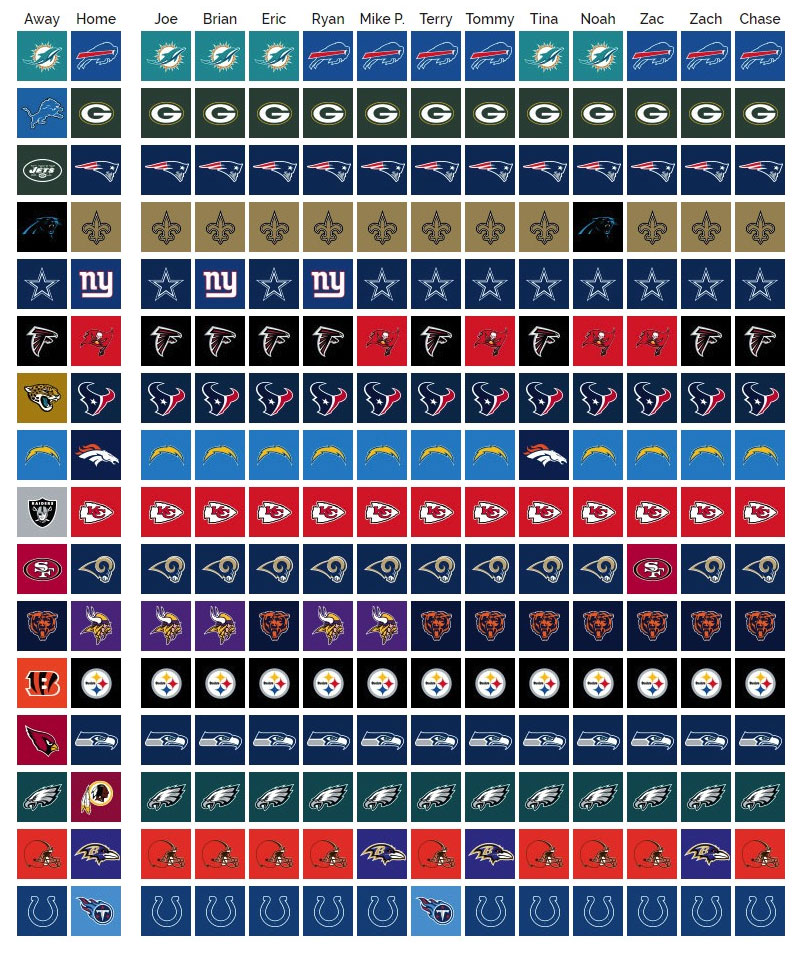 Last Week's Picks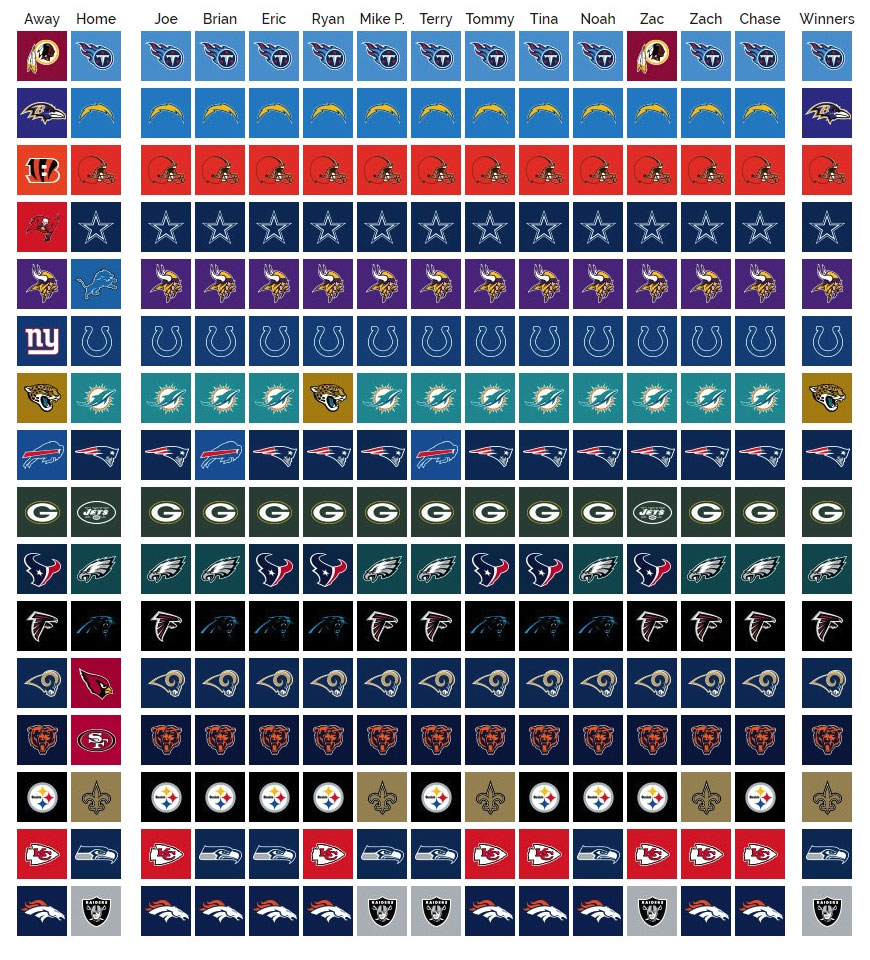 Overall Weekly Record
| Name | Record |
| --- | --- |
| Mike P. | 14-2 |
| Terry | 12-4 |
| Zach | 12-4 |
| Chase | 11-5 |
| Joe | 11-5 |
| Noah | 11-5 |
| Brian | 10-6 |
| Eric | 10-6 |
| Ryan | 10-6 |
| Tommy | 10-6 |
| Tina | 9-7 |
| Zac | 9-7 |
Overall Season Records
| | Joe | Brian | Eric | Ryan | Mike P. | Terry | Tommy | Tina | Noah | Zac | Zach | Chase |
| --- | --- | --- | --- | --- | --- | --- | --- | --- | --- | --- | --- | --- |
| WK 1 | 6-9 | 7-8 | 8-7 | 10-5 | 9-6 | 7-8 | 8-7 | 8-7 | 10-5 | 9-6 | 8-7 | 8-7 |
| WK 2 | 8-7 | 7-8 | 7-8 | 7-8 | 7-8 | 5-10 | 8-7 | 8-7 | 6-9 | 9-6 | 7-8 | 8-7 |
| WK 3 | 8-8 | 8-8 | 8-8 | 8-8 | 10-6 | 5-11 | 10-6 | 9-7 | 8-8 | 7-9 | 7-9 | 7-9 |
| WK 4 | 9-6 | 7-8 | 9-6 | 10-5 | 12-3 | 9-6 | 11-4 | 12-3 | 8-7 | 9-6 | 11-4 | 0-15 |
| WK 5 | 10-5 | 11-4 | 10-5 | 11-4 | 9-6 | 9-6 | 7-8 | 10-5 | 10-5 | 11-4 | 9-6 | 9-6 |
| WK 6 | 10-5 | 7-8 | 10-5 | 9-6 | 11-4 | 10-5 | 11-4 | 10-5 | 10-5 | 11-4 | 11-4 | 10-5 |
| WK 7 | 9-5 | 8-6 | 11-3 | 10-4 | 10-4 | 12-2 | 10-4 | 11-3 | 12-2 | 11-3 | 10-4 | 11-3 |
| WK 8 | 12-2 | 11-3 | 11-3 | 12-2 | 12-2 | 12-2 | 12-2 | 14-0 | 11-3 | 9-5 | 12-2 | 11-3 |
| WK 9 | 11-2 | 10-3 | 9-4 | 8-5 | 11-2 | 8-5 | 8-5 | 9-4 | 8-5 | 9-4 | 9-4 | 9-4 |
| WK 10 | 7-7 | 9-5 | 8-6 | 9-5 | 8-6 | 10-4 | 9-5 | 8-6 | 9-5 | 9-5 | 7-7 | 9-5 |
| WK 11 | 6-7 | 6-7 | 8-5 | 7-6 | 7-6 | 6-7 | 9-4 | 6-7 | 5-8 | 7-6 | 5-8 | 8-5 |
| WK 12 | 11-4 | 13-2 | 11-4 | 11-4 | 10-5 | 11-4 | 9-6 | 13-2 | 11-4 | 10-5 | 12-3 | 12-3 |
| WK 13 | 7-9 | 7-9 | 10-6 | 8-8 | 10-6 | 10-6 | 10-6 | 7-9 | 9-7 | 9-7 | 8-8 | 9-7 |
| WK 14 | 9-7 | 9-7 | 11-5 | 7-9 | 8-8 | 11-5 | 9-7 | 8-8 | 8-8 | 5-11 | 10-6 | 9-7 |
| WK 15 | 8-8 | 11-5 | 5-11 | 6-10 | 8-8 | 7-9 | 8-8 | 10-6 | 11-5 | 8-8 | 8-8 | 9-7 |
| WK 16 | 11-5 | 10-6 | 10-6 | 10-6 | 14-2 | 12-4 | 10-6 | 9-7 | 11-5 | 9-7 | 12-4 | 11-5 |
| TOTAL | 142-96 | 141-97 | 146-92 | 143-95 | 156-82 | 144-94 | 149-89 | 152-86 | 147-91 | 142-96 | 146-92 | 140-98 |
Current Season Standings
| Place | Name | Record |
| --- | --- | --- |
| 1 | Mike P. | 156-82 |
| 2 | Tina | 152-86 |
| 3 | Tommy | 149-89 |
| 4 | Noah | 147-91 |
| 5 | Eric | 146-92 |
| 5 | Zach | 146-92 |
| 6 | Terry | 144-94 |
| 7 | Ryan | 143-95 |
| 8 | Joe | 142-96 |
| 8 | Zac | 142-96 |
| 9 | Brian | 141-97 |
| 10 | Chase | 140-98 |