The Antonio Brown saga came to a close when the star wideout was traded to the Oakland Raiders. But the growing presence of NFL megastars' social media brands will continue to create high profile power struggles between these superstars and NFL teams. The following data illustrates that the saga just may be the future of the NFL moving forward.
Prior to the Antonio Brown trade, a Twitter poll suggested only ten percent of Steelers fans were happy with accepting a third-round pick or lower value for the star wide receiver.
What would be the lowest draft pick you would accept in a trade for Antonio Brown? #Steelers #steelersnation #NFL

— Michael Sofis (@reinforcingMike) March 5, 2019
But a similar Twitter poll also established the day Brown was traded showed that roughly one out of every four Steelers fans believed the Steelers "won" the trade. Not all respondents took both polls, but it seems safe to say that about one out of six Steelers fans felt good about the trade despite the team having received less value than fans originally wished.
Who won the Antonio Brown trade between the #Raiders and #Steelers? #NFL

— Michael Sofis (@reinforcingMike) March 10, 2019
Why would a decent chunk of Steelers fans be happy with a lower value than they originally indicated? One likely culprit is that fans were done with the drama. Want some evidence? On the day Brown's trade was announced, it took just roughly two hours (after initially making the following Twitter post) for JuJu Smith-Schuster to receive about 85 thousand likes for posting, "I'm Ready," in an obvious response to the news of AB's departure.
I'm Ready... pic.twitter.com/K9EZVna0VV

— JuJu Smith-Schuster (@TeamJuJu) March 10, 2019
At least misery may have company; it's clear the Steelers bear some of the responsibility for the team's falling out with Antonio Brown, but he is likely patient zero of a growing problem for all NFL teams.
NFL teams will continue to see escalating power struggles with megastar players as their social media fame draws additional money and control. For example, Brown has 3.3 million followers on Instagram compared to the Oakland Raiders' 1.3 million. Le'Veon Bell has 1.6 million followers compared to the New York Jets' 613k followers. Odell Beckham Jr. has 12.6 followers, which is roughly fifteen times more than that of the Cleveland Browns. Even Tom Brady has 4.4 million followers to the Patriots 3.7 million. What do all these players have in common? They are good at football, make a lot of money, and have had well-publicized power struggles with their respective teams.
Even Google searches reflect these issues. Historically, the Steelers had many more searches on Google than did AB, but only until January of this year. After that, there were roughly equal Google searches for Brown and the Steelers, despite Brown being just one of 53 Steeler players. As AB's antics increased, so did searches related to him, followed by even more off the field issues.
Interestingly, the dip in Steelers searches corresponded with more searches for Brown. As more individuals searched for Brown, fewer searched for the Steelers. Shouldn't they go up or down together? It seems likely that the media attention Brown received between early January and March continued to reinforce his misbehavior, and search engine trends until eventually he was traded to the Raiders and given a lucrative new deal to make him the highest paid wide receiver in the NFL.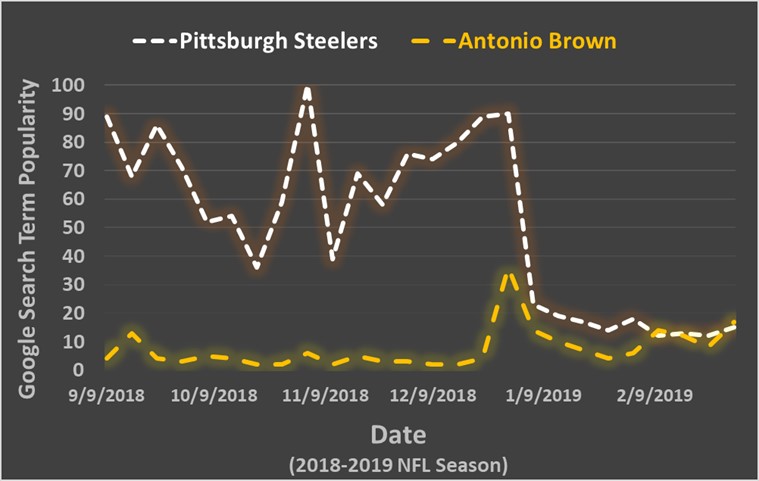 Data source: Google Trends 
Do you think Brown will be the exception moving forward? If you do, you should ask Jeremy Fowler of ESPN what he thinks. After writing about Odell Beckham Jr. and his use of viral videos and a $90 million contract extension with the New York Giants in August, Brown - a friend of OBJ - was developing his own "subplot" per Fowler.
"Brown, who calls himself an entrepreneur, used the turmoil as a contractual springboard." - Jeremy Fowler
If that was the case, as Fowler reported, it appears Beckham Jr. potentially planted the seed last summer for Brown's plan to acquire a new deal with the Steelers. For Beckham, multiple off the field issues, including being filmed with a woman holding a credit card near a plate with lines of a white substance, did not deter the Giants from an at-the-time historic new contract for OBJ last summer. Of note, Beckham has since made a lateral move to join the Cleveland Browns. That isn't to say that Beckham's move was similar to how Brown handled his new deal, however.
As NFL megastars continue to draw large numbers of followers and develop influential social media brands, the opportunity to wrestle power from their teams may become too great a temptation to individual professional players to overcome over the coming months and years. The use of social media in this fashion only began a few years ago and will only grow moving forward.
Some NFL fans may not consider it a problem if players continue to take power from teams and organizations within the league. That's a matter of opinion. But for many other NFL teams and their fans who don't like to watch power struggles and diva-like antics, the AB fiasco is not just a Steelers problem but is potentially the new future of the National Football League.