Steelers need to be aggressive and trade up for Devin Bush
The Steelers have finally made an aggressive move in free agency signing cornerback Steven Nelson to a 3-year contract. Nelson may not be the splashiest name, but it is a very solid signing that will ideally bring some stability to the cornerback group. They have brought in some other players, but Nelson is only the free agent signee who will be pencilled in as a starter.
It's also official that Bud Dupree will remain the starter and will be playing on his one-year 9-million-dollar contract in 2019.
While it doesn't exactly feel like it, the Steelers defense is getting pretty close to being stable. The defensive line has its starters, you have Dupree and TJ Watt manning the edge, and the secondary seems relatively stable.
Morgan Burnett is still around but maybe not for long with the Steelers signing Mark Barron. Given his experience at safety he should be able to slide in at dimebacker. Barron can play at inside linebacker but he's certainly not the answer for the defense. He is best suited for a dimebacker/subpackage role – while also being insurance.
With just about each starting position filled, the only real hole left in the defense is at middle linebacker. You have Vince Williams as your starter, but currently no legitimate running mate for him. If the Steelers can land one of the top linebackers in the 2019 draft, it would have a huge impact and make their defense near-complete.
This is why the Steelers need to trade up and draft Devin Bush.
Bush and Devin White are the top linebackers in the 2019 draft class. White blew up the combine and is talked as a top 10 lock, so I'm going to assume he's out of the equation. Bush also had a great day at the combine, so much that he went from a perceived fringe 1st round prospect to a top 20 lock.
While it's certainly possible Bush could fall to the Steelers at pick 20, I don't think they can afford that risk. If he's gone there's a big drop off in linebacker talent. Yes, there are athletes they could draft in the 2nd or 3rd round such as Blake Cashman or Bobby Okereke, but neither would have the same impact as Bush.
I'll be presenting you two feasible scenarios for the Steelers trading up for Bush. To get an idea of the cost, I'm going to refer to DraftTek.com's draft value chart: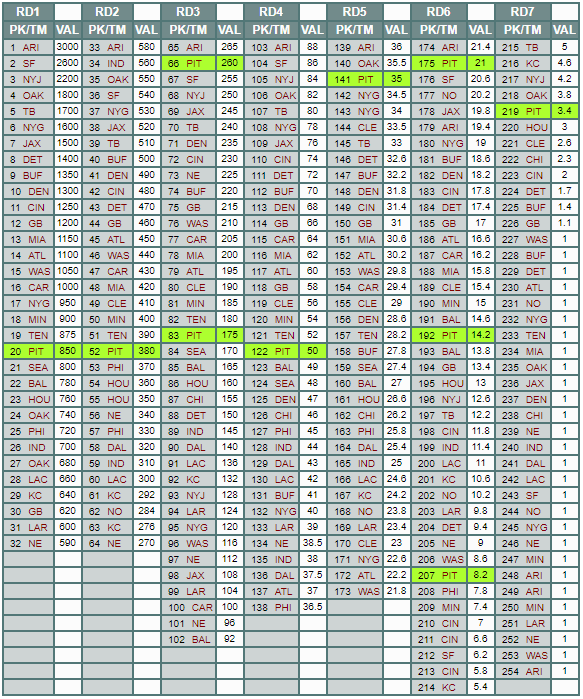 Scenario A: Trade for pick #10
The reasoning to get #10 would be to jump the Cincinnati Bengals.
The Bengals have an obvious need at linebacker so seeing them draft Bush wouldn't be a surprise. If you enjoy reading mock drafts, the Bengals being mocked a linebacker isn't rare whatsoever. With a new head coach, getting younger and faster on defense is sure to be a priority and Bush just makes too much sense.
Trading with the Broncos could be tricky though. Right now, Joe Flacco is their quarterback. If they still have interest in drafting a quarterback they may want to stay put. Let's say the Steelers do manage a trade for #10 though.
According to the chart pick #10 is valued at 1300, while pick #20 is valued at 850. If the Steelers package picks #20 and #52, that's a value of 1230. The values don't equal, but it may be enough. If not, they may have to toss in an additional 4th or 5th round pick. Not having a pick in the 2nd round sounds rough, but having pick #66 in the draft lessens that blow.
If the Steelers did want to keep pick #52, an alternative option would be to package pick 320, #66, and #83 for pick #10. They would lose both of their 3rd round picks, but could still have their 2nd rounder where they would surely have the opportunity to pick up a talented player.
Scenario B: Trade for pick #14
Maybe the Steelers don't want to give up too much draft capital and trade with the Broncos, and then they get lucky and the Bengals pass on Devin Bush. The next logical trade spot would be with the Falcons at pick #14.
The reasoning at #14 would be to jump both the Panthers and the Giants. Many have pegged offensive lineman to the Panthers, but then they went and signed center Matt Paradis. Add in the fact that veteran linebacker Thomas David left in free agency and that is an obvious need in the draft.
The Giants are in a similar situation, and though they have many needs, linebacker is one of those. I would not feel comfortable giving the Giants the chance to draft Bush.
Trading for #14 would actually be much easier than #10. Pick #14 is valued at 1100 – a 300 point difference. If the Steelers packaged pick #20 and #66, that's a value of 1110. That's a near perfect value for both parties. This would also still give the Steelers both of their original 2nd and 3rd round picks. If I were to guess which scenario is more likely between the two, it's this one.
Final Thoughts
If there's a year for the Steelers to be aggressive in the draft – this is the year.
The Steelers two biggest needs going into the offseason were inside linebacker and cornerback. Now that one of those is patched up, the Steelers can afford to put all their focus on getting a linebacker for their defense. They did sign Mark Barron, but I do not expect him to deter the Steelers from targetting a linebacker early.
We've seen the Steelers jump to get their guys in the past – we saw it with Troy Polamalu in 2003 in Santonio Holmes in 2006. If the Steelers have confidence that Bush can be the guy to elevate this defense, moving up is a no-brainer move.