Early Steelers preseason depth chart prediction
With four sessions of training camp now behind us, I believe there's a clear enough picture to get an idea of what the Steelers first depth charts of the season may look like – but keep in mind, that this is still subject to change.
The official Steelers depth chart should land next week. While I had to do some finagling with deeper spots of the roster, I believe this will be an accurate picture of what we could see entering the team's opening exhibition game against the Tampa Bay Buccaneers on September 9th.
Offensive Depth Chart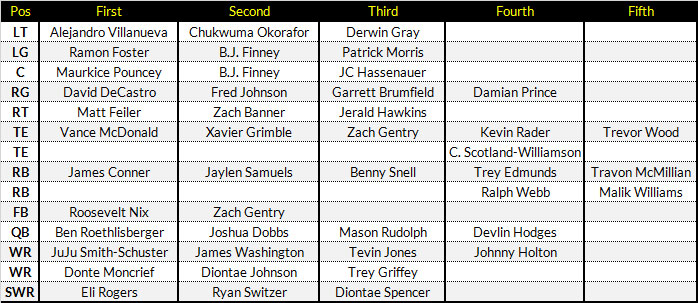 Comments
Matt Feiler retains his right tackle job for the time being running with the first team primarily through camp. Otherwise, most of the offensive line and backfield are no surprises here, at least for the first team/starters (on paper, as of course, many of them will not play in the first preseason game).
Donte Moncrief looks every bit of the part as a receiver who will compliment JuJu Smith-Schuster. I believe James Washington will eek in as a "starter" as well, when the Steelers offense opens in three-receiver sets.
Eli Rogers may also have the veteran edge as a slot receiver and/or fourth option when the Steelers open things up. Ryan Switzer is on equal footing too.
Behind them is a battle for whatever spots are left on the WR depth chart. Diontae Spencer is a camp favorite already, but the former CFL player will have to cut his teeth as returner (something he's capable of) and at best, appears to be a practice squad candidate as he competes with the other Diontae, the rookie Johnson from Toledo.
Other veterans who will retain their spots include Xavier Grimble and Joshua Dobbs. Dobbs is in a hotly contested battle to be Big Ben's backup, as he looks to fend off second-year quarterback Mason Rudolph.
In the backfield, Benny Snell will likely get a lot of action and be the actual backup to James Conner, as Jaylen Samuels will be utilized in various other ways as he's never been a "bell cow" at any level he's played at. Look for Trey Edmunds and Ralph Webb to see plenty of action early in the preseason as well.
Defensive Depth Chart

Comments
The way the defense looks won't be much different from last season. Rookie Devin Bush has been getting a lot of work in all of the defensive packages, but free agent Mark Barron is also running with the first team in camp as well.
Steven Nelson is a lock for CB2, but everyone behind him is jockeying for position including former first round pick Artie Burns, Brian Allen, Cameron Sutton and rookie Justin Layne. Right now the backup spots go to Burns and Allen, with Sutton spelling Hilton at the slot corner role.
Keep an eye on Kameron Kelly, a standout with the AAF's San Diego Fleet. He has taken over the first team reps for an injured Sean Davis and needs to convince the Steelers staff to not look elsewhere for depth.
Another area to watch for depth/position battles is the inside linebackers group. Tegray Scales had some early looks with the second team and Ulysses Grant, the rookie, is making a splash as well.
Don't expect much shuffling of the deck with the defensive line or the outside linebackers, as the starters, and the backups, are just about locked up. I gave a nod to Winston Craig as a veteran over rookie Isaiah Buggs, but that could change as we get to see more of Buggs.
Special Teams Depth Chart

Comments
Every spot here is up for contention.
Look for split time between the kickers, punters, and long snappers: Trevor Wood was also a tight end in college and has seen reps there during camp thus far.
The return duties likely go to Ryan Switzer. Eli Rogers has taken some practice snaps there, but it would appear both Diontaes are going to get the most looks to make an impression. Cameron Sutton likely factors into this group as a worst-case scenario to get some reps in the event no one else is available on a game day.
Conclusion
Am I willing to bet on my predictions? Possibly!
I still feel this is a fairly accurate representation of what could occur in the coming weeks. While I feel confident in these predictions, I'm not going to bet on this outright until I see some more on camp, however! (Because I feel this Steelers team is the best we've seen in years.)
---
Suggested articles from our sponsors