Special bonus for our readers: look for the full version of our 2019 Pittsburgh Steelers schedule wallpaper pictured above at the end of this article! (Edit: we've also added a smartphone version of the Steelers 2019 schedule too!)
The NFL season is upon us and as we get a clearer picture of what some teams will look like, I thought it would be a good idea to break the Steelers 2019 season down into four parts: quarters in a game, if you will.
For those who are looking for some NFL betting tips for Sundays games, you may want to roll the dice on some of the following facts.  While Pittsburgh hasn't had much success in Foxboro over the last decade, the Steelers were the last team to hand the Patriots a loss in 2018 in a 17-10 victory at Heinz Field. As a six point underdog, it doesn't seem like the oddsmakers have any faith that Pittsburgh can upset New England on the night when they hang their championship banner.
Currently the point total that Vegas has set for Sunday's game is 51 (according to OddsShark), trailing only the Kansas City vs. Jacksonville 52 points earlier in the day.  This could be seen as great news for fans looking to close out the weekend with an action packed matchup, however in five of Pittsburgh's last seven games, the total has been under, which might make some fans cautious.
Here's how those quarters breakdown along with some analysis on how this may fare for the Steelers and their opponents in those games.
First Quarter: @Patriots, Seahawks, @49ers, Bengals
Obviously, the Patriots are a team most others want to avoid, but the Steelers get the displeasure of facing them right out of the gate, just as they hoist their Super Bowl banner at Foxboro.
I think the circumstances, combined with New England traditionally being slow starters in September, bodes well for the Steelers.
Getting Seattle to come to Pittsburgh for a 1pm kickoff is an advantage as well in Week 2, while the Steelers have to go to San Francisco in Week 3 – they've never been very strong on West Coast time, but the Niners appear to have their own issues at the quarterback position which need fixed and fast!
Week 4 places Andy Dalton into Heinz Field in primetime: what could possibly go wrong with a player who consistently plays like garbage when the lights shine brightest? (That's putting it nicely!)
If I were a guy who did predictions, I'd venture to say 4-0 or 3-1 at this point.
Quarter 2: Ravens, @Chargers, Dolphins, Colts
This nice stretch includes a bye week after the Chargers trip as well as the start of a three-game home stand.
I never respect the Ravens, so my opinion is that they're not going to be good this year. However, I say that each time they lose a core group of players and they turn around and make me look like a fool. It's AFC North football, so we'll leave it at that.
The Steelers will be looking for revenge against the Chargers from last year's officiating fiasco on Sunday Night Football. The last time Pittsburgh traveled to San Diego, Qualcomm Stadium was invaded by Black and Gold jerseys and Terrible Towels in the stands.
The move to LA hasn't been any kinder on getting more Chargers fans in the seats, and the smaller soccer stadium venue could prove to be an even bigger "road game" atmosphere despite the Chargers being at home. I think the Steelers fixed their defensive issues from that game and as long as they don't get jobbed by the officials, they should take care of business.
I can't even name a player on the Dolphins: nuff said!
The Colts were a playoff team last season and on the rise with young talent. Even without Andrew Luck, they can't be counted out just yet.
Quarter 3: Rams, @Browns, @Bengals, Browns
An intriguing quarter of the season filled with two home games and two short trips, the Steelers are setup with a tight turnaround, first playing last year's Super Bowl runner-up, the Los Angeles Rams, then heading to Cleveland for a Thursday night AFC North matchup with the Browns.
I honestly feel like they're being setup for failure here. A west coast team traveling east should be of help, but that tough matchup parlays into the unfavorable road team on Thursday night situation, where most of the visitors get blown away by the home opponent.
If that's not enough, the trip to Cincinnati is another one to keep your eye on. The Bengals, albeit being owned by the Steelers most of this decade, have a new coaching staff and are always competitive, especially within their own building.
Then the Steelers come right back and host the Browns, giving these two teams little breathing room in a three-week span that could decide the division winner.
Quarter 4: @Cardinals, Bills, @Jets, @Ravens
And here's the roughest patch of the schedule: at this time what do we know of the identity of these teams?
Zilch.
That's the scary part. Any of these four teams are boom or bust candidates. They could be on the rise. They could be on the decline.
And the Steelers have to play in their homes three out of these four games.
I believe the schedule makers felt that the Steelers and Ravens would be juicier for ratings at the end of the season, sending the Steelers there right after seeing their old running back Le'Veon Bell.
Time will tell how this all pans out. Road games are never easy, but the Steelers could seal their fate in this final quarter and perhaps earn some home games in the postseason during this stretch.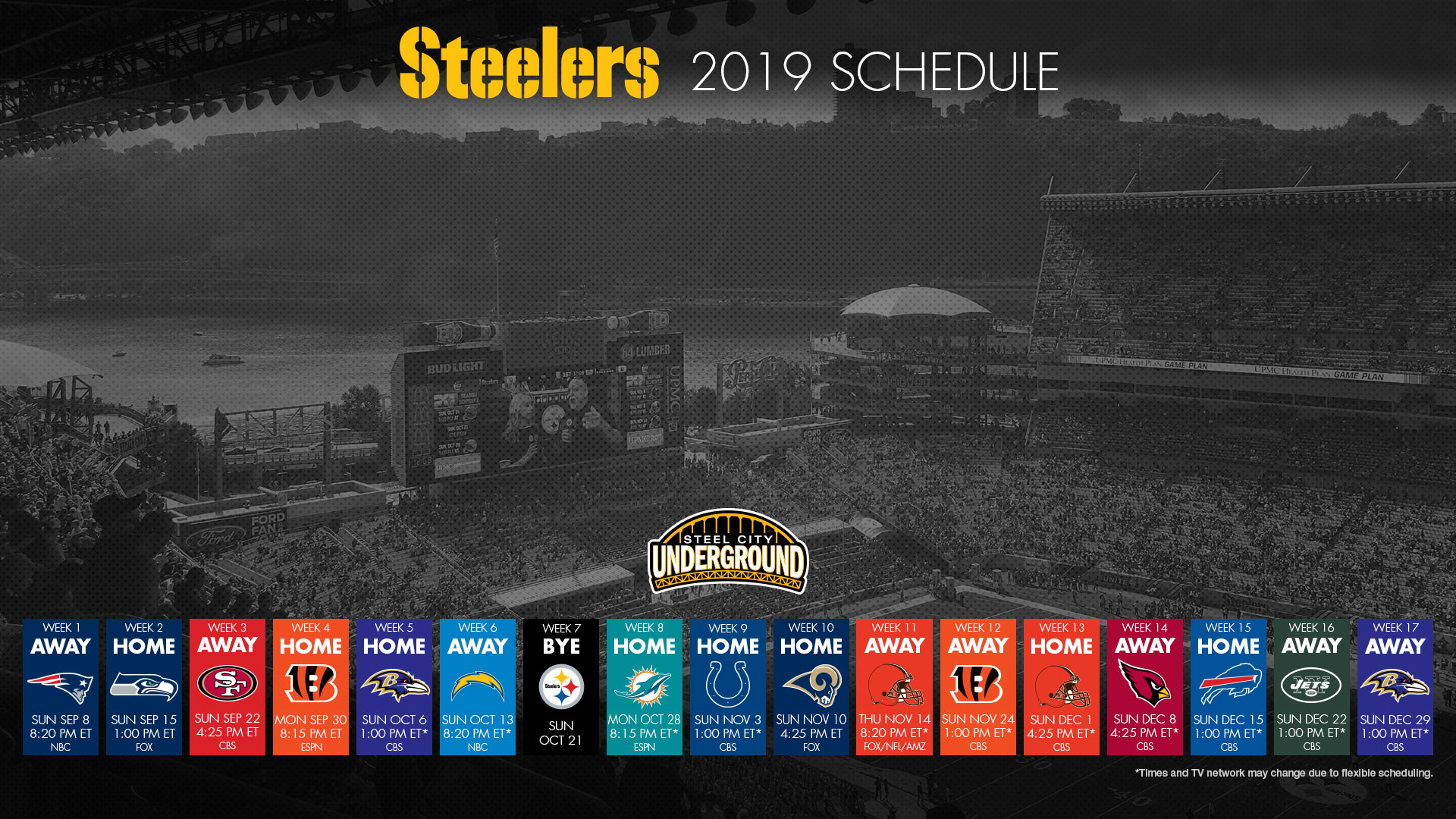 2019 Pittsburgh Steelers Schedule Wallpaper
To set this as your desktop wallpaper, right click on the image below and "save image". You may then browse to where you saved the image and follow your operating system's instructions to set your desktop background.
Alternatively you may click on this link to open the image in a new tab/window: 2019 Pittsburgh Steelers schedule wallpaper.
Mobile Version
Long tap to save this 2019 Pittsburgh Steelers schedule image to your smartphone and then follow your manufacturer's instructions to set it as a wallpaper.