Who was the best Steelers player to wear each jersey number? 00-9
The offseason is here, and it can be the belle of the ball to some fans: myself included.
To other fans, however, it is the dry season. So, I decided it would be fun to do a series listing the best Steelers players to wear each jersey number from 00 to 99, as voted on by us here at Steel City Underground.
The series begins with jerseys numbered from 00-9 and will continue in ten-number increments until we get to the end, so be sure to check back as we continue to revisit some great, and maybe some not-so-remembered, names from the past.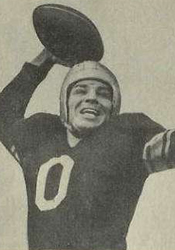 Jersey #00: Johnny Clement
Johnny Clement played for the Pittsburgh Steelers from 1946 to 1948. He split time between halfback and quarterback for the team. In 1947 he led the league averaging 5.2 yards per carry, totaling 670 yards and 4 touchdowns. He also added 1,004 yards passing and 7 passing touchdowns to his at-the-time spectacular season. He is also the only player to wear the number in franchise history.
Jersey #0: Johnny Clement
Johnny Clement also wore the number 0 during his time with the team and is just one of two to ever wear it. (Kudos if you can name the other player to wear the number!)
Jersey #1: Gary Anderson
Gary Anderson started with the team in 1982 and lasted all the way until 1994. He is a 4-time pro bowler and 1 time all-pro. Anderson is also the first-ever South African born player to appear in an NFL game.
Jersey #2: Todd Peterson
If you guessed that most of the players wearing the numbers 1-9 would be kickers/punters, you are correct. Peterson only played one season for the team in 2002, and frankly, it was not his best season. However, there is a lack of options as not many times has the number been worn in franchise history. Here's hoping Mason Rudolph can change this selection in the future.
Jersey #3: Jeff Reed
Sheetz towel dispensers may disagree with me here, but I'm standing my ground. Reed came in and actually took over for Todd Peterson in 2002, and solidified the kicking position until the 2010 season. He was a very exuberant human being with tree trunks for thighs, and he was a hell of a kicker. He finished his career only missing 3 XP's (99.1%).
Jersey #4: Josh Miller
Here we have the first punter on the list. He was the team's punter from 1996 to 2003. He finished his career with a long of 75 yards and a 43.1-yard average. He also has spent time covering Pittsburgh sports on 93.7 The Fan.
Jersey #5: Craig Colquitt
The Colquitt family does not get talked about enough as a top football family, Craig was with the Steelers from 1978 to 1984 and at the time was the best punter in team history, with a long of 74 and a career average of 41.3. Craig also has two sons who have been successful punters in the NFL, Britton, and Dustin.
Jersey #6: Shaun Suisham
After Jeff Reed retired, Suisham (also known as Sushi) was the next kicker to lock down the position. While never known for a strong leg, he remains one of the most accurate kickers in team history. Ultimately tearing his ACL during the hall of fame game in 2015 would be the end to his career.
Jersey #7: Ben Roethlisberger
Is there another option for this? Not Sure Pete Gonzalez's 2-year stint with the team in 1998-1999 would be enough to overtake Ben for the top spot. Big Ben is nearing the end of a Hall of Fame career in which he's been to three Super Bowls, won two, and will likely finish top 10 in NFL history in career passing yards and touchdowns.
Jersey #8: Tommy Maddox
Tommy Gun mania was real in Pittsburgh in 2002. Originally drafted 25th overall by the Denver Broncos in 1992, he ended up playing in both the XFL and Arena leagues. Maddox is one of three players (Bobby Singh and Ron Carpenter to win both NFL and XFL titles.
Jersey #9: Chris Boswell
I promise this is the last kicker on this week's list. Boswell returned to form in 2019 after an injury hampered his 2018 season. It was actually his best season, nailing on 93.5% of field goals and 100% of extra points. He has made one Pro Bowl (2017) and could have made a second this year. Boswell will likely hold down the position for the foreseeable future as well.