Watch: Steelers defense shuts down Carson Wentz in final Eagles drive
Steel City Underground will pick a play of the game from each side of the ball each week of the Steelers 2020 season. Stay tuned as we hand-select the very best from the Black and Gold!
The Pittsburgh Steelers defense had a lot of critics on Sunday, as the team relinquished 29 points to a one-win Philadelphia Eagles opponent.
However, there were some victories hidden within a long run by Eagles RB Miles Sanders or a 152-yard game by unknown WR Travis Fulgham.
Carson Wentz went down often; with some turnovers we're accustomed to seeing. Sanders, outside of his 74-yard touchdown run (which itself was the scrutiny of several missed holding penalties) carried the ball ten other times for a total of eight yards.
Zach Ertz, a leading receiver on the Eagles, was shutdown, catching only one of his six targets for six yards.
Yet, it was the final Eagles possession where the Steelers defense truly shined and appeared to find the footing we're used to seeing. Here is a breakdown of those four plays which closed out the Steelers victory from last Sunday.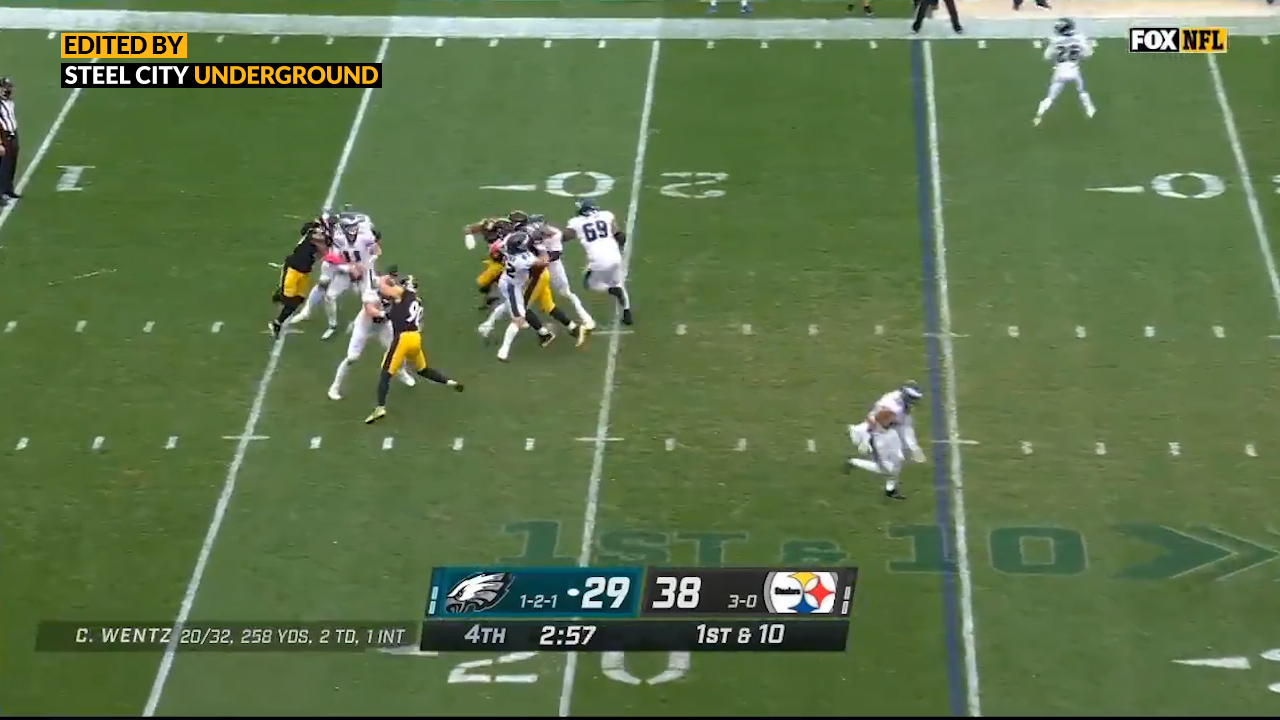 1st-and-10 Eagles 25-yard line (2:59 remaining 4th quarter)
(Shotgun) C.Wentz sacked at PHI 15 for -10 yards (sack split by B.Dupree and S.Tuitt)
The Steelers defense needed a big play and it came right from the jump as Bud Dupree made Eagles tackle Jordan Mailata look like the inexperienced player he is.
In starting only his second game, Mailata was unable to stop Dupree off of the edge, as the Steelers linebacker nearly gets a strip-sack, and there's a meeting in the middle of Carson Wentz with Stephon Tuitt getting credit for a half-sack as well.
The Eagles instantly went backwards ten yards and the clock kept ticking.
2nd-and-20 Eagles 15-yard line (2:27 remaining 4th quarter)
(No Huddle, Shotgun) C.Wentz pass incomplete short middle to M.Sanders
The Steelers once again only rush four, and once again Stephon Tuitt disrupts the Eagles offensive line.
With T.J. Watt also breathing down Wentz' neck, he hurries a pass – that I believe he thinks will be knocked down by Tuitt – overthrowing an open Miles Sanders who was left to roam in the short distance as the rest of the defense went into prevent mode.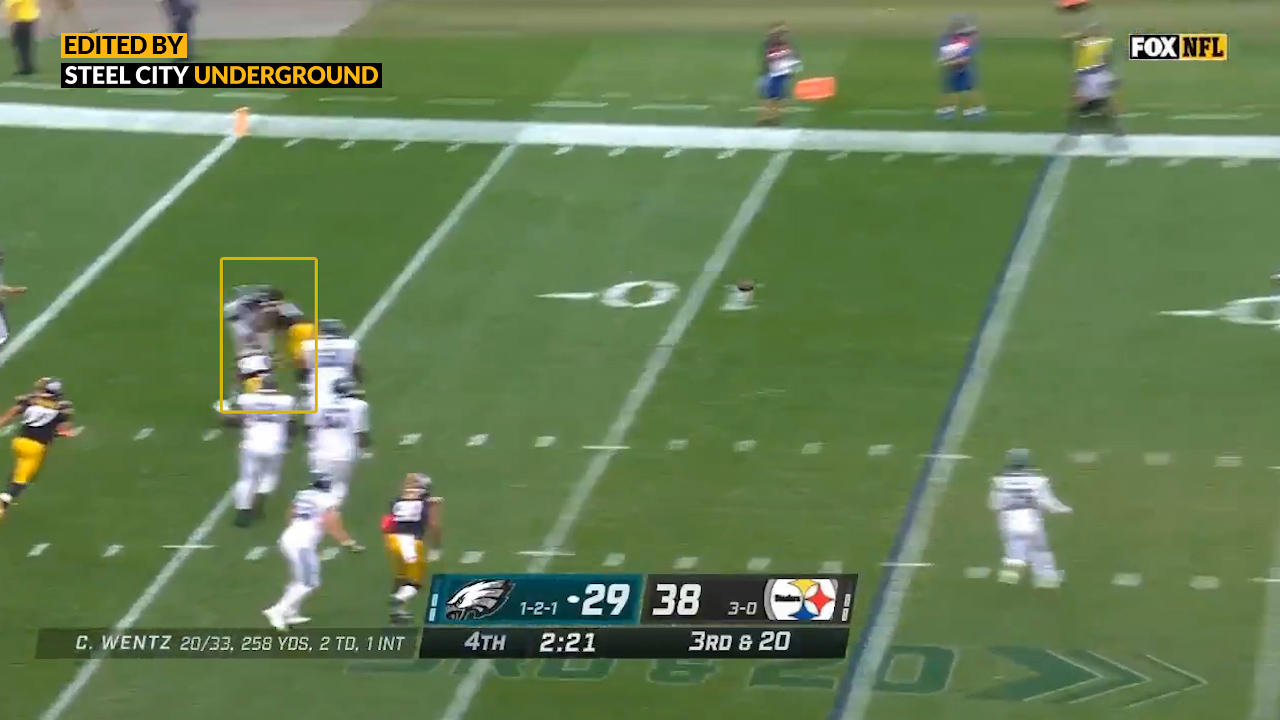 3rd-and-20 Eagles 25-yard line (2:24 remaining 4th quarter)
(Shotgun) C.Wentz pass incomplete short middle to Z.Ertz [T.Watt]. Pressure 48-Dupree
Luckily the officiating saw this as the bang-bang play it was, as Bud Dupree and T.J. Watt get in on the action.
Cam Heyward and Watt, coming from Wentz' right side, flush him out of the pocket as Watt goes low and Dupree goes high – and Wentz misses one of his favorite targets, Zach Ertz, setting up fourth down and long.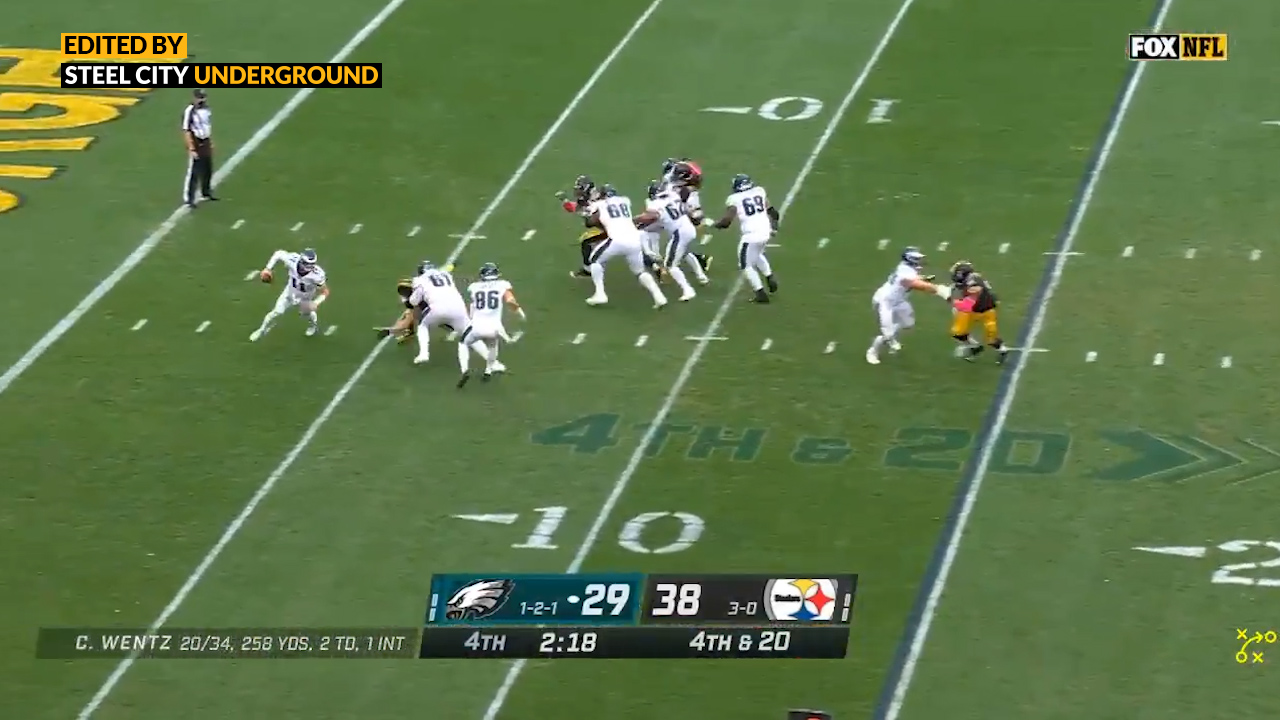 4th-and-20 Eagles 25-yard line (2:18 remaining 4th quarter)
(2:18) (Shotgun) C.Wentz pass deep middle intended for J.Hightower INTERCEPTED by S.Nelson [S.Tuitt] at PIT 25. S.Nelson to PIT 25 for no
gain (J.Hightower)
The entire Steelers front four was relentless on these four plays – just watch the hustle by T.J. Watt, who explodes around a double team (Ertz hung back to chip in) and Wentz is once again forced outside, where he still takes a hit on a prayer of a long pass that gets picked off by Steven Nelson.
---
See it all in real time
Here's the full rundown in real time as the Steelers defense eats Carson Wentz' lunch, steals his lunch money, and demands he bring back more tomorrow!