Did Mike Tomlin win with "Bill Cowher's players"? Maybe a handful of them
Pittsburgh Steelers head coach Mike Tomlin has come under fire once again this offseason with criticism of his "postseason record". His detractors will always claim that he won a Super Bowl with "Bill Cowher's players" as the previous head coach prior to Tomlin won the Lombardi Trophy at the conclusion of the 2005 season.
Mike Tomlin, however, won the Super Bowl in 2008, a full three seasons later, which is a lifetime in the NFL.
The coaches share a lot in common, the least of which is losing in the playoffs. Yet, it's the success they've had in getting there (all but one team loses in the postseason each year) and how their teams were constructed that see the two coaches share a lot in common.
It's not as simple as "Tomlin won with Cowher's players".
As mentioned above, the three years between Super Bowls saw a large changeover in players. Furthermore, when Tomlin returned to the Super Bowl in 2010, his team further less resembled that of Cowher's in 2005.
Here's how those teams stack up. (The colors are merely to illustrate carryover and/or change between each of the three Super Bowl teams.)
Also note, I listed 28 positions, including specialists, whom I consider "key contributors". For example, it wasn't necessary to list Rashard Mendenhall, who was the first overall draft pick of the Steelers in 2008, on the 2008 squad, as he spent most of the season (since Week 4) on Injured Reserve.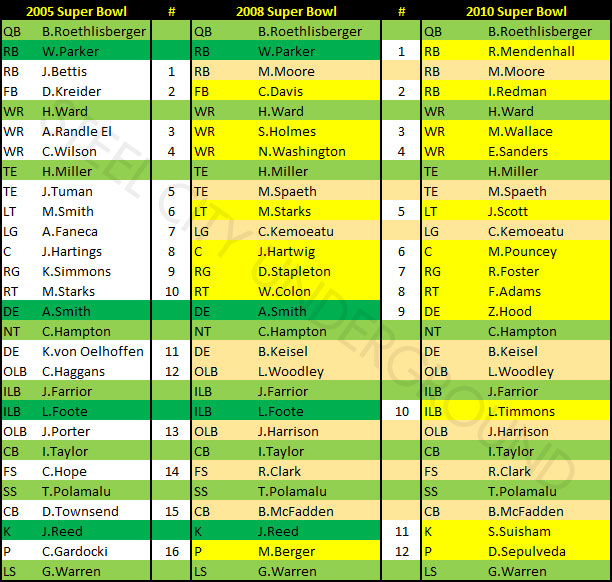 There are several mainstays between 2005 and 2008, but only 13 players were around for both Super Bowls:
Fewer names hung around through the 2010 team which appeared in the Super Bowl:
QB – Ben Roethlisberger
WR – Hines Ward
TE – Heath Miller
NT – Casey Hampton
LB – James Farrior
CB – Ike Taylor
SS – Troy Polamalu
LS – Greg Warren
That dozen in 2008, carried over from Cowher, trimmed down to eight.
Now, I know some folks will say "Santonio Holmes was drafted by Bill Cowher." While this is true, the benchmark set for most of these arguments insinuates Tomlin inherited the team which won the Super Bowl, which isn't true.
In fact, Bill Cowher's final season in 2006 saw the Steelers finish 8-8, third in the AFC North and miss the playoffs entirely. This was considered a major failure as defending Super Bowl champions.
Similarly, Tomlin brought the team to a 10-6 record. They made the playoffs in his first season as head coach, but would lose to the Jacksonville Jaguars in the Wild Card round.
Furthermore, Cowher's 2005 winning team finished the best of both with an 11-5 record, but that was barely good enough to make it to the playoffs. As history shows, they were the first sixth seed to ever win a Super Bowl.
To jump back to "Cowher's players" it would be unfair to at least highlight some of the others who were on Cowher's roster for his final season as head coach, who were not part of the 2005 Super Bowl winning team:
Santonio Holmes
Finished second in receiving yards and receptions on the team in 2006, his rookie season.
Received his first true playing time in 2006 after appearing in only one game in 2005.
Appeared in three games with two starts in 2006, his rookie season.
Appeared in two games with two starts in 2006, also his rookie season.
Drafted in the seventh round in 2002, Keisel became a starter in Cowher's final season after sitting behind Kimo von Oelhoffen.
Maybe the most famously neglected player by Cowher, Harrison was on and off of the team between 2002-2006. He had four sacks in 44 appearances before Tomlin made him a starter in 2007. He would go on to become NFL Defensive Player of the Year in 2008 and holds the Steelers franchise record for career sacks.
Clark was signed as a free agent from the Washington Redskins in 2006, starting 12 of 16 games in Cowher's final season.
McFadden was drafted in 2005 and would appear in 28 games with 10 starts before Tomlin took over. He would eventually replace Deshea Townsend as the starter opposite Ike Taylor in 2008 before being traded to the Arizona Cardinals, then returning back to the Steelers.