Is James Harrison a future Hall of Famer?
During the NFL offseason, a number of stories and discussions creep up around various fan groups.
Earlier this year, the talk of the town was actually a non-Steeler: newly retired New England Patriots WR Julian Edelman. The reason Edelman was a hot topic is that many media members were questioning if he's Hall of Fame material – which directly flies in the face of one former Steeler, Hines Ward.
Ward has been a part of the Hall of Fame voting process since he became eligible. His numbers are justified, especially at the time of his retirement – and far out shadow those of Edelman.
However, when bringing up other former Steelers who are now or soon to be reaching Hall of Fame eligibility, another has recently become a topic of debate: James Harrison.
The Pittsburgh Steelers all-time sacks leader has some accolades to his credit, yet, I feel he falls into the great player and not Hall of Fame player category: much like Edelman.
Why is that?
Let me preface this by saying, James Harrison was a force. One of the greatest Steelers edge rushers ever. But his biggest detriment to those responsible for Hall of Fame voting will be his longevity and his numbers.
Harrison entered the league as an undrafted college free agent out of Kent State. In 2002 he spent time with the Steelers, but never saw any action on defense – only special teams. He would be an often sign, release, and re-sign candidate for the Steelers, while also spending some time with the Baltimore Ravens practice squad. (Who even sent him to NFL Europe, where he played with the Rhein Fire.)
The Steelers came knocking again in 2004 following an injury to Clark Haggans. It would be the fourth time Pittsburgh signed the linebacker – who contemplated retirement at a young age.
Harrison would start three games in 2005, but was otherwise a non-factor in the team's lead up to and eventual Super Bowl XL win. (He was inactive for two of the team's three playoff games prior to recording three combined tackles in the big game.)
2007 would prove a pivotal year for Harrison, as the Steelers had a changing of the guard with Mike Tomlin being hired to replace long-time coach Bill Cowher. Harrison would step into Joey Porter's spot, as the latter was released due to salary cap reasons.
Porter tallied 60 sacks from 1999-2006, officially recorded as second-most in team history to Jason Gildon's 77. (And unofficially fourth at the time to L.C. Greenwood's 73.5 and Joe Greene's 66.)
The gamble to go with Harrison paid off immediately, as he recorded 8.5 sacks and nearly doubled his best single-season tackle numbers – the linebacker also racked up 12 tackles for loss and 17 QB hits too. His best stat was an eye-popping seven forced fumbles, which he would match in 2008 as a First-Team All-Pro and the NFL Defensive Player of the Year 16 sacks and TFLs, plus 19 QB hits.
2008 would also yield another Super Bowl ring, and perhaps one of the most famous plays in the game's history: a 100-yard pick-six of future Hall of Fame quarterback Kurt Warner.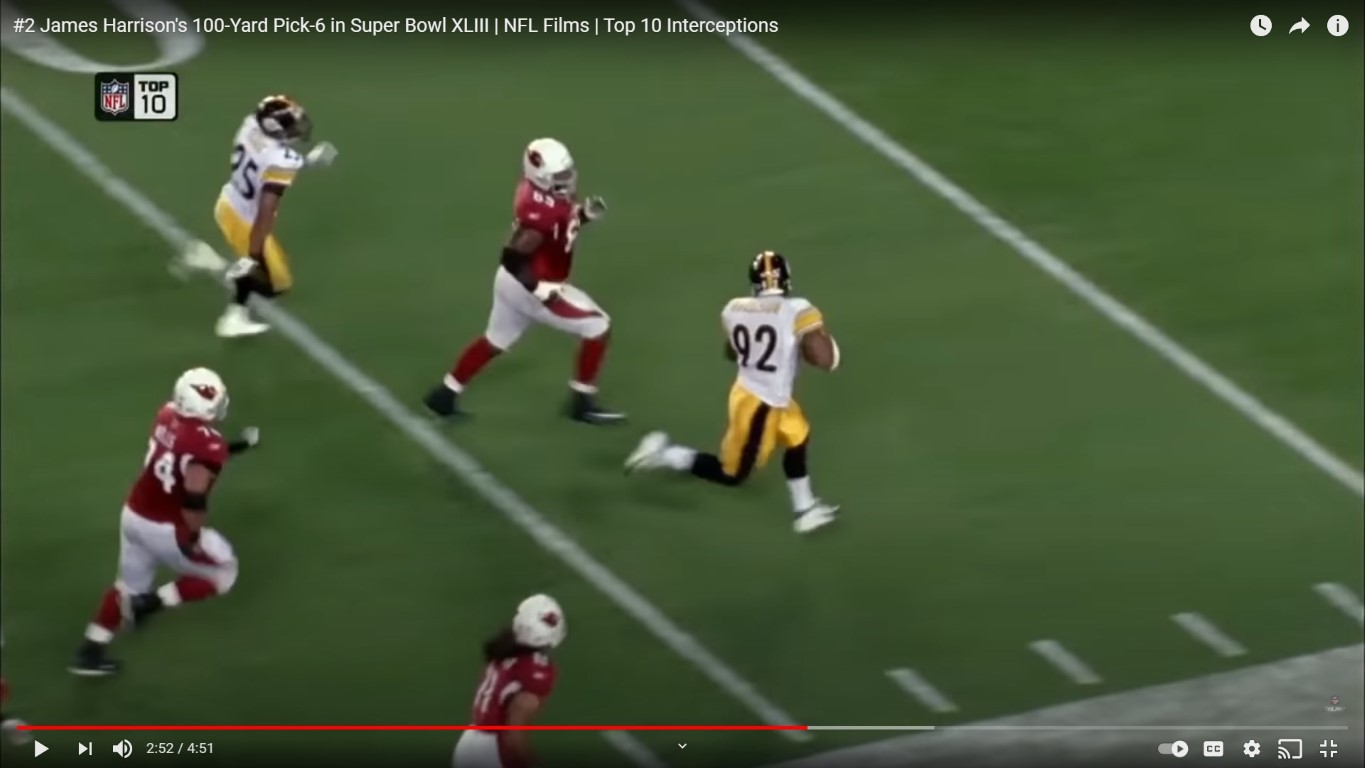 Those first two years under Tomlin would bookend five-straight seasons of Pro Bowl honors for Harrison, but his numbers wouldn't quite match his best season in 2008. He would accumulate 10, 10.5 and 9 sacks through 2011: his final year as a Pro Bowler, as he missed five games that season.
Harrison would miss three games in 2012 as his age (34) and salary came into question – he would not agree to a restructured contract or pay cut, and was released heading into the 2013 season, where he would sign with the Cincinnati Bengals. Appearing in 15 games, he would only tally two sacks and his tenure with the Bengals would end with one season.
In 2014, Harrison returned to sign a one-day contract to retire with the Steelers. His retirement was short-lived with OLB Jarvis Jones was placed on IR and the team came calling for his help. Putting Father Time on hold, Harrison would not only end up playing 11 games in 2014 for the Steelers, but wound up sticking around for nearly three more seasons.
His presence was always looming, but his numbers diminished with Pittsburgh using an outside linebacker rotation as the younger Jones and newly drafted Bud Dupree mixed in with Harrison and veteran Arthur Moats. Harrison would finish four seasons in Pittsburgh with 15.5 sacks in 41 games through 2016, and then a lone sack in six appearances with the Steelers in 2017 after being set aside in favor of rookie T.J. Watt.
Harrison would defy his team, and the odds, by asking for his release, receiving it, and then signing with the New England Patriots at the end of the 2017 season. He would gain two sacks against a depleted Jets team led by QB Bryce Petty, before riding the wave into Super Bowl LII, where the Philadelphia Eagles would defeat the Patriots.
Harrison would not record any sacks during spot duty in those three Patriots playoff games, but at age 39, his story was a unique one during the Super Bowl fanfare.
He would retire following the 2017 season, as the Steelers all-time sacks leader 80.5 – a number which is the best in the franchise's history but puts him far behind other outside linebacker greats such as Kevin Greene (160 sacks), Terrell Suggs (139), DeMarcus Ware (138.5), Lawrence Taylor (132.5), Rickey Jackson (128), Derrick Thomas (126.5) and Andre Tippett (100) (according to Pro Football Reference).
All of the above are in enshrined in the Pro Football Hall of Fame other than Suggs and Ware thus far.
Furthering the sacks stat case against Harrison are current players Von Miller (106), Justin Houston (97.5) and Clay Matthews III (91.5) (who didn't play in 2020, but hasn't officially retired). Miller accumulated his sacks with one more game (92) to Harrison's 91, while Houston did so in only 66 games and Matthews in 74.
If you feel that any of those three players are not Hall of Fame caliber, then that would be the sentiment of those outside of Pittsburgh about Harrison, who falls into a similar category of former Steelers such as Gildon (80 sacks) and Porter, who added to his totals in his post-Steelers career with 98 sacks in 89 games.
Harrison's 16 sacks are the most in a single Steelers season, but he doesn't appear on any other leaderboards for most sacks in game (7th-best with 3.5) or consecutive games with at least a half-sack (of which at least ten Steelers have done a minimum of five times).
Harrison also doesn't show up in rankings for Steelers all-time fumble recoveries in career or season metrics.
The argument gets further distorted when sack statistics are viewed from an overall perspective rather than that of his peers. Harrison drops from his current rank of 16th all-time among outside linebackers down to 63rd among all defenders.
Still, there could be a case for a bronze bust in Canton afterall: a pair of Super Bowl rings and four appearances total, a Defensive MVP, a franchise sacks record, and one of the most famous plays in the championship's history tilt the scales somewhat closer to Harrison's inclusion.
The question then becomes "Who passes him?" as players with gaudier stats become eligible – that may get answered when Harrison himself first becomes eligible in 2023.
Will voters see a short span of greatness as they did with Calvin Johnson? Or will they hold Harrison at bay for his off-field criticism of the league and its commissioner, as they did with the over-deserving but sometimes controversial Terrell Owens?
The best Straight Outta meme you will ever see (James Harrison Confessions of an NFL Hitman Credit: Nathaniel Welch) pic.twitter.com/PiHD3Gq9lg

— Steel City Underground (@steelcityundrgr) August 15, 2015
Unfortunately, those answers are above my paygrade and too far off into the future to know for sure right now. If we were judging simply on his five-year reign of terror on the NFL, and his accolades on what was one of the league's greatest defenses between 2005-2010, I'd make a case that Harrison should at least become an annual semifinalist like his former teammate Hines Ward.
Whether either of those players ever gets the final nod may be years in coming.