Bill Cowher passed the torch to Mike Tomlin as did Chuck Noll to Cowher
Mike Tomlin's detractors will never be satisfied. Each year they find a new way to diminish the coach's accomplishments. It continues through the offseason, with nothing better to talk about apparently, by comparing previous head coach (and now Hall of Famer) Bill Cowher to the current head of the Steelers.
One of those criticisms Tomlin is often (wrongly) cited for is inheriting "Bill Cowher's players": if only those same folks who prefer Cowher to Tomlin can see that there are many things both coaches shared in common with one another.
While Tomlin is often criticized for early exits from the playoffs, Bill Cowher shared a propensity for not being able to win big games, losing in four AFC Championships and a Super Bowl, before finally hoisting the Lombardi Trophy.
Before I continue, this article isn't a knock on either Tomlin or Cowher: it's simply a retrospective that the success some fans wish to see isn't based on any one common denominator.
The two coaches share a lot in common, the least of which is losing in the playoffs. Yet, it's the success they've had in getting there and how their teams were constructed that link them together.
Similarly, Bill Cowher can be linked with Hall of Fame coach and architect of the Steelers 70's dynasty, Chuck Noll. While some players were a carryover from Cowher's Super Bowl XL winning team, each of Tomlin's Super Bowl contending squads were a shell of the former, namely inheriting three young and recent franchise first round draft picks: Troy Polamalu, Ben Roethlisberger, and Heath Miller.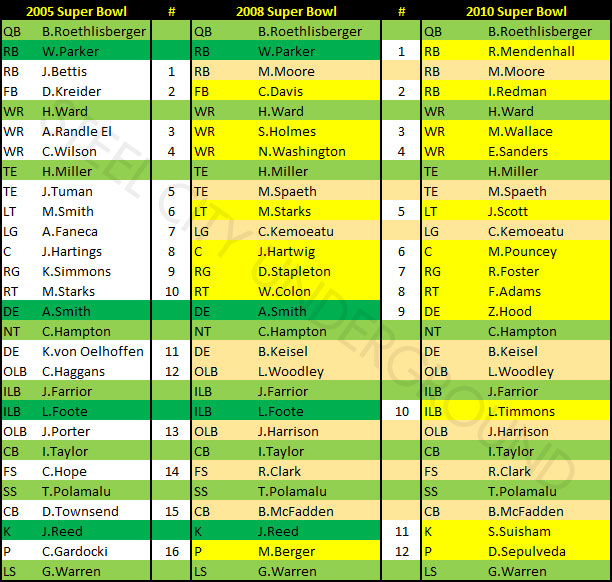 However, Tomlin wasn't the only Steelers head coach to walk into a stable situation when it comes to good and/or great players already on the roster.
When Cowher took over for Chuck Noll in 1992, the team also had some future Hall of Famers in the fold, including Rod Woodson and Dermontti Dawson.
In addition, these contributors were already on the Steelers depth chart, including several franchise greats:
Notes:
While most of us would like to forget O'Donnell, he would lead the Steelers to Super Bowl XXX.
Barry Foster would lead the AFC in rushing, only 23 yards behind Emmitt Smith for the rushing title in 1992.
Greg Lloyd is considered one of the Steelers best pass rushers of the 90's, forming a fearsome duo with Kevin Greene.
Final Remarks
With only three total head coaches over the span of the last 50-plus years, the Pittsburgh Steelers have become a model of how to build a winning organization.
Arguments about who drafted which player only sully the great success the Steelers have had during this time. Even though each of these three coaches experienced certain shortcomings, the fact remains that each left an indelible mark on the franchise in which each was able to pass the torch to the next: with each successor adding their own legacy to the Steelers NFL record six Super Bowl Championships.