Overreactions from Steelers Nation: Quarterbacks as first round draft picks
Welcome to my weekly edition of "Overreactions from Steelers Nation". This week, I'm trying to figure out if Steelers fans even watch the games!
With great power comes great responsibility.
Over the years I've spoken ad nauseum about the pitfalls of selecting a quarterback in the first round of the NFL Draft just for the sake of taking one in the first round. (You can read about that here, as I'll try and not turn into a broken record!)
Now, I don't want to misguide anyone here: it's very commonplace these days that if you want a passer, you're going to have to spend a fairly high pick for the privilege of getting a decent prospect.
The problem is, a great deal of these quarterbacks don't live up to the value of the pick used to draft them. Additionally, the teams themselves spend a great deal of other capital in order to get into a position for said pick.
Take the curious case of the Philadelphia Eagles and Los Angeles Rams in the 2016 NFL Draft.
The Rams traded the Tennessee Titans for the first overall pick. According to NFL.com, this was these were the terms:
Tennessee gets: Rams' first-round pick (2016), two second-round picks (2016), a third-round pick (2016), a first-round pick (2017) and another third-round pick (2017).
Rams get: Titans' first-overall pick (2016), a fourth-round pick (2016) and a sixth-round pick (2016).
With the pick, the Rams would select Jared Goff.
The Eagles would make a similar trade with the Cleveland Browns, trading three top 100 picks in 2016, a first-round pick in 2017, and a second-round pick in 2018, in order to move up for Carson Wentz.
Neither Goff or Wentz are on those respective teams in 2021, making those franchise-crippling moves all the more puzzling years later. In fact, all of the league's quarterbacks drafted in the first round between 2011 and 2016 are no longer with their original teams, making the quarterback lottery a one-in-a-million shot for most of the NFL.
I already mention a great deal of this in the article linked at the top of the page, so I have to share what prefaced my interest in revisiting this topic with four games to go in the 2021 season. This tweet, shares a lot of the sentiments I'm seeing all over Steelers Nation:
Terry Bradshaw was drafted 1st overall in 1970.

Ben Roethlisberger was drafted 11th overall in 2004.

It's astounding to me that the #Steelers waited 21 years after Bradshaw retired to invest another 1st-round pick into the QB position.

— Tommy Jaggi (@TommyJaggi) December 13, 2021
Let me preface the rest of this article by saying, this has nothing to do with the author, Tommy, who even contributed here once upon a time. However, I see a lot of the same comments shared irresponsibly, as if the Steelers can't draft well or avoid the quarterback position.
The first glaring omission in this tweet is that Pittsburgh took Mark Malone in the first round of the 1980 draft. It's an oft overlooked fact, because Malone didn't have the best of NFL careers. Most fans point fingers at the organization for passing on Pitt's Dan Marino in 1983 – but that's rewriting history when the Steelers still had Terry Bradshaw and a first-round pick invested in Malone during the 1983 NFL Draft.
Bradshaw led the Steelers to the playoffs in 1982, losing in the Wild Card round to the Chargers. In 1983, Bradshaw had elbow surgery and famously played in his only game, his last, against the Jets. Cliff Stoudt, who was drafted in 1977, started the other 15 games of the NFL's expanded 16-game schedule but would make way to Malone playing in the 1984 season – which would coincidentally end with the Steelers losing to Marino's Dolphins in the AFC Championship Game.
What would transpire after is a dark era of Super Bowl droughts as the 70's Steelers dynasty moved on. However, there are few opportunities that the team would've had to snag a top flight quarterback with a first-round pick – and in some cases, as you can see, that would've been ill-advised based on how their actual pick turned out.
By the same token, there's no guarantee that Marino would've been a Super Bowl savior in Pittsburgh either, having never won the big game in concert with his Hall of Fame coach Don Shula in Miami.
Perusing the list of quarterbacks taken in the first round from Malone to Roethlisberger, the picks were mostly slim… unless of course, you had the first overall pick.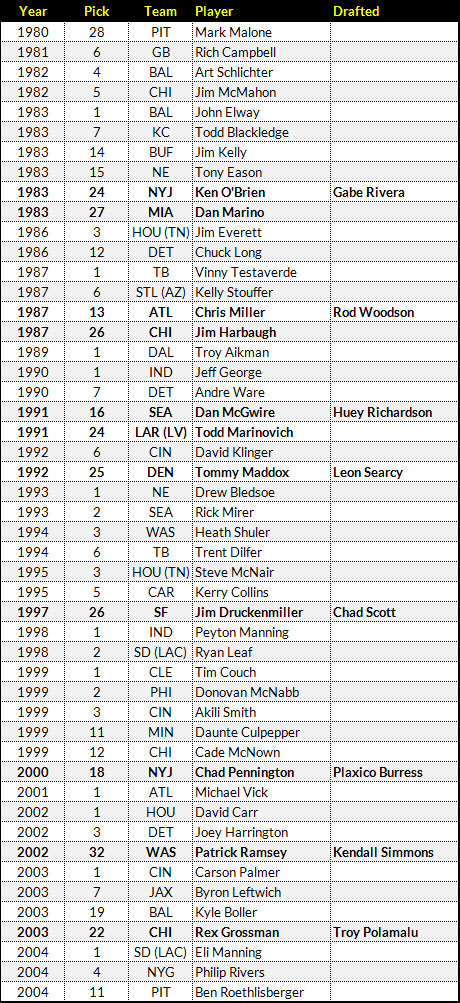 Quite a few of the players who would've been available to the Steelers also didn't turn out to have very good NFL careers, which would've made using that first round pick even worse. Yet, the Marino snub looms large.
Infamously, Gabe Rivera was pegged to be the next "Mean" Joe Greene. He would appear in six games, gaining two sacks, before a drunk driving accident ended his career.
Because the pick wasn't Dan Marino, whom the Steelers didn't need at the time (with Bradshaw, Stoudt, and Malone on the roster), it's universally deemed as the Steelers worst draft pick ever.
Regardless, the Steelers still wouldn't succumb to spending a first round selection all the way until 2004. I couldn't imagine the trajectory of the franchise if Chris Miller or Jim Harbaugh were taken over Rod Woodson. Tommy Maddox famously busted out before ironically returning with the Steelers during his NFL comeback in the early 2000's.
Huey Richardson is a non-statement, as would be Dan McGwire or Todd Marinovich, if taken in his place.
I could make a better argument for taking Chad Scott, when the team desperately needed to draft a cornerback, over Jim Druckenmiller, or Plaxico Burress to help support QB Kordell Stewart. (Burress would have his first 1,000-yard receiving season in 2001, Stewart's only Pro Bowl selection as a quarterback.) I don't think anyone needs to mention that drafting Troy Polamalu over Rex Grossman turned out to be the proper choice too.
Some quarterbacks would fall through the cracks, taken outside of the first round. Those names include Brett Favre and Drew Brees. I should note, however, that neither flourished with the teams who drafted them (Atlanta, San Diego), and they were also passed on by several other teams. The Steelers also weren't immune to drafting mid-round quarterbacks, notably a third rounder on Bubby Brister and Neil O'Donnell, both of whom had varied success in a Black and Gold uniform.
However, the focus is still on the need to burn a first round pick on a quarterback. That need isn't as imperative when a competent quarterback is already on the roster, and for spells, the Steelers would roll with Malone, Brister, O'Donnell, and Stewart.
Stewart would trade time with journeyman Mike Tomczak, before each gave way to Maddox and eventually, Roethlisberger.
In the last few seasons, now, some fans and critics have been biting their nails on finding Big Ben's successor. Pittsburgh drafted Mason Rudolph in 2018, as the first QB to be taken outside of the first round that season. (And sixth overall.)
Some don't see the appeal with Rudolph and are still clamoring for the illustrious first round pick that Roethlisberger will pass the torch to, but buyers should beware, that a first round selection/grade hasn't translated to All-Pro or future HOF success for a number of the picks taken in round one since Roethlisberger's name was called at the podium in 2004.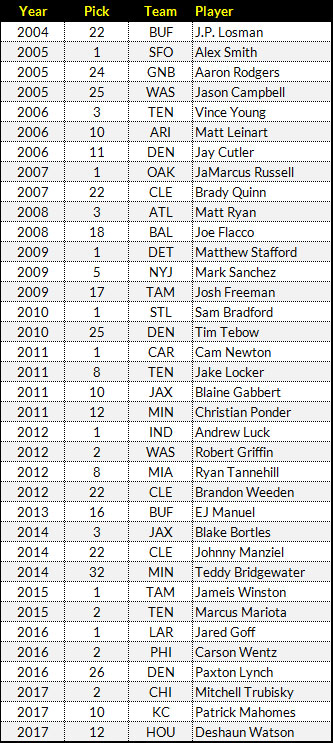 As you can see, there's no such thing as a sure thing in pro football.
Note: I have intentionally left the 2018 classes and beyond off of the list, as those stories are still being written. Those quarterbacks are (mostly) under rookie contracts still.
Regardless, 2018 pick Josh Rosen (10th overall) is already on his fifth NFL roster and was almost entirely out of the league between last season and this one.