Could Mason Rudolph realistically win the Steelers quarterback job?
Most of yinz who listen to the SCU Podcast know that I've been a bit of a homer when it comes to Steelers backup quarterback Mason Rudolph. That's because I feel that a large portion of vocal fans have clung to unreasonable narratives and never given the former third round draft pick a fair chance in their minds.
As the Pittsburgh Steelers look for their successor to the now retired Ben Roethlisberger, I wonder why those fans are so eager to not see Mason Rudolph as that player?
As training camp unfolds, it appears that the Steelers weren't giving lip service when they mentioned earlier this offseason that Rudolph would get a chance to compete for the starting quarterback job. Here are some reasons why he could win his quarterback battle with Mitchell Trubisky.
Trubisky isn't being paid more… yet
There's a common misconception that the Steelers staff has their hand forced by Trubisky's incentive-laden contract signed in free agency this offseason.
The truth is, Mason Rudolph has a marginally higher cap hit ($4,040,000) in 2022 than Mitch Trubisky does ($3,660,000).
While Trubisky can earn more money this season by hitting certain performance marks, the Steelers lose nothing if he's the backup. The financials, in the mid $4 million range, is around what backup quarterbacks make.
There's also an out in the contract that won't cost the Steelers much if Trubisky isn't on the roster in 2023 either. Therefore, the pressure is nil from management to ensure Trubisky is installed as a starter simply because it would be a "waste of money".
Longer time in the system
Rudolph has looked calm and collected thus far in training camp because he already has a year in Matt Canada's offensive system.
Trubisky and Pickett are both learning it for the first time.
Advantage: Rudolph.
This is what Mason was drafted for
I often chuckle at comments similar to "They didn't plan for Ben's retirement!"
While I understand the hype, especially by hometown fans of the University of Pittsburgh, over Kenny Pickett: but he's not the first quarterback that the Steelers drafted to potentially replace Roethlisberger.
That would be Mason Rudolph, who was the sixth QB taken in the 2018 NFL Draft. At the time, the Steelers supposedly had a first round grade on Rudolph and even traded up in the third round to make sure they got him, instead of division rival Cincinnati.
Rudolph has benefitted from sitting and learning behind Big Ben for four seasons: isn't this exactly the scenario people dream up, a la Aaron Rodgers lying in wait behind Brett Favre?
Chris Oladokun is a non-factor
Sorry folks, but the facts are the facts: Oladokun isn't taking many, if any snaps in camp.
A lot of critics felt his selection could bump Rudolph off of the roster. That doesn't appear to be the case.
Trade Bait?
Another ridiculous fan theory is that the Steelers are giving Rudolph snaps to increase his trade value.
Nonsense. Why would the team sacrifice crucial snaps to develop this year's first round draft pick Kenny Pickett in order to send Rudolph to another team?
And for what? If Rudolph has any value, wouldn't it behoove the Steelers to hold onto him? (It's not as if their quarterback situation is close to settled for the near future!)
With Mason operating on a one-year deal, why would any team make a trade and simply just wait for Rudolph to be released? He would become an unrestricted free agent, not subject to waivers too, making him fair game to any team without giving up a draft pick for a "rental".
Distribution in practice
Speaking of snaps, while Pickett received some "second team" reps earlier in the week, the distribution of plays has been somewhere in the neighborhood of 40/40/20, with the rookie getting the lesser amount.
This sometimes looks like a two-way competition, and to the unknowing, they may believe it's a three-way competition.
The Steelers returned to Rudolph taking the second spot in the practice rotation on Wednesday, as it had been for the first four days of camp. Trubisky is first up in all drills, but that could change at some point.
Trubisky has underwhelmed at times
The Steelers run a goal line drill known as "7 shots" which is an 11-on-11 offense versus defense exercise where one side tries to score, and the other tries to prevent it.
From my own eyewitness account, combined by other reports, Trubisky has been less than impressive in these daily drills, often coming out empty handed. (Typically he gets three or four of the "seven" shots, with Rudolph receiving two or three, and Pickett getting one… or zero.)
Rudolph has had some success, but its still early to say either quarterback is the clear winner. However, with Pickett rarely getting as many chances in these styles of drills, it appears the team is content with bringing him along slowly, creating a two-way competition.
"First Team Reps"
This one's in quotations because there's been a lot of talk that Mason has looked good because he's facing "second team" defenders.
Back when Big Ben was the installed starter, you'd see the future Hall of Famer play with only the "one's" such as Antonio Brown or Le'Veon Bell. Sometimes when Roethlisberger had a veteran's day off, perhaps Rudolph would slide into his spot, but the "one's" would still leave the field together.
That's not so this training camp.
For example, the starting offensive line may stay in for four reps with Trubisky. The skill position players rotate in and out with each snap, so you may see George Pickens and Calvin Austin one play, then Anthony Miller or Miles Boykin in for another.
The line stays put for the next four reps, as Mason comes in, and then he's also throwing to Pickens, Austin, Miller, etc. as well. The receivers, backs, and tight ends are getting work with all three quarterbacks – and if the o-line rotates out, they oftentimes will run another set with both Trubisky and Rudolph.
The defense operates similarly with rotations of one's and two's at every level, often mixing and matching. (Example: Myles Jack and Devin Bush, or Myles Jack and Robert Spillane.)
Pickett has been firmly playing with and against "everyone else" many times, should he get a chance to touch the ball. In this sense, Trubisky is the first one to lead the drills, but he's not always playing exclusively with starters.
Mason's turn
What might cement this "first team" talk is if the Steelers allow Rudolph to lead the drills in camp, with Trubisky in second.
That would signal to everyone that he would have a legitimate shot at winning the starting quarterback job.
Mitch was misused
One of the common things I see fans tell me is that Mitchell Trubisky was "misused" in Chicago. A first round pick (second overall) of the Bears in 2017, they remind me that Trubisky led his team to the playoffs twice: and made a Pro Bowl in 2018.
The Pro Bowl nod came as an alternate for Rams QB Jared Goff, who played in the Super Bowl that season.
Trubisky had thrown for 24 touchdowns that year, with 25% of those (6) coming in a single blowout game against Tampa Bay.
It's important to note that the Bears also had the league's top scoring defense, were the best in turnovers and against first downs, and third in yards. While the hope may be Trubisky was a cog in that machine's success, which could be duplicated with a strong Steelers D, there's enough reason to believe Rudolph could be a similar game manager, at worst, too.
Mason was misused
Another common quote is that Trubisky didn't have skill position players to play with in Chicago. However, he had Allen Robinson, Jordan Howard, Tarik Cohen, Trey Burton, and others. (Including current Steelers WR Anthony Miller.)
The misleading concept here is that Trubisky didn't have talent around him, but Rudolph – who was an impromptu starter in 2019 – did.
Below is a breakdown of playing time by skill position players that Mason Rudolph played with in 2019: when Randy Fichtner was the offensive coordinator and Pittsburgh didn't have a quarterbacks coach.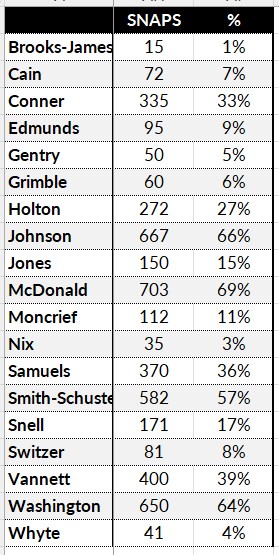 You can argue until you're blue in the face that JuJu Smith-Schuster or James Conner are better players than their Bears counterparts (I wouldn't necessarily make that claim) but if they're not on the field, they aren't helping anyone.
JuJu missed 1/3 of that season while Conner missed 2/3. Jaylen Samuels out-snapped both Conner and his backup, Benny Snell. And fans have probably forgotten about names such as Tevin Jones, Deon Cain, Xavier Grimble, Kerrith Whyte, and of course, Donte Moncrief. (Maybe fans haven't forgotten about him, but he was the cause of Rudolph's first interception.)
The chaotic weekly shuffling of the offensive depth chart is one of the main reasons the Steelers have more faith in Rudolph than fans do. They understand how limited the offense was, and how that handicapped the quarterback that season.
Looking Ahead
Finally, while I have given some compelling reasons as to why Rudolph has a fighting man's chance to win the Steelers starting quarterback job, there's still a ways to go.
Even if the competition has been relegated to two players – should the Steelers prefer to take a sit and learn approach with Kenny Pickett – Trubisky is the veteran player they brought in to lead the drills and be installed as the default starter.
Trubisky has 50 starts to Rudolph's 10. That number means a lot at this juncture, but it could mean nothing if Trubisky fails to build a rapport with his teammates while Rudolph continues to be a clear winner throughout camp.
We will also see how the Steeler operates when the team takes the field for their first preseason game in a little over one week.
Little do we know now, but that game (and the other two) could very well be the true proving ground as to who ends up as the last man standing. Just don't assume that Trubisky will easily stroll into the top spot without Rudolph putting up a fight – or that the organization isn't giving the guy who they drafted to develop behind Big Ben, a fair shot.