Steelers Throwback Thursday: Heath Miller's rookie season
Steel City Underground takes fans back in time to feature events, special moments, and historical times and players in the world of the Pittsburgh Steelers and Steelers Nation. Join us as we revisit these moments in our "Steelers Throwback Thursday" series.
When mini-camps and training sessions roll around every spring after all the dust from that season's NFL draft and free agency signing periods settles, it's a time for fans to sift through peeks NFL teams offer them (and minor sports press-released tidbits in a slow news cycle) for glimpses at the newest members of their favorite teams: the rookies. Pittsburgh Steelers fans are just as curious about how the former collegiate players look and how they're meshing with, and learning from, their new pro teammates.
In this throwback, we look back at tight end Heath Miller's first practices as a member of the Steelers through the entirety of his rookie season.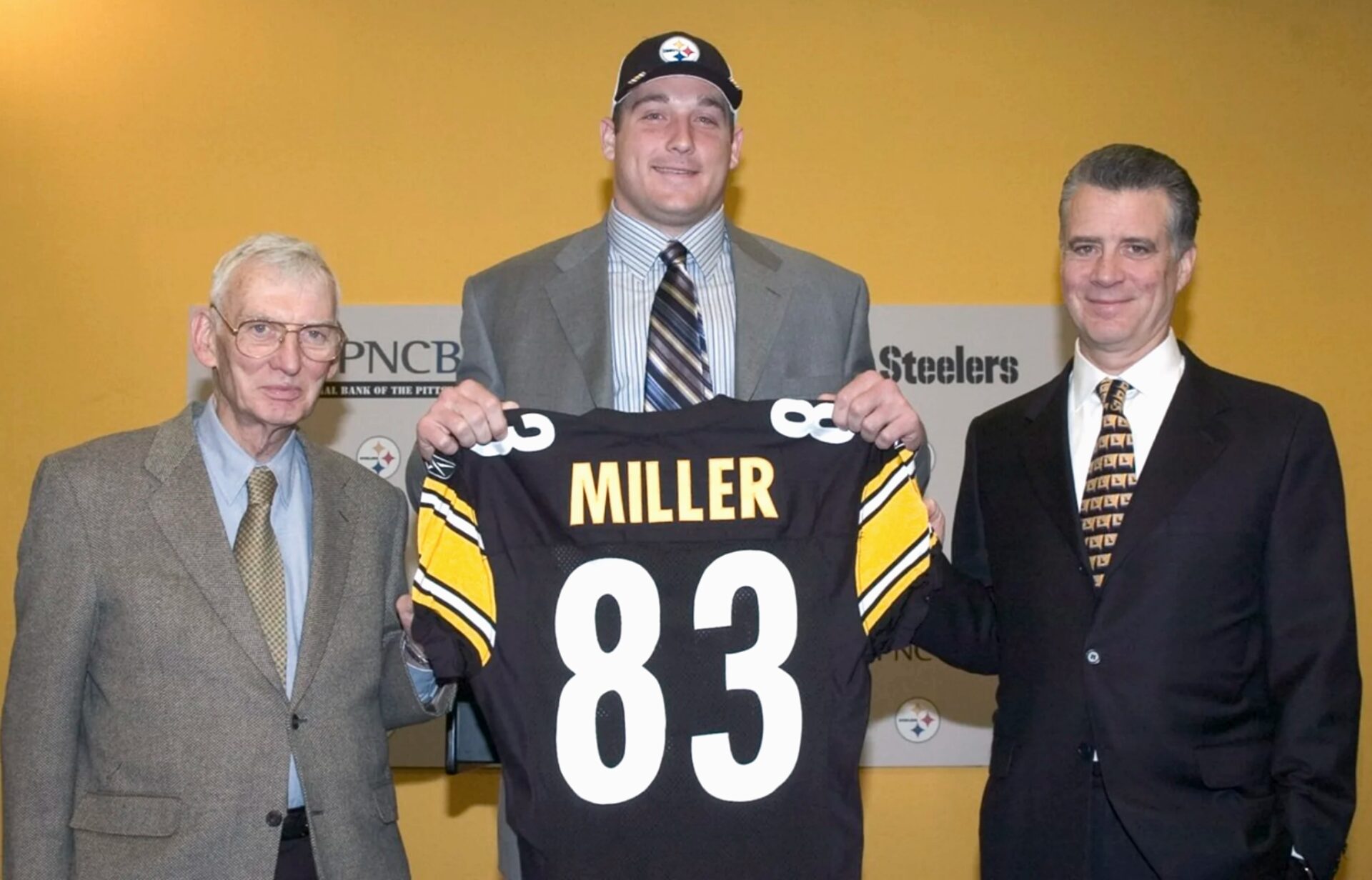 The 2005 NFL Draft
Earl Heath Miller, Jr played for coach Al Groh at the University of Virginia. Originally scouted and signed to be a quarterback for the Cavaliers, Miller was transitioned to tight end during his redshirt freshman season in 2001. In 2002, Miller made an immediate impact for the team starting every game at his new position. After setting school records for tight ends, leading all Atlantic Coast Conference (ACC) tight ends in all three seasons of his college career, Miller – a touchdown master – was on NFL scouts' radars.
The Pittsburgh Steelers selected Miller in the first round (30th overall) of the 2005 NFL Draft, making him the third tight end to be drafted in that round in 15 years. In July of that year, Miller was offered and signed a five-year, $6.89 million contract with $4.54 million guaranteed and a signing bonus of $3.94 million.
Earning his place in Pittsburgh
When training camp opened for the Steelers, Miller competed with veterans Matt Kranchick and Jerame Tuman. The group worked primarily with quarterback Ben Roethlisberger who was coming off of his own rookie season in 2004.
Before the regular season kicked off, Miller had earned the trust of his coaches and teammates and was named the Steelers' TE1.
From pro debut…
Miller made his first career start as a pro in the Steelers' season-opener against the Tennessee Titans. On a three-yard lob from Roethlisberger, Miller successfully pulled in his first career touchdown. The Steelers won, 34-7, to get a super season underway.
In October, Miller set his first career record by catching a season-high six passes for 58 yards of receiving and one touchdown in a victory over the AFC North rival Cincinnati Bengals. Just one week later, Miller set a season-high two receiving touchdowns on three receptions over another divisional rival in the Baltimore Ravens to give Pittsburgh a 20-19 victory.
In Week 17, against Detroit Lions, Miller bested his receiving yards best by gaining 62 yards on just three receptions. The Steelers handed the Lions a 35-21 defeat with their eyes on a post-season run.
Miller finished his rookie regular season with 39 total receptions for 459 yards and six touchdowns; it earned him the honor of being named the Steelers' Rookie of the Year.
… to Super Bowl champion
After finishing second in the AFC North division (11-5-0), the Steelers entered the AFC Wildcard round in a showdown with the Cincinnati Bengals on January 8, 2006. Miller caught two passes for 15 yards in the 31-17 victory.
Pittsburgh faces the top-seeded Indianapolis Colts in the Divisional Round playoff game. Miller grabbed three passes for 61 yards and a touchdown in the 21-18 upset that propelled the Steelers to the AFC Championship game. The Steelers defeated the Denver Broncos and went on to face the Seattle Seahawks in Super Bowl XL.
Although Miller was held without a catch in the Super Bowl game, he did his part in helping his teammates earn the 21-10 win and the Lombardi Trophy.
In his rookie year, Miller went from competitor in camp to owner of a world championship ring in the NFL. Not many players see that level of success, let alone at the very beginning of their professional career.
Miller would steal the hearts of Steelers fans worldwide as he developed a strong relationship with Roethlisberger in a tight end – quarterback bond that often seemed nearly mystical in how they were able to be in each others heads on game day.
---
Suggested articles from our sponsors