Short passes broke down the Steelers defense against the Eagles
Well, it happens. Sometimes your favorite team gets the crap beat out of them. It's always a difficult thing to watch, especially when you thought the Steelers defense played, nearly, lights out in the first two games.
But such is life.
I'm not sure what it was (we'll probably never know), but the Steelers defense looked confused for the entire game. Maybe that's what led to the Eagles offense putting up 426 yards of total offense with 301 yards passing, and 125 rushing yards. Carson Wentz passed with ease, and commanded the Eagles offense like a ten year veteran.
The surprising thing about Sunday's loss is that the Steelers didn't get beat by long pass plays, but by short, and quick, passes, as Mike Tomlin mentioned in Tuesday's press conference:
"I think I've been very specific about us being out of position in general, and that produced some of the splash play they had.

They didn't throw the ball over our head. They had 300 yards passing, but I would imagine over 200 of that were catch-and-run type plays, or the broken play we mentioned earlier. "
Below is a breakdown of Eagles QB Carson Wentz completed passes on Sunday afternoon: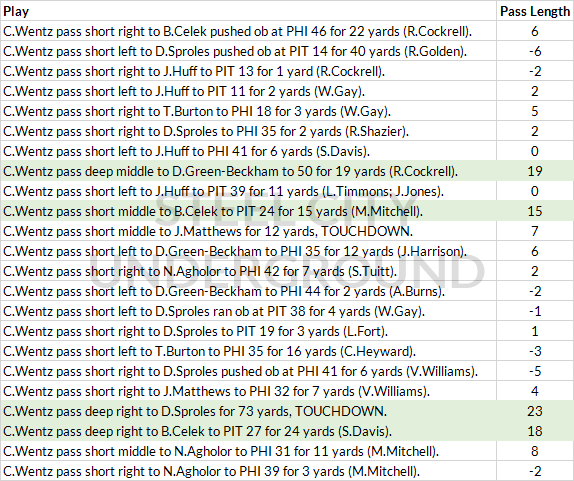 Only 4 of Wentz' 23 passes were thrown beyond 15 yards (note thrown does not include yards-after-catch or YAC.)
It seems like every NFL team is so worried about getting beat by "the big play." They play soft coverage throughout the game and allow the opposing offense to get a few yards here, a few yards there.
However, if you miss tackles, and you're out of position, those few yards that you allow are going to add up; which is exactly what happened (below) when a six yard reception by Eagles TE Brent Celek turned into a 22 yard gain.
Missed tackle by Shazier turns a 6 yard Celek reception into a 22 yard gain #SteelersNation pic.twitter.com/C79fAIbEkS

— Jimmy Norkewicz (@dorkewicz) September 27, 2016
Furthermore, of Wentz' other 19 passes, only 10 others were thrown beyond the line of scrimmage. The remaining 9 were thrown as screens and/or behind the line.
It wasn't the "big plays" that were killing the Steelers defense: it's the quick throws and screen plays.
Or losing track of your opponent, in the case of this Darren Sproles touchdown, when Ryan Shazier thought he had bumped Sproles into safety help. Mike Mitchell rushed upfield to mark Wentz, and overran the coverage. By then it was too late, and even S Sean Davis and CB Artie Burns, two of the fastest Steelers, were unable to bring down the Eagles RB.
Blown coverage on the Darren Sproles 73 yard touchdown pic.twitter.com/zCFW95D5AB

— SteelCityUnderground (@steelcityundrgr) September 27, 2016
Now, let's discuss the elephant in the room: the pass rush.
The Steelers have one sack so far this season. That lone sack came in Week 2 against the Bengals, when Andy Dalton held onto the ball for seven seconds. This needs to be addressed, somehow, someway.
The only true pressure against the Eagles came on this pass rush from Anthony Chickillo, who was unblocked on the play:
@Chickillo71 applies pressure to #Eagles QB Carson Wentz after going unblocked in Sunday's #Steelers game pic.twitter.com/Oaj7bb569t

— SteelCityUnderground (@steelcityundrgr) September 27, 2016
We can't always count on Cam Heyward and Stephon Tuitt to rack up the sack numbers.
Can they?
Of course they can, but they shouldn't have to be the only ones.
I'm not going to sit here and pretend I have all the answers. I'm not a coach, but I noticed something that also needs to be addressed: playing soft coverage. Obviously there's a time when you can play a little softer in coverage, but not when you're down 20+ points. I'm sure it was part of the game plan going in, and I'm not saying our defensive backs are soft; what I am saying is that there needs to be more times when our DBs are getting in the faces of the opposing receivers.
I think that's one thing that needs to happen when we play the Chiefs this Sunday night.
Doug Pederson (the Eagles head coach) was the offensive coordinator for the Chiefs last season. If Alex Smith is good at anything, it's getting the ball out quick, and limiting turnovers. He has the perfect guys around him to do that.
The Steelers must find a way to bring pressure, from anywhere, to throw Smith off from those type of timing routes.
If they do that, I think they'll be successful.
I have all the faith in the world in our boys. I believe the mishaps that we saw last week will be cleaned up.
Let's keep chasing #7!