Steelers select T.J. Watt in first round of 2017 NFL Draft
The Steelers needed an edge-rusher and they got one. In the first-round of the 2017 NFL Draft, our beloved Pittsburgh Steelers selected OLB T.J. Watt out of Wisconsin.
T.J. Watt is the third of the Watt family to join the NFL. As we all know, T.J.'s older brother J.J. has been wreaking havoc across the NFL for a number of years with the Houston Texans. While his other older brother, Derek Watt, is a full-back for the Los Angeles Chargers entering his second season.
In his first full-season as a starter, as well his first season playing defense full-time, T.J. Watt racked up 63 tackles (15.5 TFL), 11.5 sacks, 1 pick six and two forced fumbles. Although these are pretty solid numbers, Watt's start at Wisconsin wasn't easy. Watt was a redshirt in his first year, where he played TE. After a few injuries that sidelined him, Watt became a starter at outside linebacker and dominated. Although T.J. is known for being a "raw" player, he's not as "raw" as you may think. He's very good with his hands at the point of attack. He's also very good at coming off blocks and properly engaging the play. T.J. is also not the kind of rusher to engage linemen so much that he loses track of the ball. T.J. is very good at engaging and knowing where the ball is.
While Watt's stock rose throughout his season at Wisconsin season, it was the NFL Combine that truly separated him from the pack. Watt put up freakish numbers that got everybody's attention. Using a table from mockdraftable.com you can see Watt's numbers compared to the other linebackers.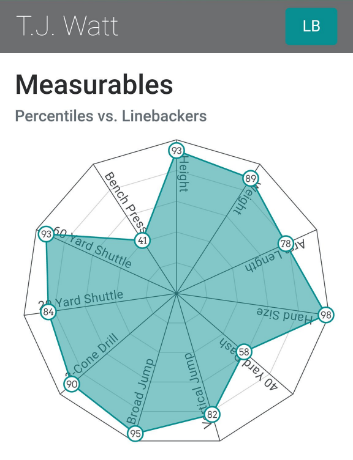 For some further context on how impressive these numbers are, Watt's 20-yard shuttle time was the fast among all linebackers at the combine, top ten among all players in the draft, and top ten among all linebackers over the past five years.
With a player like Watt, you don't draft him simply based on the tape or the name, but the potential. Watt is brimming with athleticism and with further teaching he could develop into a special player. He has all the traits you want in a developmental player.
Watt is also walking into an ideal situation in Pittsburgh. He gets to learn under one of the greatest: James Harrison. With an established starter ahead of him, Watt won't be forced into action before he is ready and can take the time to learn. Harrison will likely retain the starting job for the majority of the year with Watt gradually rotating in as the season progresses. Years ago a player like Watt would likely sit for two-to-three years, but nowadays the Steelers want their young talent on the field.
Harrison will not only teach Watt the ins and outs of the game, but also the ins and outs of taking care of yourself. His workout videos on social media prove Harrison knows what he's doing in the gym (and the spa). I can just see it now: Harrison putting Watt through his workouts and putting it on Instagram, or making him do acupuncture. Either way, Watt gets to learn from one of the best.
Welcome to the greatest franchise in the NFL, T.J. Let's go get the seventh Lombardi!