Film Room: Offensive positives and negatives from Saturday's game
For the first time this preseason, the Steelers led in total yards (347 vs. 326), first downs (26 vs. 21), and time of possession (31:23 vs. 28:37), but lost the turnover battle (2 vs. 1), which proved to be costly. Let's take a look at the good and the bad.
Confusion Leads to Turnover
After receiving the game's first kickoff, the Steelers offense, led by quarterback Ben Roethlisberger, moved the ball from their own 22-yard line to the Colts 33-yard line after a pair of big runs and a nine-yard reception by Knile Davis plus a 15-yard facemask penalty on Colts cornerback Rashaan Melvin. However, on 1st and 10, Colts linebacker John Simon came around the corner and stripped the ball from Roethlisberger and took momentum from the Steelers.
The Steelers have their 12 personnel (one back, two tight ends, two receivers) on the field in Ace formation (one back behind the quarterback). Tight end Jesse James stays in to protect, so they have a 6-man protection front vs. the Colts three defensive linemen and two linebackers, Jabaal Sheard (#93) and Simon (#51). Right at the snap, James immediately engages Colts defensive lineman Henry Anderson (#96). It looks like there may have been some confusion or a miscommunication because when he gets out of his stance, left tackle Alejandro Villanueva is obviously looking to engage with Anderson as well.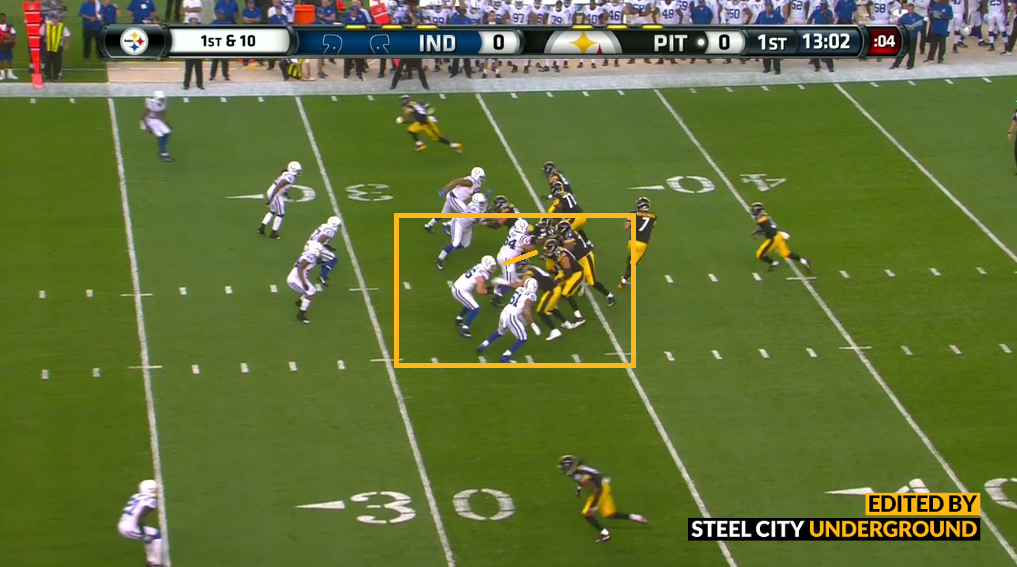 This allows LB Simon to get a head start, and in football, every second counts. By the time LT Villanueva sees Simon coming on a blitz, it is too late.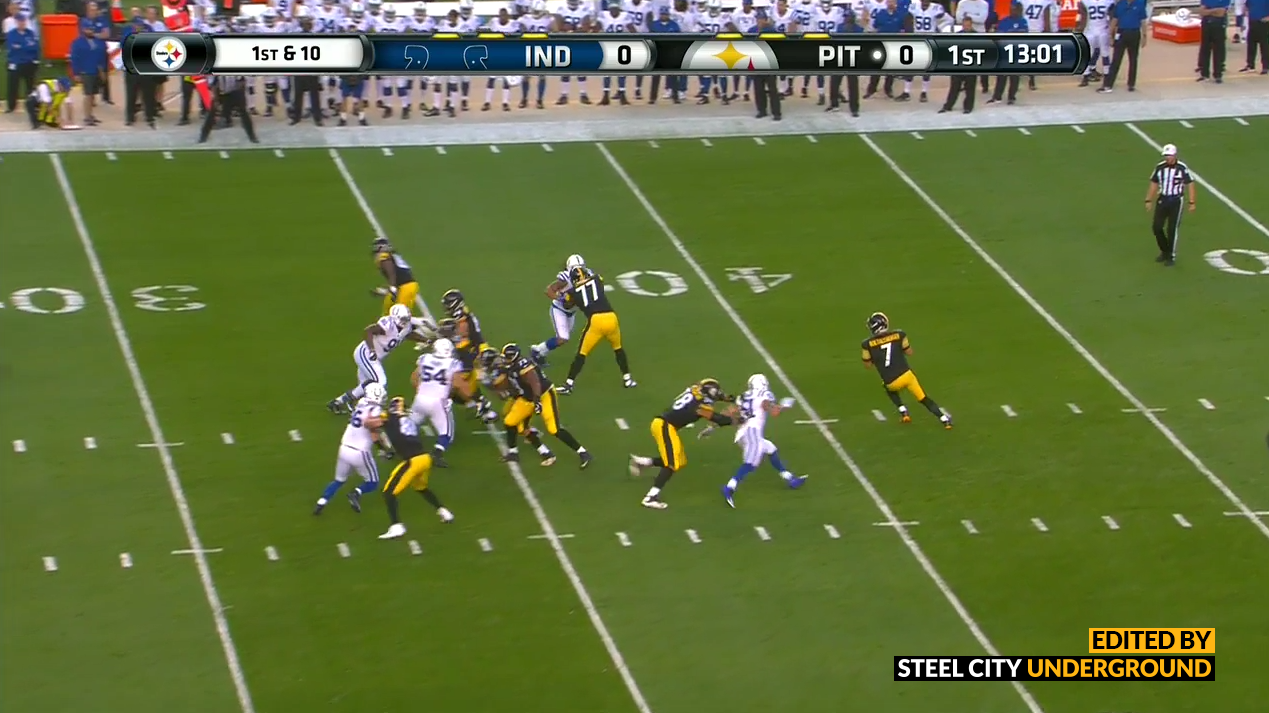 LB Simon knocks the ball out of Roethlisberger's hand, and Colts defensive tackle Hassan Ridgeway recovered the fumble. Here's Villanueva's reaction right after the play happened.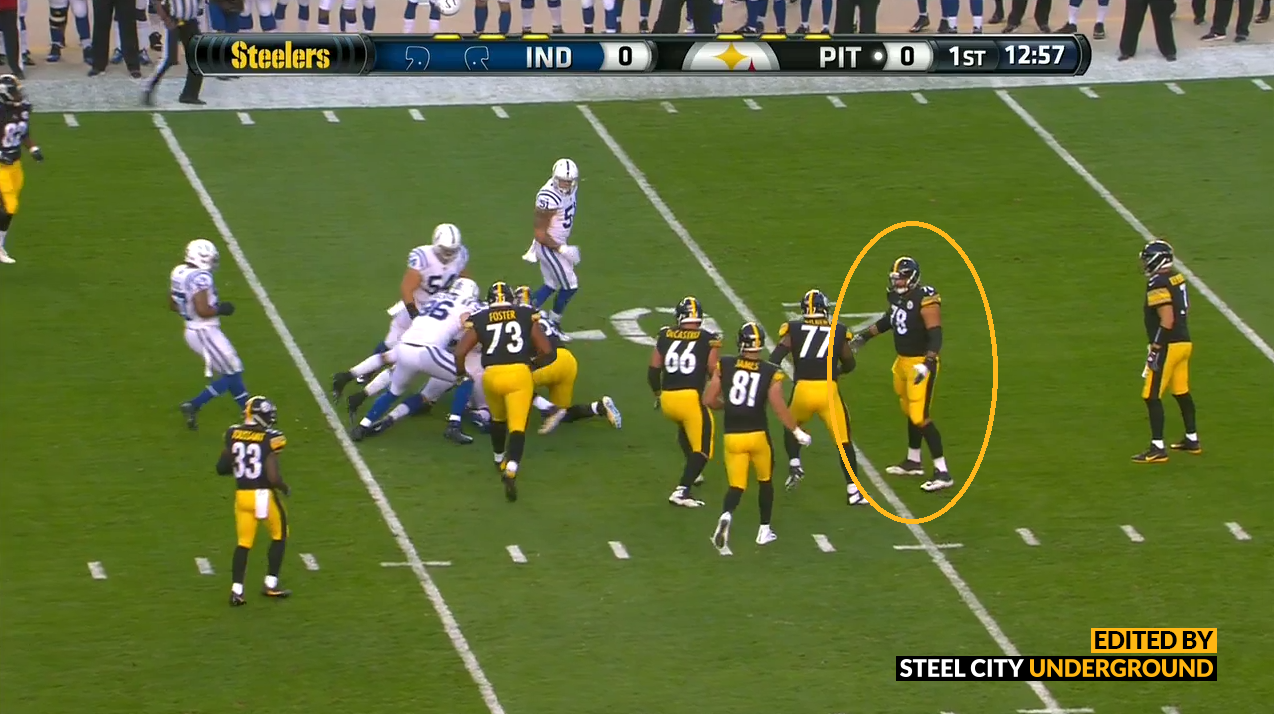 Not the kind of start you want to see from the offense in Big Ben's debut.
Ben to AB for a First Down
These are words we have heard on a consistent basis ever since Antonio Brown became one of the Steelers starting receivers back in 2013. This game was Roethlisberger's and Brown's first game of the 2017 preseason, so I had to highlight this particular play.
On 3rd and 5, Big Ben is lined up in the shotgun with running back Knile Davis (#34) split out to the left in the slot position. Ben notices the blitz and audibles on the play. The Colts are in man-to-man coverage with Brown being covered one-on-one with cornerback Rashaan Melvin. You know exactly where this ball is going.
CB Melvin deserves credit for being physical with Brown at the line of scrimmage, but Brown does a great job of keeping his head and shoulders squared which keeps the defender guessing. Some receivers make their routes obvious either by looking at where they're supposed to be or by their bodies pointing towards a general direction. At the top of the route, Brown uses his short area quickness to cut inside and separate from the defender. Before Brown even turns to look for the ball, Ben has already released it. From there, Brown did what he normally does by making a fantastic catch on a throw that was behind him.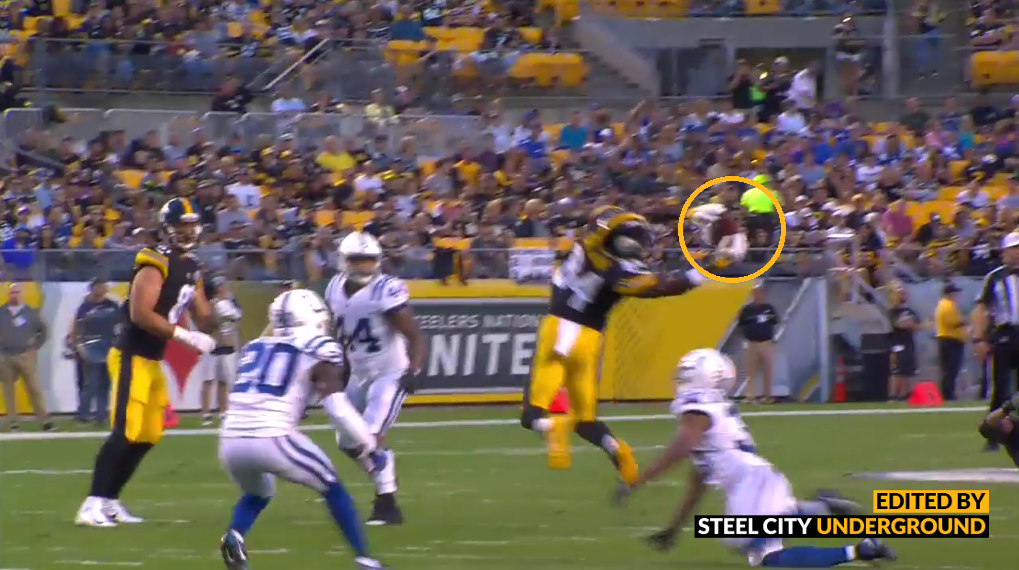 The play gained 15 yards, and more importantly, moved the chains and gave the offense a fresh set of downs. Here is another angle of the catch:
Grimble Makes a Play
With the ball on the Colts 10-yard line, the Steelers dial up a strike to tight end Xavier Grimble who makes a spectacular catch to take the lead.
What a catch. Quarterback Landry Jones, who made his preseason debut on Saturday, is lined up in the shotgun formation with an empty backfield. Jones recognizes that the Colts are in man-to-man coverage with a single-high safety (one safety to cover the middle of the field). Grimble runs a fade away from the middle safety, so the best place for Jones to place this ball is on Grimble's outside shoulder, which is exactly what he does.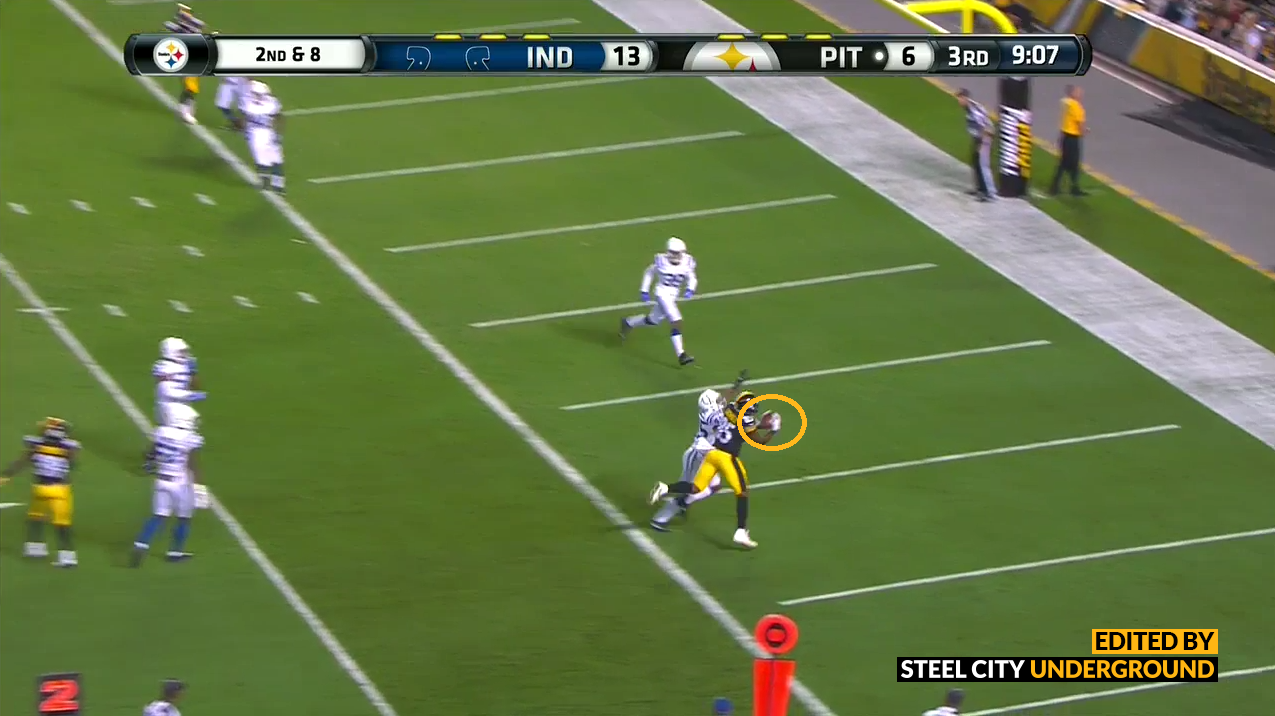 Powell has great coverage, but the Steelers had the perfect play dialed up and kudos to Jones and Grimble for executing it.
Smith-Schuster Taking Lessons from Hines Ward and AB
On the stat sheet, this play will go down as just an eight-yard pass from QB Landry Jones to WR JuJu Smith-Schuster, but it was much more than that.
There are two reasons why I wanted to highlight this play:
Smith-Schuster proved his toughness by playing in the second half after leaving the second quarter with a left knee injury that looked pretty bad
He showed off his field awareness by getting both feet in bounds
The offense is lined up in a trips right bunch formation with Jones in the shotgun and running back Terrell Watson next to him. The Colts are playing what looks to be a Cover-3 defense with cornerbacks Chris Culliver (#35), Chris Milton (#40) and safety Powell playing deep with cornerback Corey White (#38) responsible for the flat and curl routes. Smith-Schuster runs an eight-yard out, and Jones puts the ball right on the money.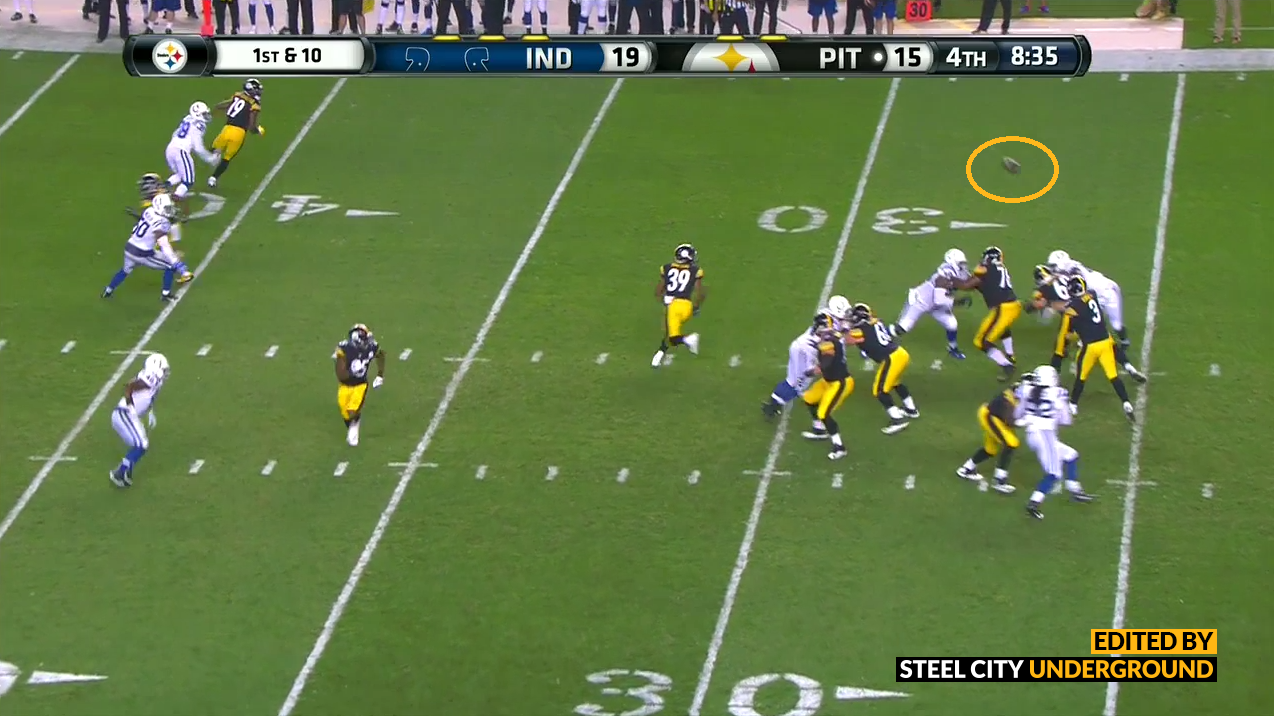 The key I want to focus on is how Landry Jones has improved on his anticipation as opposed to waiting for a receiver to be wide-open before throwing it. He anticipates when the receiver, in this case, Smith-Schuster, will break out of his route and gets it out as soon as he does so, trusting that JuJu will be in the right place. If you watch a majority of the completions between Big Ben and Brown, this is routine for them. The ball is thrown either before or right as Brown is turning to look for the ball. It's a skill that quarterbacks in the NFL have to master to be consistently successful.
Spoke Too Soon
After moving the ball 79 yards on nine plays and knocking at the door for the go-ahead score, Landry Jones makes a crucial mistake after playing relatively well up to this point.
According to Teresa Valley of Steelers.com, Jones said:
That was just dumb by me and impatient. That was just stupid. It was a pass all the way. I made a really bad read, and a really bad throw. It sucks it was my last play (of the game).
On the play, the offense has their 11 personnel (one back, one tight end, three receivers) grouping with two receivers (Marcus Tucker and Smith-Schuster) flanked to the right. Smith-Schuster runs a quick slant and Tucker runs what looks to be a fade route to try and pick the defender to give Smith-Schuster space to catch the ball. Unfortunately, Colts safety Lee Hightower (#39), who is playing the slot position, does a great job of diagnosing the play and cuts off Smith-Schuster's route. This gives CB Milton a clear opportunity to intercept the ball.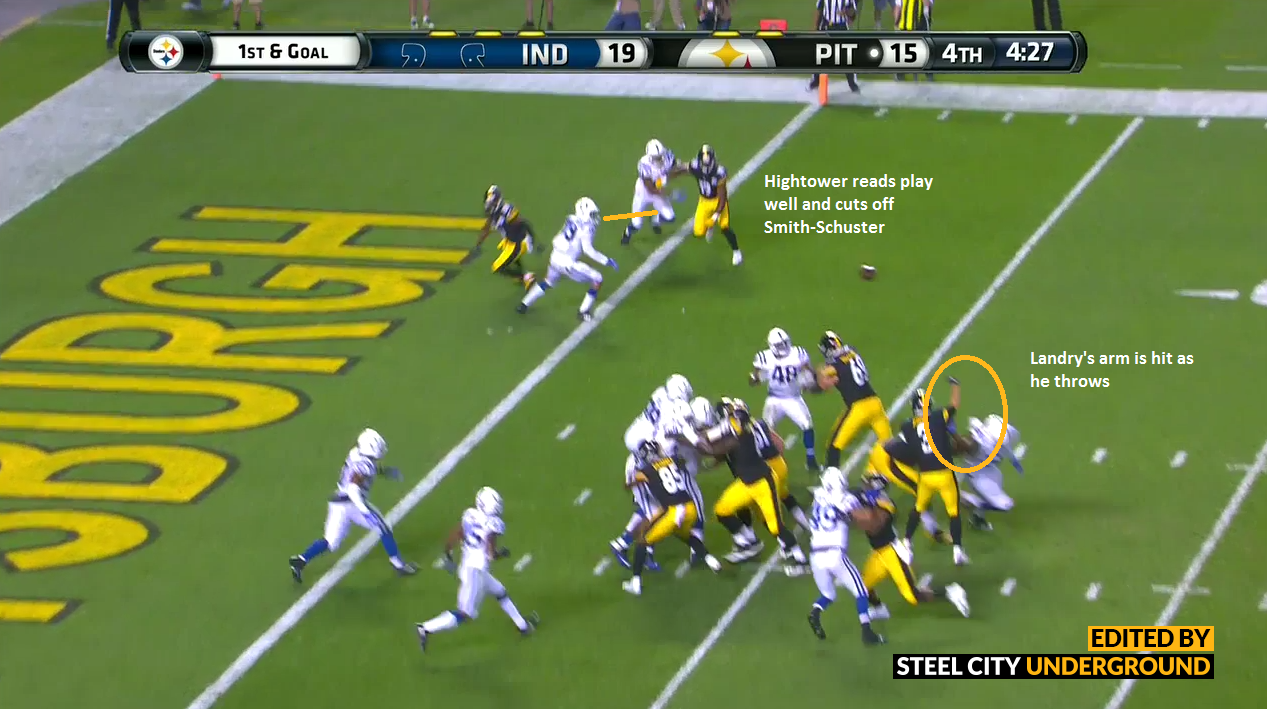 I like the effort from Smith-Schuster trying to bat the ball away, but as Jones said, it was a bad read and throw.
Were there any other offensive plays that were worth highlighting? Please let us know!