Pittsburgh Steelers vs. L.A. Chargers Game Day Preview
Welcome to the most comprehensive Pittsburgh Steelers Game Day Preview on the internet! This is your one-stop shop for everything you need to know about the Steelers and their upcoming opponent! Mike Drakulich of Pittsburgh SportsNation brings you inside the huddle for both teams, providing all fans with a Game Preview, the Steeler's Keys to Victory, Score Prediction, a detailed breakdown of each team, Fantasy Football Impact, Game Information, Individual Stats, Team Stats, and the latest Injury Report. Heck, you even get the weather at kickoff. The only thing you're missing is a game uniform!
STEELERS LOOK TO START NEW WINNING STREAK VS CHARGERS
In the never-ending world of, "Did you hear what he said??", a ploy used by many media platforms to create controversy and chaos, Antonio Brown and Juju Smith-Schuster are having none of it.
On Ben Roethlisberger's radio show this week, Big Ben wasn't shy in explaining a few mishaps in his team's play against the Denver Broncos last week, a game in which the Steelers lost 24-17.
It was a game this team had no business losing. Back-breaking turnovers inside the Red Zone ultimately lead to the snapping of the Steelers six-game winning streak.
"In the world we live in today, I think controversy is celebrated a lot," Brown said. "People try to put people against each other, bring people down. But we all need each other. There's power in unity and people coming together, and not in people fighting and bringing each other down."
Brown was responding to the narrative pushed that Roethlisberger wouldn't say who his #1 receiver was on the team.
"It's not personal the way you guys (in the media) make it," Brown said. "You guys make big stories. That's my guy. I love him. I got his back no matter what's said. Everything he said is gonna encourage us to get better."
Neither Brown or Smith-Schuster were dismayed to hear a little criticism given out by the team's leader and the only player left on the roster who has won a Super Bowl.
"We have a lot of good history together, and we will continue to make history," said Brown. "We have that relationship where we challenge each other, we encourage each other. That's the situation you wanna have with your quarterback."
With Roethlisberger at quarterback, Brown has set, and continues to set receiving records from the throws of his main guy, and if Ben gets critical at times…
"I got big shoulders. I can take it," Brown said. "Constructive criticism (is) only for you to get better. It's only made to challenge, only made to make you better. And that's my guy."
Another issue that Brown is not fazed by is the play by his fellow wide-out in Smith-Schuster, who leads the team with (77 receptions and 1,055 yards receiving).
"He wants to be great; he's just inspired by the game, and he wants to be the best – and that's what makes him so special," Brown said. "It means something to him; you can tell by the way he works and the way he goes about his business. He loves the game."
Brown, at the moment, is ranked ninth in catches and just 12th in receiving yards. He is a player that always strives to be the best.
"AB takes it as, 'I'm a sixth-round draft pick… I hate you all anyways because you all hate me,'" veteran teammate Darrius Heyward-Bey said. "Even the Steelers, he looks at it like, 'You guys didn't draft me in the first round, either.' And that's what makes him great, that's what makes him a Hall of Famer because he has that chip on his shoulders.
"If (Roethlisberger) thinks it motivates (Brown), great. But you're going to get the best out of him. (Brown) is going to come out giving his best anyways."
Steelers Keys To Victory
Offense
Find a balance between the passing and run games.
Enough of the crushing, game-changing turnovers. Secure the ball!!!
James Washington needs to elevate his game.
Defense
Prediction
It won't be easy against a better than you think Chargers defense, but the Steelers should be pretty focused and pumped up to atone for last week's debacle vs Denver. Ben Roethlisberger and the Steelers always seem to elevate their gameplay when the lights come on at Heinz Field, and it hard not to ignore the Chargers garish record when playing at Pittsburgh (1-14)…
One key to getting back on track is creating some turnovers, a stat not lost on the Steelers defense.
"The library is very low. We've got to read up on some books," safety Terrell Edmunds said.
The Steelers have taken the ball away from opposing offenses only 14 times this season, six via interception.
"Joe just started saying we need to get some books, and he was talking about interceptions, so we said, 'You know what, let's start calling it books,'" corner Mike Hilton said. "We've got to get books this Sunday."
Phillip Rivers has only thrown six interceptions so far in 2018. Still, one characteristic that Rivers has always displayed hasn't gone unnoticed by the Pittsburgh secondary…
"Philip likes to throw the 50-50 ball and let his guys make plays," Hilton said. "Basically, he feels: Our guy is better than you. He's giving his guys the chance to go get it. As a defense, that gives us more opportunities. We have to take advantage of it."
The Steelers defense has been better than expected, ranking 12th in total points allowed, but 7th in total yards against.
"We've been doing our thing and winning, but that splash play is going to take us to the next level," Edmunds said. "The next level where everybody's talking about us."
Steelers 34 – Chargers 20
Game Information
NFL Week 13
Venue: Heinz Field, Pittsburgh, PA. | Field: Natural Grass
Kickoff: Sunday, December 2nd, at 8:20 pm
TV: NBC (locally WPXI-TV, channel 11) | Announcers: Al Michaels (play-by-play) Cris Collinsworth (analyst) | Michele Tafoya (sideline)
Local Radio: Pittsburgh- 102.5 WDVE-FM/970 WBGG-AM | Announcers: Bill Hillgrove (play-by-play) Tunch Ilkin (analyst) | Craig Wolfley (sideline)
National Radio: Westwood One  | Announcers: Kevin Kugler (play-by-play) | Ross Tucker (analyst)
Weather at Kickoff: 41. Winds WSW 5-10 mph.
Vegas Line: Pittsburgh -3.5
Fantasy Football Focus
Pittsburgh Steelers
LA Chargers
Start: QB Phillip Rivers, WR Keenan Allen
Sleeper: None
Sit: RB Austin Ekeler
Steelers-Chargers History
Series History: Began in 1971
The Steelers are 22-7 overall against the Chargers.
At Home: 14-1
On Road: 8-6
Streak: Steelers won the previous meeting.
Last Regular Season Meeting: Oct. 12, 2015, at San Diego (Pittsburgh 24, San Diego 20)
Post-Season: 1-2
Last Post-Season Meeting: Jan. 11, 2009, in Pittsburgh (Pittsburgh 35, San Diego 24) – AFC Divisional Playoff
Game Notes
Pittsburgh looks to improve to 27-8 in prime-time games at Heinz Field since the stadium opened in 2001.
The Steelers look to improve to 23-7 all-time against the Chargers in regular-season history and to 15-1 in Pittsburgh in the series.
Ben Roethlisberger needs 336 passing yards to reach 4,000-passing yards in 2018 and for the sixth season in his NFL career, and in back-to-back campaigns.
Roethlisberger is one 300-yard passing game from notching 61 such games in his regular-season NFL career.
Antonio Brown needs five touchdown catches to reach 75 in his NFL career and with the Steelers.
Brown, with 100 catches in 2018, will become the first player in NFL history to record 100 or more receptions in six consecutive years.
JuJu Smith-Schuster is four touchdown receptions shy of 15 in his NFL career.
T.J. Watt needs three sacks to reach 20.0 in his NFL career.
Cameron Heyward is 1.0 sacks from becoming tying Aaron Smith (44.0) for the second-most by a Steelers defensive lineman since sacks became an official statistic in 1982 (Keith Willis: 59.0).
A look at the Pittsburgh Steelers!
Overall Record: 7-3-1
Head Coach: Mike Tomlin (12th Season with Steelers)
Overall Regular Season Record: 123-63-1 (.660)
Playoff Record: 8-7 (Qualified for playoffs 8 times)
Last Game: Denver 24 – Pittsburgh 17
Scouting the Steelers 
Quarterback
Ben Roethlisberger has been on fire during the Steeler's winning streak. Big Ben's big arm, along with his uncanny ability to slip out of the pocket and extend plays makes him one of the league's best.
Running Backs
Le'Veon Bell who? James Conner has shown he is more than capable of shouldering a starters share of carries. He has slimmed down and has added speed and quickness to an already powerful running style. Conner has become a dual threat and is one of the best RB's in the NFL. Jaylen Samuels is an H-Back type of player that can line up all over the field. He is especially dangerous catching passes out of the backfield. Steven Ridley is a capable runner that can be counted upon on an as-needed basis.
Wide Receivers
What more can you say about Antonio Brown? He is the league's best wide receiver. His dedication and drive to be the best is unmatched by any player in the league. JuJu Smith-Schuster heads into his 2nd season and has picked up where he left off. Speaking of rookies, James Washington was a Camp favorite of Roethlisberger, and could quickly establish himself as a dangerous weapon in the slot as the 3rd receiver. Justin Hunter is a nice deep threat. Darrius Heyward-Bey is mainly used on special teams. Ryan Switzer has been good in the return game but has also established himself as a reliable target for Roethlisberger out of the slot.
Tight Ends
Jesse James is reliable as ever. Vance McDonald is making a big impact in his 2nd year as a Steeler, often delivering punishing hits while being tackled. Xavier Grimble provides a big target for Roethlisberger in the Red Zone.
Defense
Up front, the Steelers deploy Cam Heyward and Stephon Tuitt as their defensive ends. In the middle, Javon Hargrave and Daniel McCullers will rotate. Tyson Alualu and Kameron Canaday will see time at defensive end as well. L.T. Walton can play all three spots.
The linebacker unit goes Bud Dupree and T.J. Watt on the outside, with Vince Williams and Jon Bostic in the middle. Anthony Chickillo and Matthew Thomas back-up Dupree and Watt, while L.J. Fort and Tyler Matakevich are reserves in the middle.
In the secondary, Artie Burns and Joe Haden are the starters at cornerback. Backing them up will be Brian Allen, Mike Hilton, Cameron Sutton, and Coty Sensabaugh. Rookie Terrell Edmunds starts at strong safety, with Morgan Burnett backing him up and seeing plenty of action in nickel and dime formations. Sean Davis is the starter yet again at free safety, with Jordan Dangerfield and Marcus Allen as reserves.
Stats
Quarterback
Ben Roethlisberger (3,664 yards passing | 24 TD passes | 12 interceptions | 16 sacks | 94 yards rushing | 3 TD's)
Running Backs
James Conner (849 yards rushing | 10 rushing TD's | 49 receptions | 453 yards receiving | 1 receiving TD's)
Stevan Ridley (56 yards rushing | 0 rushing TD's | 3 receptions | 18 yards receiving | 0 receiving TD's)
Jaylen Samuels (26 yards rushing | 0 rushing TD's | 4 receptions | 34 yards receiving | 1 receiving TD's)
Roosevelt Nix (0 yards rushing | 0 rushing TD's | 3 receptions | 36 yards receiving | 0 receiving TD's)
Wide Receivers
Juju Smith-Schuster (77 receptions | 1,055 receiving yards | 4 receiving TD's)
Antonio Brown (71 receptions | 874 receiving yards | 11 receiving TD's)
Ryan Switzer (27 receptions | 214 receiving yards | 1 receiving TD's)
James Washington (8 receptions | 77 receiving yards | 1 receiving TD's)
Justin Hunter (3 receptions | 21 receiving yards | 0 receiving TD's)
Darrius Heyward-Bey (1 reception | 9 receiving yards | 0 receiving TD's)
Tight Ends
Vance McDonald (36 receptions | 444 receiving yards | 3 receiving TD's)
Jesse James (26 receptions | 379 receiving yards | 2 receiving TD's)
Xavier Grimble (5 receptions | 70 receiving yards | 0 receiving TD's)
Kicker
Chris Boswell (Extra Point: 33-37 | FG: 9-13 | 0-19: 0-0 | 20-29: 3-3 | 30-39: 3-3 | 40-49: 2-6 | 50+: 1-1 | Long: 50)
*Injured
A look at the LA Chargers!
Overall Record: 8-3
Head Coach: Anthony Lynn (2nd Season with Chargers)
Overall Regular Season Record: 17-11 (.607) | 17-10 (.630) with Chargers
Playoff Record: 0-0 (Qualified for playoffs 0 times)
Last Week: LA Chargers 45 Arizona 10
Scouting the Chargers
Quarterback
Phillip Rivers is on fire this year, passing for 3,119 yards and 26 touchdowns. He is adept at spreading the ball around from his wide receivers, to his tight ends, and his backs.
Running Backs
Melvin Gordon is leading the team in rushing but is out with a knee injury. Austin Ekeler and Justin Jackson will do their best to fill the void left in Gordon's absence.
Wide Receivers
Keenan Allen is River's favorite option in the passing game, grabbing 69 receptions for 848 yards and four TD's. Tyrell Williams and Mike Williams are also dangerous weapons used by Rivers.
Tight End
Antonio Gates laughs at Father Time. The Veteran tight end has 19 receptions for 239 yards and three scores. Virgil Green only has four fewer receptions.
Defense
The Chargers defense is stingy, only allowing 19.9 PPG. They have gotten to the opposing QB 29 times and have created 14 turnovers.
Stats
Quarterback
Phillip Rivers (3,119 yards passing | 26 TD passes | 6 interceptions | 19 sacks | -1 yards rushing | 0 TD's)
Running Backs
*Melvin Gordon (802 yards rushing | 9 rushing TD's | 44 receptions | 453 yards receiving | 4 receiving TD's)
Austin Ekeler (409 yards rushing | 1 rushing TD's | 32 receptions | 354 yards receiving | 3 receiving TD's)
Justin Jackson (64 yards rushing | 0 rushing TD's | 2 receptions | 19 yards receiving | 0 receiving TD's)
Wide Receivers
Keenan Allen (69 receptions | 848 receiving yards | 4 receiving TD's)
Tyrell Williams (28 receptions | 519 receiving yards | 5 receiving TD's)
Mike Williams (24 receptions | 419 receiving yards | 7 receiving TD's)
Tight End
Antonio Gates (19 receptions | 239 receiving yards | 3 receiving TD's)
Virgil Green (15 receptions | 189 receiving yards | 1 receiving TD's)
Kicking
Caleb Sturgis (Extra Point: 9-15 | FG: 9-13 | 0-19: 0-0 | 20-29: 4-4 | 30-39: 2-2 | 40-49: 3-6 | 50+: 0-1 | Long: 49)
Michael Badgley (Extra Point: 16-17 | FG: 9-9 | 0-19: 0-0 | 20-29: 3-3 | 30-39: 2-2 | 40-49: 4-4 | 50+: 0-0 | Long: 46)
*Injured
Steelers – Chargers: Offense vs Defense Match-Up 
Steelers Offense: Steelers average 430.6 YPG | Chargers defense allows 334.8 YPG
Rushing: Steelers average 95.6 YPG | Chargers defense allows 107.5 YPG
Passing: Steelers average 335 YPG | Chargers defense allows 227.3 YPG
Scoring: Steelers average 28.7 PPG | Chargers defense allows 19.9 PPG
Steelers Defense: Steelers allow 325.1 YPG | Chargers offense averages 413.1 YPG
Rushing: Steelers allow 101.8 YPG | Chargers offense averages 128.8 YPG
Passing: Steelers allow 223.3 YPG | Chargers offense averages 284.3 YPG
Scoring: Steelers allow 22.6 PPG | Chargers offense averages 27.9 PPG
Defensive Stats
Pittsburgh (Sacks: 39 | Interceptions: 6 | Fumbles: 8)
LA Chargers (Sacks: 28 | Interceptions: 11 | Fumbles: 3)
Injury Report (11/30/2018)
Pittsburgh Steelers
Out: OT Marcus Gilbert (Knee)
Doubtful: S Morgan Burnett (back)
Questionable: CB Cameron Sutton (Personal), LB Bud Dupree (Pectoral)
LA Chargers
Out: NT Brandon Mebane (Not Injury Related), RB Melvin Gordon (Knee), OT Joe Barksdale (Not Injury Related)
Doubtful: 
Questionable: WR Tyrell Williams (Quad)
NFL Standings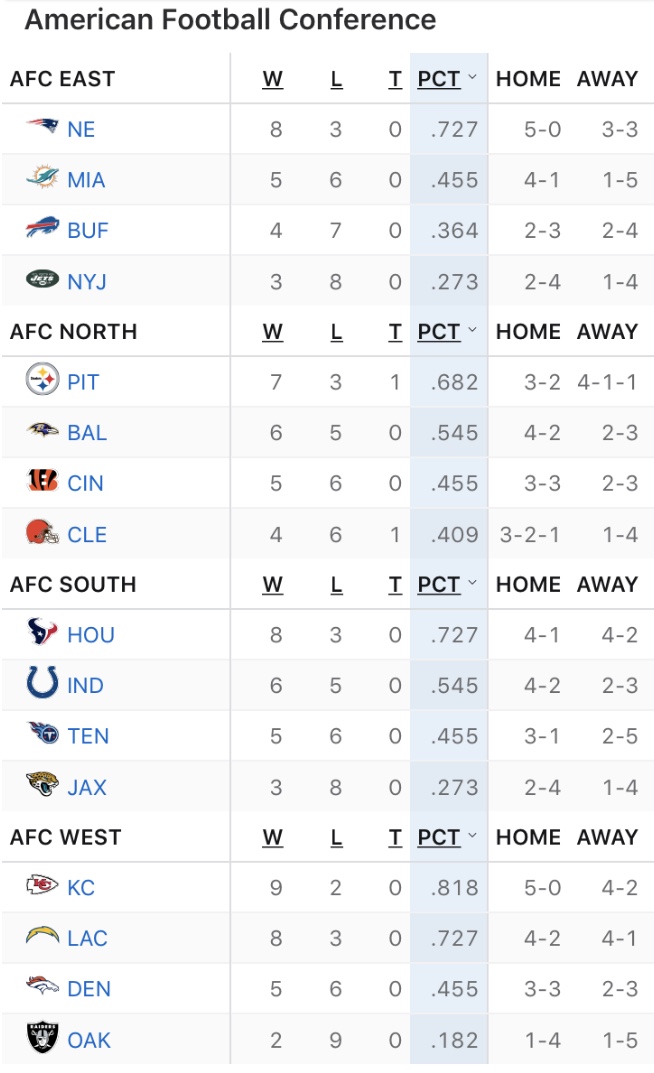 Pittsburgh Steelers 2018 Schedule
PRESEASON (3-1)
Thursday, Aug. 9 @ Philadelphia W, 31-14 (KDKA)
Thursday, Aug. 16 @ Green Bay L, 51-34 (KDKA)
Saturday, Aug. 25 TENNESSEE W, 16-6 (KDKA/NFL Network)
Thursday, Aug. 30 CAROLINA W, 39-24 (KDKA)
REGULAR SEASON (7-3-1)
Sunday, Sept. 9 @ Cleveland 1 p.m. | TIE- 21-21
Sunday, Sept. 16 KANSAS CITY 1 p.m. | L- 42-37
Monday, Sept. 24 @ Tampa Bay 8:15 p.m. | W- 30-27
Sunday, Sept. 30 BALTIMORE 8:20 p.m. | L- 26-14
Sunday, Oct. 7 ATLANTA* 1 p.m. | W- 41-17
Sunday, Oct. 14 @ Cincinnati* | W- 28-21
Sunday, Oct. 21 BYE WEEK
Sunday, Oct. 28 CLEVELAND* | W- 33-18
Sunday, Nov. 4 @ Baltimore* | W- 23-16
Thursday, Nov. 8 CAROLINA | W- 52-21
Sunday, Nov. 18 @ Jacksonville | W- 20-16
Sunday, Nov. 25 @ Denver* | L – 24-17
Sunday, Dec. 2 LOS ANGELES CHARGERS* 8:20 p.m. (NBC)
Sunday, Dec. 9 @ Oakland* 4:25 p.m. (CBS)
Sunday, Dec. 16 NEW ENGLAND* 4:25 p.m. (CBS)
Monday, Dec. 23 @ New Orleans* 4:25 p.m. (CBS)
Sunday, Dec. 30 CINCINNATI* 1 p.m. (CBS)
* – Times may change due to flexible scheduling
POSTSEASON
Sat.-Sun., Jan. 5-6 Wild Card Weekend
Sat.-Sun., Jan. 12-13 Divisional Playoff Games
Sunday, Jan. 20 Conference Championships
Sunday, Jan. 27 Pro Bowl (Orlando, Fla.)
Sunday, Feb. 3 Super Bowl LIII (Atlanta, Ga.)