Duel Opinions™ Were Dri Archer and Landry Jones Wasted Picks?
In this edition of Duel Opinions™ Joe from Steel City Underground joins Eric from Steelers Grind, to discuss a pair of 2014 Steelers draft picks: Dri Archer and Landry Jones:
Eric Herrmann (Steelers Grind)
May 2014, I'm sitting in my bedroom watching the NFL draft. It was the 3rd round and the Steelers were almost up, of course I was excited. I was hoping we take either Pierre Desir or Martavis Bryant. Honestly though, I would've been happy with any corner or receiver. Then out of nowhere, boom, Dri Archer was drafted.
I'm sure I wasn't the only Steeler fan confused by this choice. We had all these needs, and we took a running back. A luxury pick
FAST FORWARD. 
Steeler fans are excited about Dri Archer. He's blazing fast and the common narratives are "lightning in a bottle" and "he's a threat to score anytime the ball is in his hands."
Admittedly I was excited about his potential. He showed a few flashes in the preseason and camp and had the potential to add a new dynamic to our offense.
FAST FORWARD TO NOW. 
Dri Archer is off the team. Cut for Jacoby Jones (which still perplexes me BTW.) He's now a New York Jet.
Joe Kuzma (Steel City Underground)
I was just as perplexed by the pick. I remember Desir being targeted as going to Pittsburgh my many analysts and based off the first two picks, and the need for DB's, I was all but expecting them to take a corner.
Then we got Archer.
I wasn't terribly upset. Afterall, Todd Haley appeared to have a need for smaller scatbacks, as previously seen with Chris Rainey and LaRod Stephens-Howling. I thought that Haley might've finally found his guy. Archer was the fastest player in the draft. The Steelers still needed a kick returner. And heck, being an Ohio guy, I couldn't help but root for the Kent State product.
My defense of some of these picks wasn't without some form of logic, but perhaps the third round was a reach for Archer. I got ridiculed for supporting him, and my cousin even teased he'd get me a #13 jersey.
Then of course, Devonta Freeman breaking out this season didn't help matters. Imagine if Freeman were on the roster when Bell got hurt and Pittsburgh had to sign Ben Tate for their playoff game in 2014? To a lesser extent, Richard Rodgers and Crockett Gillmore might've been better options, but then again, TE wasn't as much of a need as CB at the time.
Eric
Many Steeler fans are probably upset over this wasted draft pick, but a closer look shows the Steelers may have been bailed out.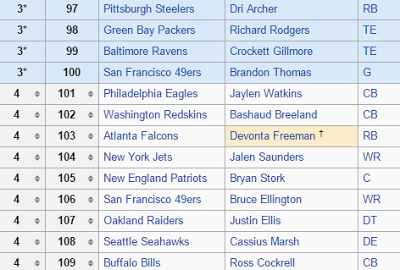 Notice anything from the picture?
The Steelers are now in possession of Ross Cockrell, CB, who was taken twelve picks after Archer.
It's not a stretch thinking the Steelers considered taking Cockrell (instead of Archer) with their pick. According to SteelersDepot.com, Ross Cockrell was brought in for a pre-draft visit for the Steelers back in 2014.
Joe
I recall Tomlin and Colbert making the same comment after acquiring Cockrell off waivers from the Bills, at the close of last year's preseason. I bet they were as happy as anyone to grab a player they were scouting to draft in the first place, a real second chance if you will, being they were able to get him a year after passing up on the chance to take Cockrell in the draft.
Eric
That's not the only recent bailout though Steeler fans. Landry Jones is a giant question mark currently. Can he be a long-term reliable back-up for the Steelers? Nobody knows yet. It's worth noting though that the player the Steelers may have taken over Jones is a former Steeler.

Like Cockrell, Webb was brought in for a pre-draft visit in 2013. Webb ended up spending time with the Steelers during the 2014 season and the 2015 offseason but was unable to make the final roster.
I'm not trying to imply that Landry was a waste of a pick. Sure I was on the "CUT LANDRY!" train for a long time, but he showed enough flashes during the season to make me think he has potential to be a reliable back-up. Sure he threw a terrible pick again the Bengals in the playoffs, but the kid deserves to stick around for a little longer.
I was honestly surprised though when Webb got cut from the team this year.
Joe
I'm not even sure that qualifies as a bailout yet, because for what it's worth (and I'm sure I'll catch flack for this) Landry Jones has been more valuable than B.W. Webb ever was. Consider Jones lead the team to a victory over Arizona, one of the league's top teams, when Michael Vick was struggling to move the offense at all. Without that win, the Steelers don't break a tie with the Jets and aren't in the playoffs.
If Landry never plays another snap, I feel his contribution to the 2015 season marginally justifies his selection. (More than trading that 6th round pick to Jacksonville for Josh Scobee got us.)
And it's not like the other players drafted in that round, that were available to Pittsburgh, did much better. They got a second shot at B.W. Webb, so no one can argue they should've taken him over Jones, as we see how that worked out. The only exception I can see is John Simon, who had a pretty solid season with the Houston Texans: but he was drafted, and cut, by the Baltimore Ravens. (Hindsight is always 20/20 as they say.)
Eric
So there you go Steeler fans. I personally find some comfort knowing Dri Archer & Landry Jones weren't entirely wasted picks. B.W. Webb had his shot, and Ross Cockrell shows promise and has another year to prove himself. I hope you find some comfort in all this too.
Joe
I never lost any sleep over it. When a backup of a backup QB can put you in a position to win games, and isn't doesn't send your team onto a path of obscurity (see: Dallas Cowboys, Tony Romo's backups, and Indianapolis Colts, Andrew Luck's replacements) I can't complain.
Maybe those picks didn't work out as the front office had hoped, but such is the nature of the NFL. A lot of picks don't work out, but it's important to also note, the alternatives don't always pan out either.
Read Eric's original article on Steelers Grind. Follow Eric Herrmann and Steelers Grind on Twitter.
Sources: