Film Room: Steelers defense lays an egg in Chicago
Someone, somewhere, is wondering: how did the Steelers defense get so bad in one week? How did a team loaded with talent give up 220 rushing yards?
Some will call it the curse of playing on the road, but I believe it's more a lack of consistency. Playing without DE Stephon Tuitt and LB T.J. Watt led to some of that inconsistency on Sunday.
It's not an excuse to lose to a 0-2 team, especially one which appears inferior in every way. However, the substitutions had played a role in Sunday's game. With Watt ruled out, the coaching staff opted to go with LB Anthony Chickillo in his place. As a fan of Chickillo, I was excited to hear this news as he has been hot as of late. He entered the game with two sacks, adding another in this game.
The bad news, however, is that Chick was a liability in the Steelers run defense on more than one occasion. More bad news: he wasn't the only one.
Howard's first big play
This was the first of many successful runs by Bears RB Jordan Howard, who gains 11 yards on a 2nd and 6 situation. As noted, CB Artie Burns was so far out of the play he took himself out by default. And as was seen several times throughout this one, the Bears got away with holding. While it's true you could call the penalty on nearly every play, some of the penalties which were let go on Sunday were inconsistent with the play calls through the first two weeks of the season.
Regardless, successful plays such as this one gave the Bears confidence in running the ball to the right side of the Steelers defense, where Chickillo was constantly beat in run coverage.
Bears first score
Here's a look at Jordan Howard's first touchdown run as he goes untouched from three yards out.
I don't understand the personnel/play selections such as this one. With only two linemen, the Bears are able to isolate Tyson Alualu who is lined up on the A-gap between the Bears center and right guard. Cam Heyward is pushed out of the play, but once again, Chickillo is flattened at the point of attack (below) which also seals off any hope of Sean Davis coming in from the left side of your screen.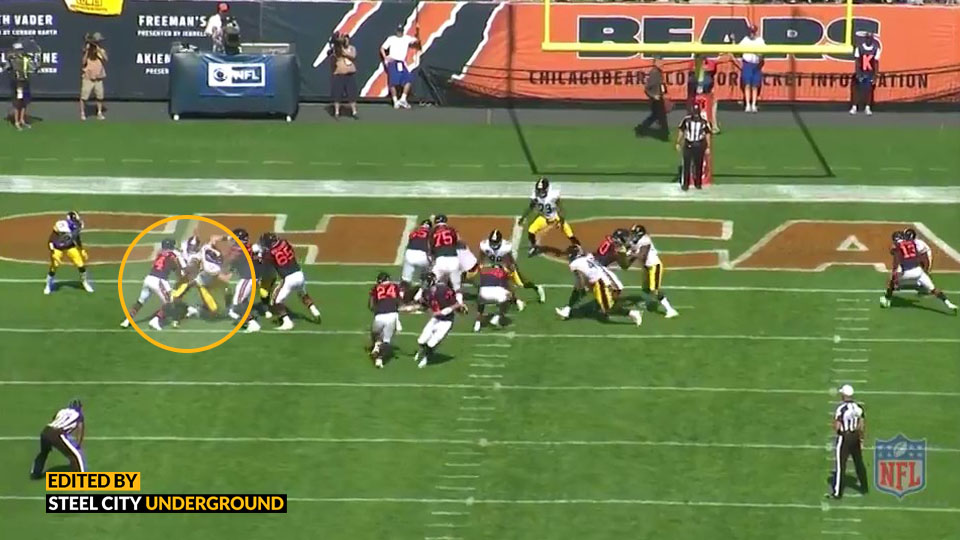 Vince Williams may have had an opportunity if he read the play differently, but expected a cutback from Howard. This was likely picked up in film study by the team, as the Bears used it more extensively throughout the game. With Williams anticipating a play that materialized differently, a big lane was opened, and Mike Mitchell, who is playing in the center of the defense, has no chance to react to it.
An easy six for Chicago.
Howard breaks one for a big gain
On this play, Bears RB Jordan Howard breaks outside for a gain of 17 yards on first and ten from the Chicago 25. This was Howard's longest run of the day up until this point of the game.
There were a lot of head-scratchers from our defense on Sunday. The Bears tight end motions over, and there is no shift by the d-line. There's no safety on the strong side of the formation, which creates a open lane in the C-gap.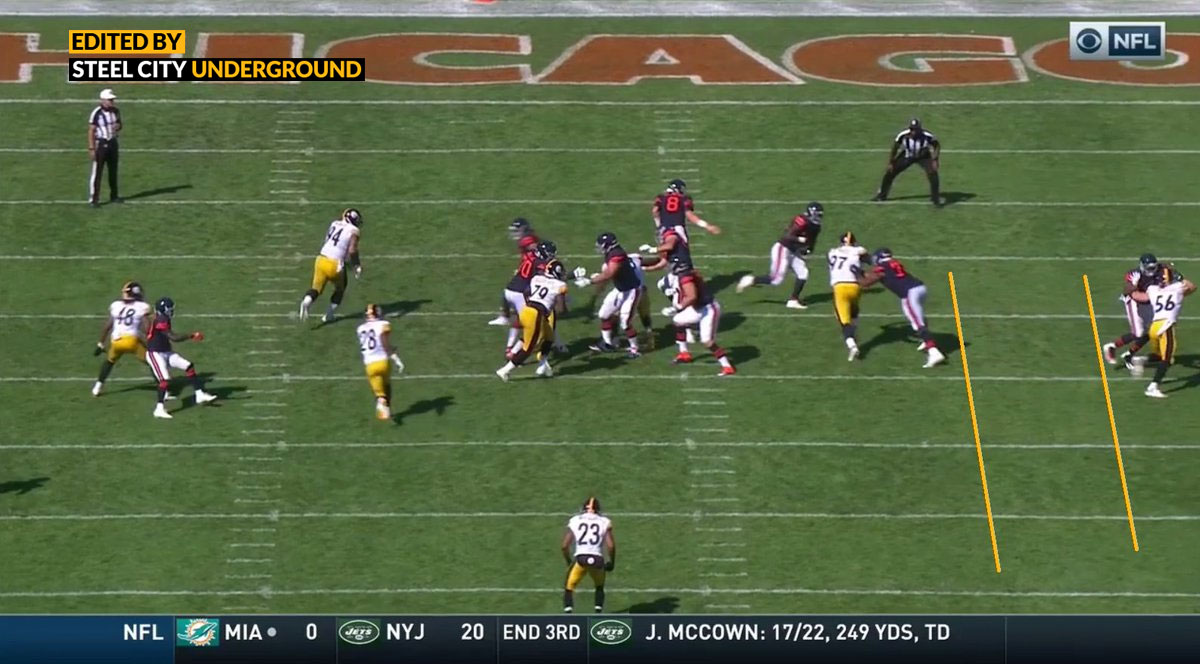 You will also notice that Sean Davis bites on the misdirection, filling the gap opposite of the one Howard runs through.
Howard runs it in with ease
Chickillo was so far out of this play that it looked like he was going to get water on the sidelines. I wish I could add more analysis, but as you can see, he was just blown off of the ball.
Unfortunately, this was the game-winning touchdown run in overtime by Howard, who scampers 19 yards for the score. The Steelers are in their base 3-4 and again, the missing part of this equation is safety help with a tight end in motion. The Bears utilize a jumbo set, with an extra lineman playing as the third tight end to impose their will on Pittsburgh's defense. Bud Dupree, Tyson Alualu and Javon Hargrave are all double-teamed and cleared out to their left, while Howard runs a counter to the opposite side. Ryan Shazier bites on the misdirection while Cam Heyward is taken out of the play, and Chickillo, well, he gets man-handled by massive 6-6, 270 lbs. tight end Adam Shaheen.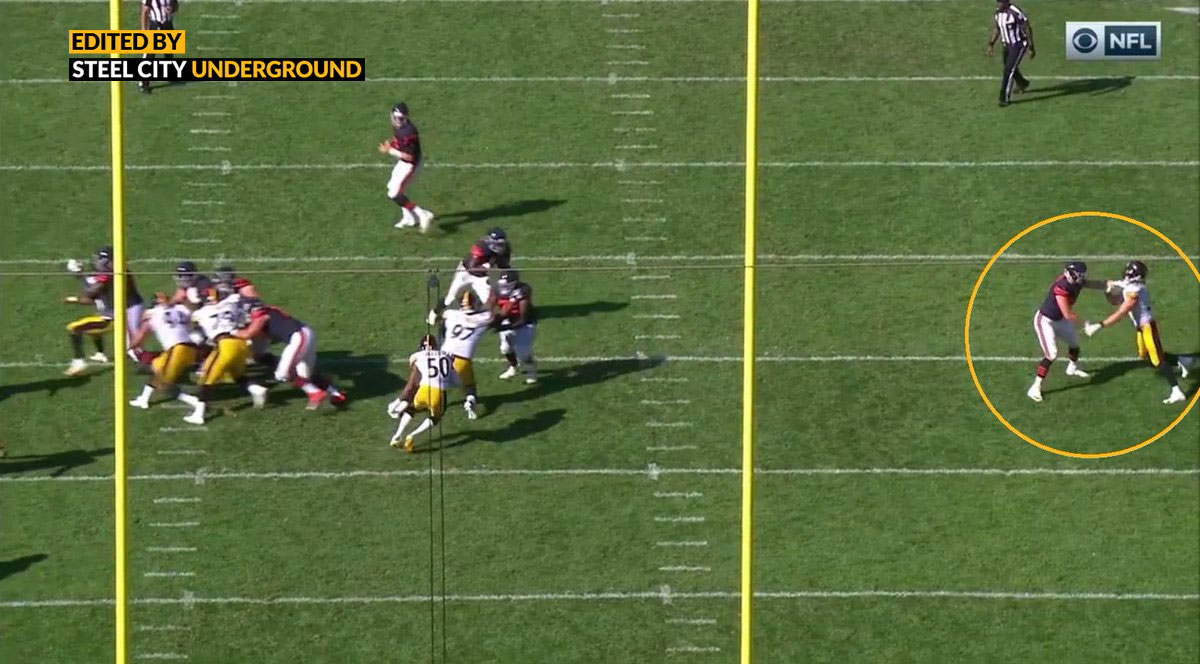 Conclusion
It was a disappointing, and even embarrassing showing for the Steelers defense in this game. It was reminiscent of last year's game against the Miami Dolphins, where little-known Jay Ajayi had a breakout game.
Similarities exist between both games, as the Steelers played on the road in each, and also lost players to injury throughout (or had others sitting out prior to the start of the game). Regardless, hats off go to the Bears for creating a game plan which consistently got their running backs into the second and third levels of the Steelers defense. Overall, Chicago's playcalling was patient and relied almost entirely on running the football. They never wavered from their plan of attack, and that is ultimately what won them the game.
---
Suggested articles from our sponsors