SCU's 2017 NFL Pick'em: Week 13
Each week a panel of SCU contributors will pick their winners and losers. Let's see who does the best by the end of the season!
Poor Terry Fletcher. Now I know why she was defending Eli Manning in her WTF article this week… For those who aren't aware, Manning became the scapegoat in New York, benched by the Giants this weekend. Terry was the only person (maybe outside of New York City) who thought "Big Blue" could win on Thanksgiving night.
They did not.
The Vikings rolled on the Lions and the Chargers also spoiled the home team Dallas Cowboys while we all ate turkey. Long after that, the Falcons were a clean sweep by our panel, and sorry Zac, the Browns still couldn't get the job done on the Bengals.
The Titans finally won in Indy (as we ALL predicted) while we were all fooled that Kanas City would bounce back against Buffalo.
The Patriots, Panthers, Eagles, Seahawks, and Steelers all completed our clean panel sweeps, while Zac had to go contrarian with the Texans too (they flopped in the end to the Baltimore Ravens).
That's okay because I also thought the Denver Broncos could get their act together against the Oakland Raiders, who ended up having no receivers due to injuries and ejections, but alas, I was also fooled.
This week is full of coin flips as well, as our panel had a tougher time coming to a consensus. Several of us feel our picks could go either way, but everyone's hoping to maintain the pace to topple Mike Drakulich, who is starting to pull away with this thing.
Here are SCU's picks for Week 13.
Week 13 Picks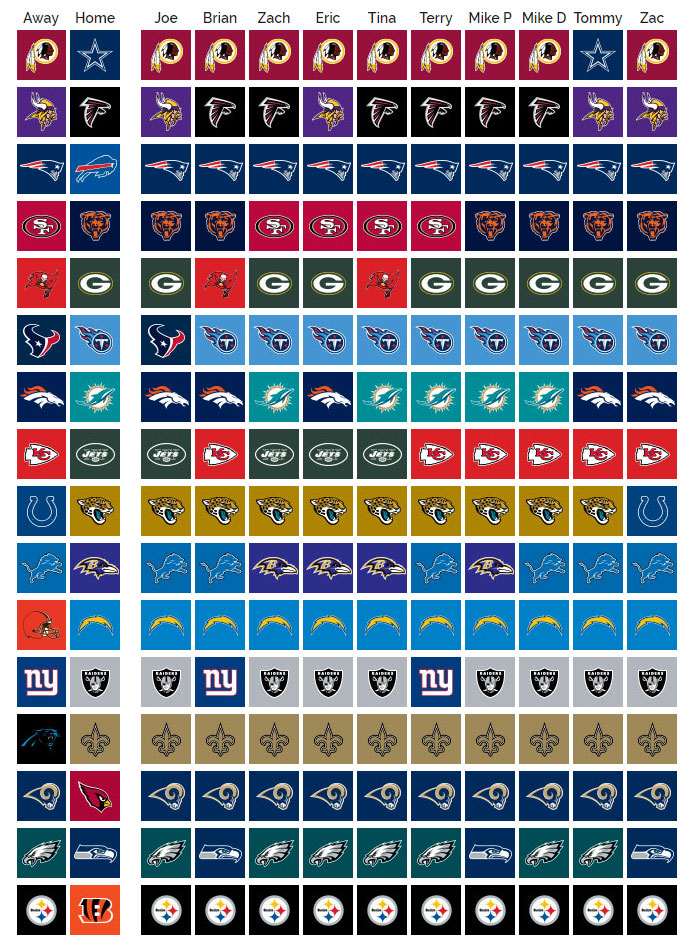 Last Week's Picks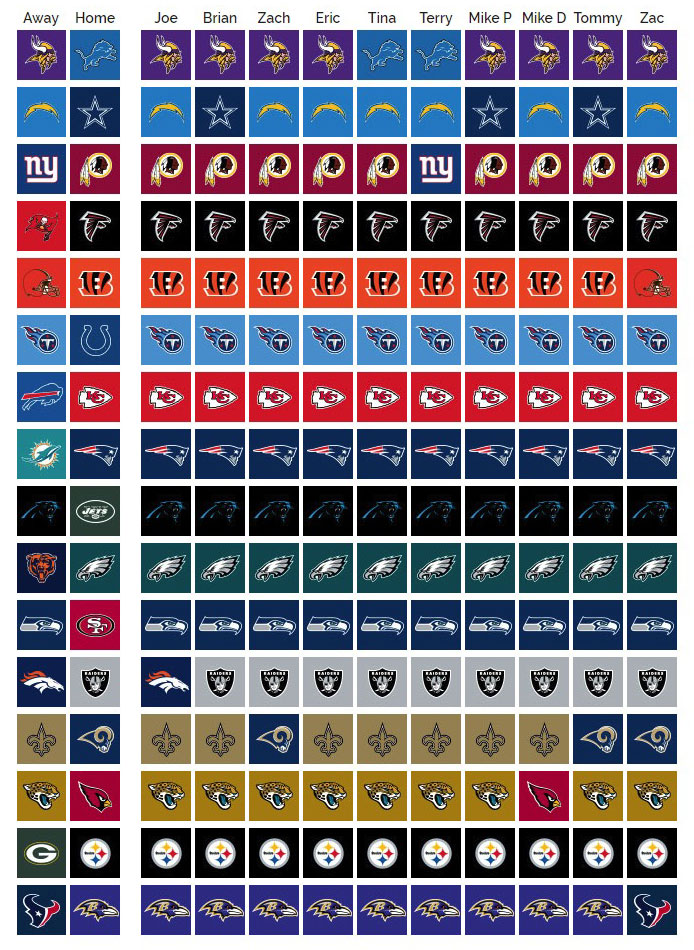 Overall Records
| | Joe | Brian | Zach | Eric | Tina | Terry | Mike P | Mike D | Tommy | Zac |
| --- | --- | --- | --- | --- | --- | --- | --- | --- | --- | --- |
| WK 1 | 10-5 | 10-5 | 8-7 | 9-6 | 11-4 | 11-4 | 9-6 | 10-5 | 11-4 | 8-7 |
| WK 2 | 13-3 | 13-3 | 12-4 | 11-5 | 10-6 | 11-5 | 10-6 | 12-4 | 11-5 | 12-4 |
| WK 3 | 8-8 | 9-7 | 8-8 | 9-7 | 7-9 | 5-11 | 7-9 | 9-7 | 7-9 | 8-8 |
| WK 4 | 11-5 | 10-6 | 10-6 | 6-10 | 11-5 | 9-7 | 9-7 | 11-5 | 9-7 | 9-7 |
| WK 5 | 5-9 | 5-9 | 5-9 | 6-8 | 6-8 | 6-8 | 9-5 | 6-8 | 7-7 | 5-9 |
| WK 6 | 8-6 | 5-9 | 5-9 | 8-6 | 6-8 | 7-7 | 8-6 | 8-6 | 7-7 | 6-8 |
| WK 7 | 10-5 | 10-5 | 10-5 | 9-6 | 10-5 | 11-4 | 11-4 | 13-2 | 10-5 | 12-3 |
| WK 8 | 12-1 | 12-1 | 12-1 | 11-2 | 10-3 | 9-4 | 13-0 | 11-2 | 11-2 | 10-3 |
| WK 9 | 8-5 | 9-4 | 7-6 | 7-6 | 9-4 | 9-4 | 5-8 | 7-6 | 10-3 | 8-5 |
| WK 10 | 10-4 | 9-5 | 8-6 | 11-3 | 11-3 | 9-5 | 11-3 | 9-5 | 8-6 | 11-3 |
| WK 11 | 10-4 | 7-7 | 9-5 | 6-8 | 9-5 | 7-7 | 10-4 | 11-3 | 6-8 | 9-5 |
| WK 12 | 12-4 | 12-4 | 14-2 | 13-3 | 12-4 | 11-5 | 12-4 | 14-2 | 13-3 | 12-4 |
Current Standings
| Place | Name | Record |
| --- | --- | --- |
| 1 | Mike D | 121-55 |
| 2 | Joe | 117-59 |
| 3 | Mike P | 114-62 |
| 4 | Tina | 112-64 |
| 5 | Brian | 111-65 |
| 6 | Tommy | 110-66 |
| 6 | Zac | 110-66 |
| 7 | Zach | 108-68 |
| 8 | Eric | 106-70 |
| 9 | Terry | 105-71 |
---
Suggested articles from our sponsors