SCU's 2017 NFL Pick'em: Week 17
Each week a panel of SCU contributors will pick their winners and losers. Let's see who does the best by the end of the season!
The hits, they keep on a rollin'.
Last week's picks were nearly on target, with a few lapses in judgment. No one saw the Lions falling to the Bengals, but in the same regard, everyone saw the Patriots, Bears, Chiefs, and Chargers adding to their win columns.
A few of the coin tosses saw some correctly pick the 49ers over the Jaguars and the Seahawks over the Cowboys.
And it's not as if anyone thought the Steelers would lose on the road to the Houston Texans!
This week the final tallies are in. With some teams resting starters, there's still some consensus on who will come out on top. Everyone went strong with the first three games, taking the Lions, Colts, and Vikings over the Packers, Texans, and Bears. Brian believe the Jets can pull an upset on the Patriots and everyone is still out on the Browns, even if the Steelers rest their starters (as they did last year – and won in OT!)
Brian also thinks that the Bengals will make it three years in a row beating the Ravens in the final game of the season, which has all but knocked Baltimore out of playoff contention each time. Others believe the Titans will one-up the Jaguars in their bid to make the postseason, while the Chiefs cruise to an easy win over the Broncos.
Here are SCU's picks for Week 17.
Week 17 Picks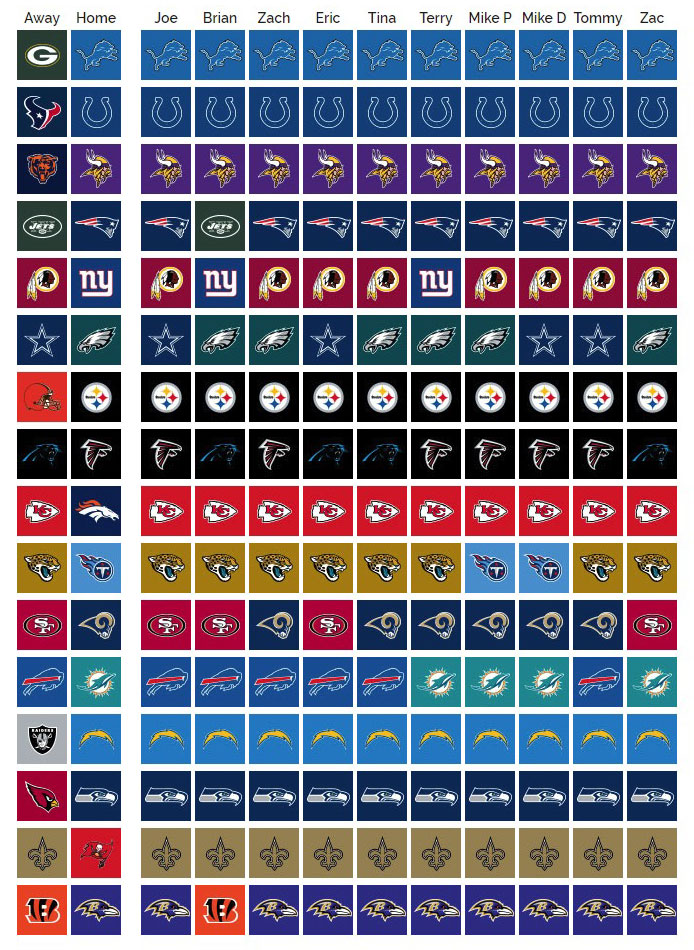 Last Week's Picks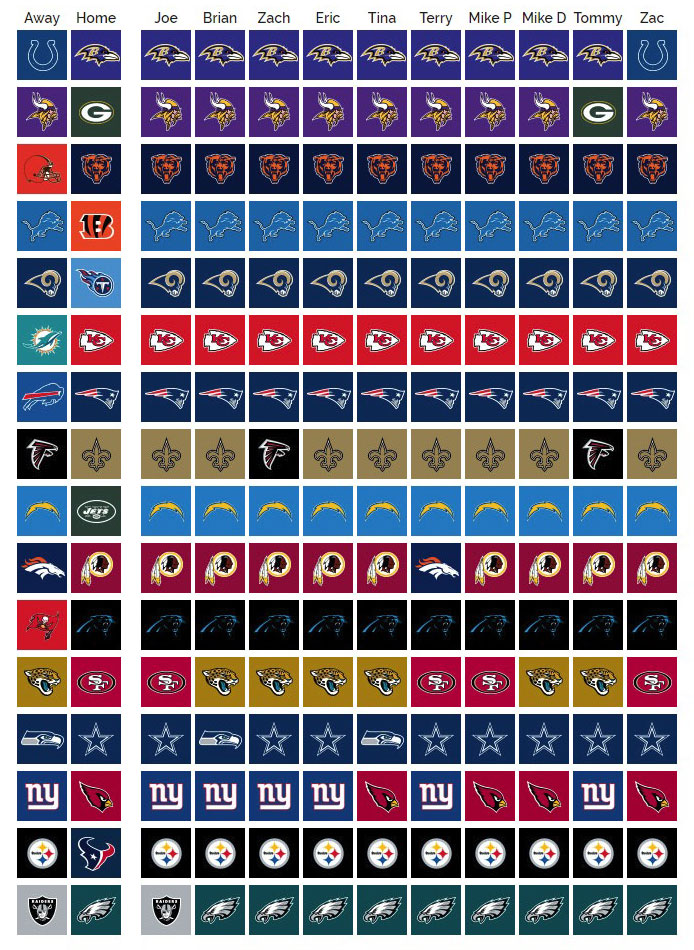 Overall Records
| | Joe | Brian | Zach | Eric | Tina | Terry | Mike P | Mike D | Tommy | Zac |
| --- | --- | --- | --- | --- | --- | --- | --- | --- | --- | --- |
| WK 1 | 10-5 | 10-5 | 8-7 | 9-6 | 11-4 | 11-4 | 9-6 | 10-5 | 11-4 | 8-7 |
| WK 2 | 13-3 | 13-3 | 12-4 | 11-5 | 10-6 | 11-5 | 10-6 | 12-4 | 11-5 | 12-4 |
| WK 3 | 8-8 | 9-7 | 8-8 | 9-7 | 7-9 | 5-11 | 7-9 | 9-7 | 7-9 | 8-8 |
| WK 4 | 11-5 | 10-6 | 10-6 | 6-10 | 11-5 | 9-7 | 9-7 | 11-5 | 9-7 | 9-7 |
| WK 5 | 5-9 | 5-9 | 5-9 | 6-8 | 6-8 | 6-8 | 9-5 | 6-8 | 7-7 | 5-9 |
| WK 6 | 8-6 | 5-9 | 5-9 | 8-6 | 6-8 | 7-7 | 8-6 | 8-6 | 7-7 | 6-8 |
| WK 7 | 10-5 | 10-5 | 10-5 | 9-6 | 10-5 | 11-4 | 11-4 | 13-2 | 10-5 | 12-3 |
| WK 8 | 12-1 | 12-1 | 12-1 | 11-2 | 10-3 | 9-4 | 13-0 | 11-2 | 11-2 | 10-3 |
| WK 9 | 8-5 | 9-4 | 7-6 | 7-6 | 9-4 | 9-4 | 5-8 | 7-6 | 10-3 | 8-5 |
| WK 10 | 10-4 | 9-5 | 8-6 | 11-3 | 11-3 | 9-5 | 11-3 | 9-5 | 8-6 | 11-3 |
| WK 11 | 10-4 | 7-7 | 9-5 | 6-8 | 9-5 | 7-7 | 10-4 | 11-3 | 6-8 | 9-5 |
| WK 12 | 12-4 | 12-4 | 14-2 | 13-3 | 12-4 | 11-5 | 12-4 | 14-2 | 13-3 | 12-4 |
| WK 13 | 10-6 | 8-8 | 13-3 | 13-3 | 12-4 | 10-6 | 12-4 | 10-6 | 11-5 | 10-6 |
| WK 14 | 7-9 | 7-9 | 9-7 | 9-7 | 9-7 | 11-5 | 11-5 | 9-7 | 9-7 | 10-6 |
| WK 15 | 11-5 | 12-4 | 12-4 | 14-2 | 12-4 | 9-7 | 13-3 | 13-3 | 13-3 | 8-8 |
| WK 16 | 12-4 | 13-3 | 11-5 | 12-4 | 14-2 | 12-4 | 14-2 | 13-3 | 10-6 | 13-3 |
Current Standings
| Place | Name | Record |
| --- | --- | --- |
| 1 | Mike D | 166-74 |
| 2 | Mike P | 164-76 |
| 3 | Tina | 159-81 |
| 4 | Joe | 157-83 |
| 5 | Eric | 154-86 |
| 6 | Tommy | 153-87 |
| 6 | Zach | 153-87 |
| 7 | Brian | 151-89 |
| 7 | Zac | 151-89 |
| 8 | Terry | 147-93 |
---
Suggested articles from our sponsors