The four most iconic Steelers of the 90's
It's been awhile, but I'm finally following up on my previous articles where I chronicled the most "iconic" Steelers of the 70's and the 80's. It's now time to jump ahead into the 1990's, where it's a little easier to pick and choose names than the previous decade!
As a recap of the series:
Initially, I wanted to revisit some of the greatest names in franchise history with my own mini-list of the most iconic players in franchise history. Brian Roach had already done so with his Top 100 Most Influential People in Steelers History, so in order to change things up, I thought to myself "when you mention a specific period in time, which players come to mind?"
The keyword here is "players" but also "iconic" with reference to the time period those players played. The 90's were a rebirth for the Steelers, heralding the beginning of the Bill Cowher era and a return to Super Bowl contention.
Unlike the 80's teams, there aren't many names who bleed between the decades. There are a few, but the most iconic players were easier to identify this time around…
There's sure to be some contention about this one. A Hall of Famer with an awesome nickname, Jerome Bettis definitely belong on an iconic list. It's just a matter of which decade he's best suited since he played for Pittsburgh in the mid-90's through the mid-2000's.
Bettis arrived following the Steelers loss in Super Bowl XXX to the Dallas Cowboys (1995 season) but is best known for his "last ride" in the team's win over the Seattle Seahawks in Super Bowl XL. However, by that time, "The Bus" saw less mileage (splitting time with Willie Parker) than he had after arriving in Pittsburgh as a 24-year-old in 1996. Over the next two years, Bettis would be named to the Pro Bowl, with an All-Pro selection in his first season in the Steel City. He would top 1,000 yards for six straight seasons, with four of those within the 90's.
His other two Pro Bowl nods while in Pittsburgh came in 2001 and 2004: he ran for 1,072 and 941 yards in those two seasons. Therefore, I felt "The Bus" would be best remembered for rumbling around Three Rivers Stadium rather than Heinz Field, though he had success at both.
(Note: Heinz Field opened August 18th, 2001.)
Another Hall of Famer from this decade, I dare say no one personified the Steelers defenses near the end of Chuck Noll's era and the beginning of Bill Cowher's than Rod Woodson. I'd even be willing to call him "Mr. Steeler" for the entire decade of the 1990's.
Maybe the most decorated Steelers player of his generation, Woodson was named to six Pro Bowls between 1989 and 1994, with five of those six seasons also seeing him named a first-team All-Pro. He was also one of five players currently playing when the NFL named their 75th Anniversary All-Time Team.
Woodson was a multipurpose player. As a cornerback who played both sides of the field when called upon, Woodson also defied the criticism of star players returning kicks and punts (much like Antonio Brown does in the present day). He also dabbled with gadget plays, lining up on offense where he was targeted with a single pass and credited with one career rush during a 45-17 thumping of the Atlanta Falcons on Monday Night Football.
Woodson was also an Iron Man who never missed a game. During a period between 1988 and 1994, seven total seasons, Woodson only missed three games.
That was, until, 1995, when he tore his ACL. But that injury wouldn't prevent Rod from making more history, as he became the first player to return from reconstructive knee surgery in the same season. He would play one more season with the Steelers in 1996 before leaving for free agency following a contract dispute and salary cap issues with the Steelers.
Woodson would play with three more teams until he retired in 2004. However, he'll always be best remembered as a Steeler.
Thunder and Lightning.
Peanut Butter and Jelly.
Yin and Yang.
I know this is supposed to be a "Mount Rushmore-like" list of only four players, but those inseparable items listed above are just like Kevin Greene and Greg Lloyd.
Neither can be excluded nor should each be mentioned separately.
From a period between 1993 and 1996, this duo wreaked havoc on opposing quarterbacks. Greene, another Hall of Famer, considers himself a Steeler, but only played three seasons with the "Blitzburgh" defense. However, of his five Pro Bowl, two were with the Steelers. Of his two All-Pro selections, one was with the Steelers.
In those three seasons in Pittsburgh, Greene accumulated 35.5 sacks. (It's something to consider he didn't make the Pro Bowl his first year with the Steelers despite having 12.5 sacks and three forced fumbles!)
With that type of impact, it would've been difficult to keep Greene off of this list. The same goes for Greg Lloyd, who joined the Steelers in 1988 and played through 1997 with the franchise. He would make five Pro Bowl teams between 91 and 95, with three All-Pro selections in 93, 94, and 95.
Lloyd didn't have the same sack numbers as Greene. He only hit double-digits once, in 1994. However, he was a tackling machine and set the edge often, which likely attributed to much of Greene's success on the opposite side.
When mentioning any of the Steelers great linebackers, both Greene and Lloyd come to mind. Therefore they're paired together here as two of the most inconic Steelers of the 90's.
So who could I have left off to allow for a perfect "four" on this list?
I know there's some eye-rolling on this one, but hear me out: there's no way Kordell Stewart can be left off of an "iconic" list. For how memorable Woodson was on defense, there's no denying what "Slash" did as a utility player in his rookie season.
Stewart was drafted in 1995 and would play with the Steelers for 8 seasons. During the course of his first two seasons, the college quarterback was converted to play wide receiver, where he earned the aforementioned nickname "Slash". Stewart would catch 32 passes for 528 yards and four touchdowns over that span of time, adding another four receptions for 45 yards and a score in a postseason run which led the Steelers to the Super Bowl during his rookie season.
As such, Slash's popularity soared from his versatility. Despite being a backup quarterback and the team's fifth receiver on the depth chart, Stewart's jersey became available in sporting goods stores and catalogs around the country. He also saw his likeness used on video games such as Sega Sports' NFL '97 and Midway's NFL Blitz.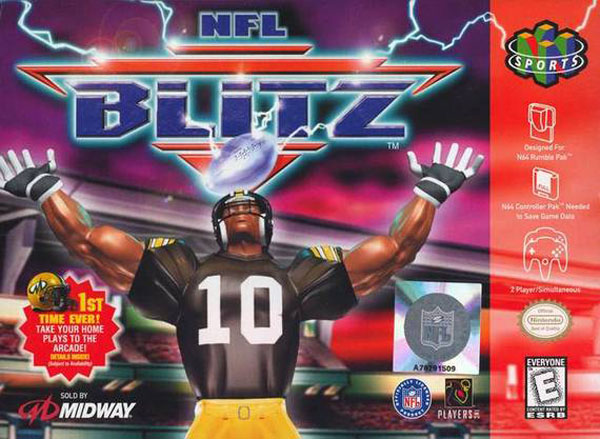 Stewart's insertion into pop culture is reason enough to be iconic, but he'd also be remembered for a variety of other reasons throughout the 90's.
One of those reasons was a false allegation of being arrested for sexual behavior in a local park. Even after being dismissed, people recall that story years later for how wild of a rumor it was.
But off-field causes aren't the only reason Stewart's memory lives on as an iconic player of this decade. He would receive an opportunity to start at quarterback following the departure of Neil O'Donnell and actually lead the Steelers to an 11-5 record his first year as the starter.
Unfortunately, part of being an icon also means the memory of his decline. He threw three interceptions in a playoff loss to the Broncos that same season and would fail to lead the Steelers back to the postseason in the next two. He would fight for his job leading in the 2000's before leaving the team, but will never be forgotten in Pittsburgh.
---
Suggested articles from our sponsors