SCU Exclusive: Interview with Steelers athletic trainer Sonia Ruef, "First on the Field"
In the early 1990s, I majored in Exercise Physiology and Kinesthesiology, which meant I spent a lot of time in the training room and on the sidelines working with other athletes when I wasn't actively playing or training with the school's softball team. At that time, the athletic training program was predominantly filled with male students, but female students were quickly starting to enter the program and seeking careers in sports medicine as well. While female students were garnering positions in women's collegiate programs, the options were very limited as to the number who would move past a collegiate level or work within male sports programs.
The sports medicine staff is typically not something Steelers fans focus on unless a player is injured at practice or in a game situation. The Pittsburgh Steelers were the first NFL team to hire a female athletic training intern in 1997 when they brought Sue Hillman onto the staff. In 2002, the Steelers brought Ariko Iso onto the training staff making her the NFL's first full-time female athletic trainer and just the third female in male professional sports (two other women worked in the NBA). Iso would become Head Athletic Trainer for Towson University's football team in June 2018. In 2011, the Steelers hired athletic trainer Sonia Ruef, who told the Journal-Sentinel (Milwaukee, WI),
The transition for me was pretty seamless since everyone was used to having a female around. A lot of credit has to be given to the Rooney family and the Steelers organization for trusting John Norwig, the team's head athletic trainer for the past 25 years, and his judgment in hiring the best athletic trainer for the position… Which in two cases, happened to be a female.
It is my pleasure to have been able to work with Gatorade's "First on the Field" program through the following interview with Ruef who, with Kansas City Chiefs head athletic trainer Rick Burkholder, spearheaded an initiative in 2015 with the Professional Football Athletic Trainers Society to help ensure women, as well as men, were considered for all open athletic training positions.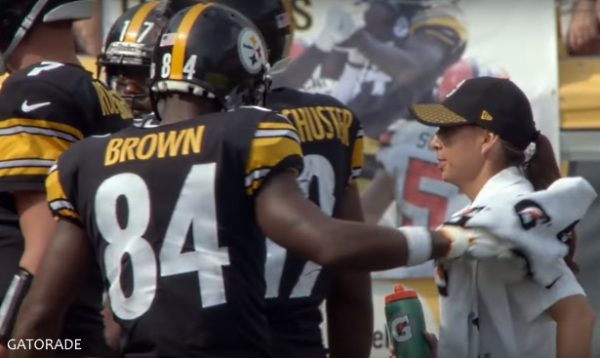 The Interview
Rivers: What drew you to the field of athletic training initially? What colleges/universities did you attend and what experience did you have at that time that made you want to choose it as a career?
Ruef: I attended the University of Wisconsin – Madison for undergrad and knew that I wanted to go into the sports medicine field. My academic advisor recommended that I take the Intro to Athletic Training course. After taking that course I knew that athletic training was the perfect fit for me because it combined my love of sports and my passion for helping people. I was accepted into the Athletic Training Education Program the following semester and began the combination of coursework and clinical experience education for the next six semesters. We had new clinical rotations each semester and I was assigned to cover two semesters of UW Football, one semester with UW Men's Soccer, one with Men's/Women's Basketball, one with UW Volleyball and one with a high school rotation. I enjoyed every rotation but football was by far my favorite because there was so much to see and do. There were many injuries and thus many opportunities to learn and gain experience; I also thrived off of the fast-paced, intense environment that surrounded D-1 Collegiate Football. It was these experiences that made me aspire to pursue a career working as an athletic trainer with a football team. Following the completion of my undergrad degree and passing the Athletic Training Board of Certification exam, I attended graduate school at the University of North Carolina – Chapel Hill to get my masters in athletic training and further my athletic training education and experience. This program also required clinical education experience so my two years of grad school included being a graduate assistant athletic trainer with UNC Football. My continued experience with college football solidified my desire to work with football as a full-time athletic trainer.
Rivers: As an athletic trainer, did you start at a collegiate or lower level before working with Rick Burkholder to spearhead the initiative to help women break into the field of male-dominated professional sports?
Ruef:  Yes, I had experience with college football in undergrad and grad school, and my first full-time job as an athletic trainer was with Duke Football. At this time, there were very few female athletic trainers working in D-1 College Football as well, so I was well accustomed to being a minority in a male-dominated environment.
Rivers: What motivated you to approach the NFL as your sport of choice?
Ruef:  During my time with UNC Football, I had the opportunity to work with Scott Trulock, the head athletic trainer of UNC Football at the time. He had previously worked in the NFL for many years before he came to work at UNC, and he is now currently the head athletic trainer of the Jacksonville Jaguars. After my first year with UNC Football, he approached me about pursuing an NFL internship. I hadn't considered it before but he clearly thought I would be a good candidate so I applied to all 32 teams for a summer internship. I was offered a summer internship position with the Pittsburgh Steelers for the 2008 preseason. After that experience, I found that I loved working in the NFL with the Steelers just as much as I enjoyed college football. At this point, my goal was to get a job with either college football or with an NFL team.
Rivers: How did Rick Burkholder help you in that process?
Ruef: I have to give credit to John Norwig in addition to Rick. John is the head athletic trainer for the Pittsburgh Steelers and has been in this position for the past 28 years. He was the first person to hire a female athletic trainer in the NFL in 2002. Ariko Iso was the best candidate for the open position and he hired her. She worked with the Steelers for nine seasons until she left in 2011 to pursue a head football athletic trainer position at her alma mater, Oregon State University. I have John Norwig to thank for interviewing me, as well as a few other former interns, for the open position. I was fortunate that John offered me the position and I have been working with the Steelers ever since.
Rick Burkholder was a former intern and assistant athletic trainer with the Pittsburgh Steelers under John Norwig. Rick succeeded John as president of PFATS – Professional Football Athletic Training Society. It was during Rick's presidency of PFATS (I was still the only current female "AT" in the NFL at this time) that he was able to begin league-wide initiatives to increase the presence of female athletic trainers in the NFL. He no doubt was influenced by John's example to hire the first 2 female athletic trainers in the NFL.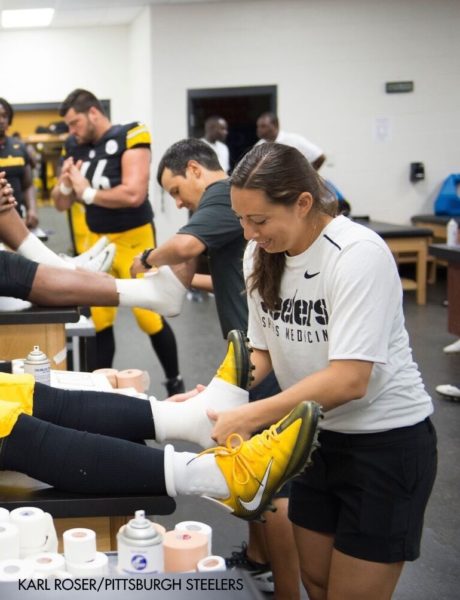 Rivers:  Standing at the forefront of evening the playing field, so to speak, for female athletic trainers in professional sports – specifically male sports – what has been your greatest challenge beyond the typical "boy's club" mentality and why do you feel the initiative is important?
Ruef: I think the biggest challenge for female athletic trainers is just getting that first chance at a position (internship or full-time) within a men's professional sports team. Open positions in the NFL are rare to come by in the first place and they are highly sought-after by many applicants. The majority of athletic trainers in the NFL started out as interns so the best way to get a full-time position is by proving your worth as an intern.
The "First on the Field" initiative is important in that it demonstrates how female athletic trainers who started out as interns were able to prove themselves (just as male interns would do in the same position) and show that they were great athletic trainers and deserving of a full-time position regardless of their gender. For me personally, once I obtained the internship, I really didn't face any challenges that my male counterparts also didn't face. I showed that I was a skilled, competent athletic trainer, and I was trusted and respected by the athletes, coaches and staff.
I had the easiest transition into the NFL because the Steelers were already used to having a female AT on staff for the previous nine years. Everyone welcomed me with open arms and made me feel a part of the Steelers family from the very beginning. It also helped that many people knew me previously from when I had been a summer intern with the team.
Rivers: What changes have you seen since 2015 in regards to the Steelers, the NFL and/or the ideology that female athletic trainers should or should not work in men's professional sports?
Ruef: In 2015, Rick Burkholder initiated a meeting with Roger Goodell, the commissioner of the NFL, along with me and a few other NFL head athletic trainers, to go over issues that NFL athletic trainers face. One of the issues he posed was the lack of female AT representation in the NFL. The meeting resulted in Roger Goodell and the NFL approving 32 scholarships for female athletic training interns, in addition to the 32 scholarships currently available for minority athletic training interns. I viewed this as a big turning point in which there was an increase in the number of female athletic training interns across the league, as well as full-time female athletic trainers. It was also an obvious acknowledgement from the NFL that they wanted to increase the female AT presence across the league.
Rivers: Why do you feel being "First on the Field" is an important initiative and what is your ultimate goal?
Ruef: It's important for the public to realize that there has been an increase in the number of female athletic trainers in the NFL over the past few years because teams are realizing the importance of hiring the best person for the job, regardless of gender.
Rivers: There are five other women involved with this initiative. Who are they and what teams do they represent?
Ruef: 
2015 – San Francisco 49ers hired Laura Schnettgoecke
2015 – San Diego/LA Chargers hired Allison Miner
2016 – Kansas City Chiefs hired Tiffany Morton
2016 – St. Louis/LA Rams hired Hilary Stepansky
2018 – Kansas City Chiefs hired Julie Frymyer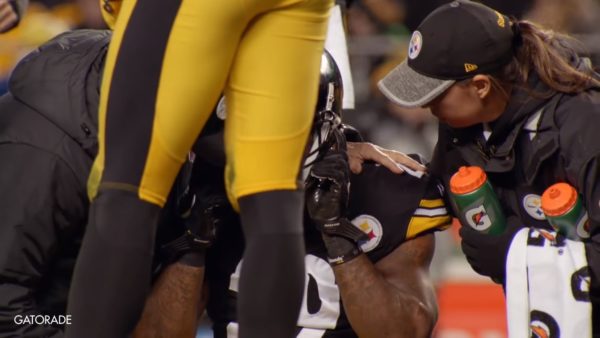 Rivers: Where do you see this initiative heading moving forward?
Ruef:
I anticipate NFL teams to continue hiring more and more female athletic training interns, which will continue to result in more full-time hiring of female AT's in the future.
Rivers:  What advice would you personally give to other women athletic trainers that would enjoy practicing that trade at the pro level working with male athletes? (Especially those entering college to pursue athletic training as a career)
Ruef: My advice would be to shadow an athletic trainer, ideally at many levels (high school, clinical, collegiate, and professional), to get an idea of what the job is really like and to get a feel for the environments in different settings. Working at the pro level is not for everyone (men or women) so it's important to know what you're getting into before pursuing the career. Then I would encourage them to seek out volunteer or internship opportunities with the particular sport that they desire to work with to begin gaining athletic training experience with that sport, as well as familiarity with the culture of that sport.
Rivers: What has given you the most satisfaction in working within the NFL, primarily as it relates to the Pittsburgh Steelers, and how are you received by the players on the team?
Ruef: I love that I can go to work on a daily basis and help someone, whether it's in a big way or a small way – from covering a blister to returning an athlete to practice after a long-term rehabilitation from a knee dislocation. I really enjoy being able to help the athletes fulfill their dream of playing football in the NFL by doing what I can to keep them on the field.
Rivers: Did you find it difficult to build rapport with the coaching staff, especially Mike Tomlin, or did you find that your skills were recognized and respected enough to encourage you to pursue a continued future with the team and league itself?
Ruef: No, I did not find it difficult. As I said before, I was an intern before being hired on full-time and many of the coaching staff (including Coach Tomlin) remained the same when I returned. I worked very hard as an intern and showed that I was a skilled, competent athletic trainer which was ultimately why I was hired back for a full-time position. They saw and recognized this, so they trust and respect me, just as the athletes do.
Rivers: Most fans would be excited just to get an opportunity to meet a player, let alone work with them. How do you separate career with wanting to support the Steelers, or any NFL team, in a fan capacity?
Ruef: Working as an athletic training student with UW Football taught me from early on that a lot of these football athletes get so much adoring and sometimes critical attention from fans that they really appreciate being approached as just a regular person. They have emotions and experience pain just like the rest of us. As an intern working with the Steelers for the first time, I was a little intimidated at first but then realized, just as with UW Football, that these athletes are people too and I'm just there to help them. I was also taught early on in school that we can be supportive of our team but that we must remain professional and remember that we have a job to do. That mentality has always stuck with me.
Rivers: Can you briefly describe the type of duties you are required to perform in layman's terms so that fans reading this interview understand what your job as an athletic trainer in the NFL entails?
Ruef: Athletic trainers are involved in all aspects of player health. We are with the team on a daily basis to treat any injuries that occur from the moment they happen on the field during practice or games, until the time they are ready to return to participation. We aim to prevent injuries by taping ankles, wrists, etc., providing treatment to players such as stretching, ultrasound, laser, massage, graston (technique), and other modalities before and after practice and games, and implementing exercise programs to address any movement deficiencies or to enhance performance. When injuries do occur, we assess their injuries and develop treatment plans to gradually return them to their pre-injury state. This includes seeing athletes through their rehabilitation following a surgery.
Rivers: How do you see women trainers (or do you) helping the league enact tougher or better rules regarding player safety and then put those new plans into motion?
Ruef: Along with our male counterparts, we are involved in detailed injury documentation in the NFL electronic medical records, which includes information on when and how the injuries to our athletes occur. This information gets analyzed by people that work for the NFL to see if there are ways to reduce injuries. Making sure we are accurately recording this data is imperative to making the game safer.
Rivers: What do you feel sets the women involved with this initiative apart from their male counterparts… or do you see it as an opportunity for colleagues (male and female) to work as one team without a gender boundary or bias?
Ruef: I don't see any specific differences between us and our male coworkers based on gender. We all bring unique experiences and perspectives to the table and work together as a collaborative team. Each one of us has our own unique skills and specific strengths as an athletic trainer and together we make a strong sports medicine team.
---
Suggested articles from our sponsors