Each week a panel of SCU contributors will pick their winners and losers. Let's see who does the best by the end of the season!
Did everything return to normal in Week 4?
Yes and no. Several games when to overtime, making our picks that more difficult! Half of our staff is hanging around the .500 mark with some wild takes heading into Week 5.
Below are our Week 5 picks. Enjoy!
Week 5 Picks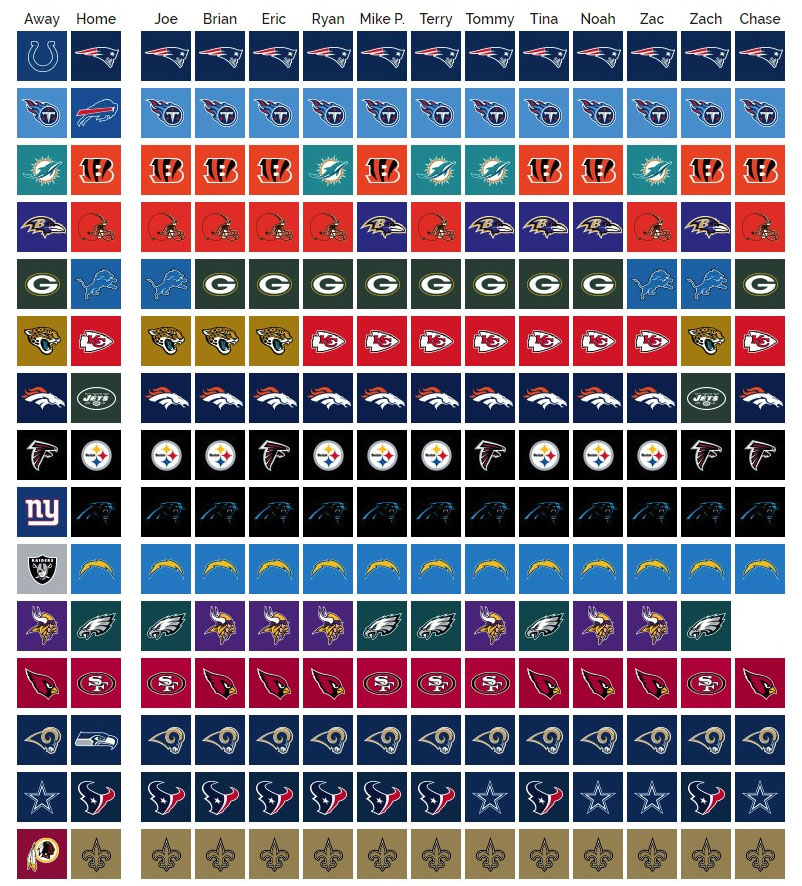 Last Week's Picks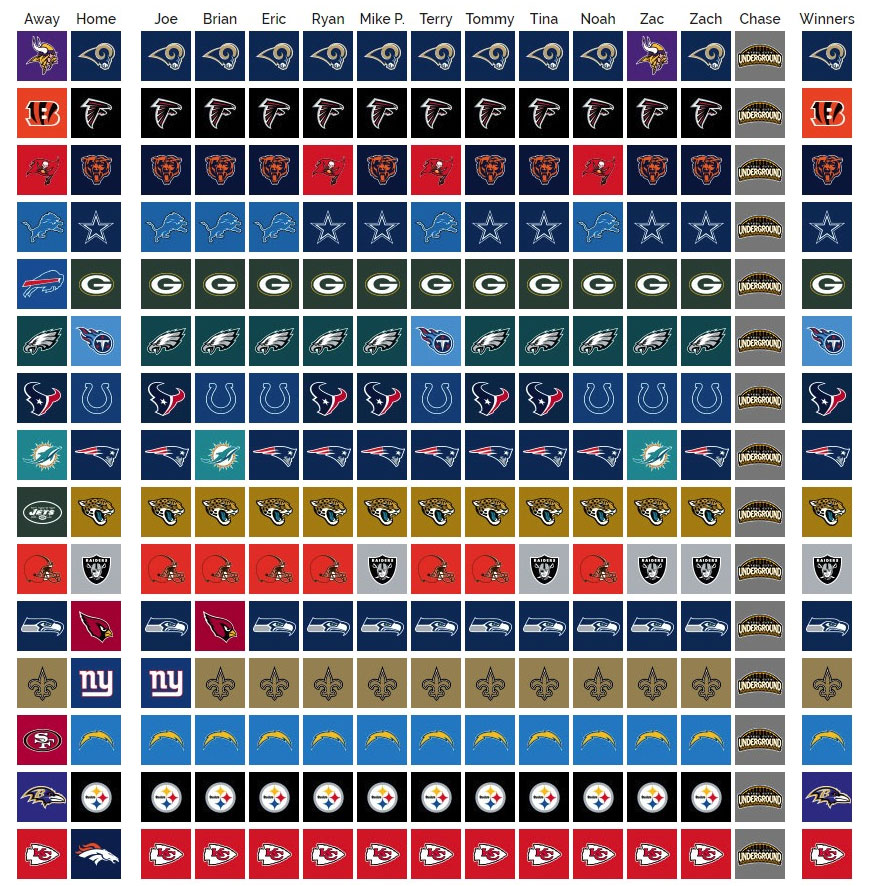 Overall Weekly Record
| Name | Record |
| --- | --- |
| Mike P. | 12-3 |
| Tina | 12-3 |
| Tommy | 11-4 |
| Zach | 11-4 |
| Ryan | 10-5 |
| Eric | 9-6 |
| Joe | 9-6 |
| Terry | 9-6 |
| Zac | 9-6 |
| Noah | 8-7 |
| Brian | 7-8 |
Overall Season Records
| | Joe | Brian | Eric | Ryan | Mike P. | Terry | Tommy | Tina | Noah | Zac | Zach | Chase |
| --- | --- | --- | --- | --- | --- | --- | --- | --- | --- | --- | --- | --- |
| WK 1 | 6-9 | 7-8 | 8-7 | 10-5 | 9-6 | 7-8 | 8-7 | 8-7 | 10-5 | 9-6 | 8-7 | 8-7 |
| WK 2 | 8-7 | 7-8 | 7-8 | 7-8 | 7-8 | 5-10 | 8-7 | 8-7 | 6-9 | 9-6 | 7-8 | 8-7 |
| WK 3 | 8-8 | 8-8 | 8-8 | 8-8 | 10-6 | 5-11 | 10-6 | 9-7 | 8-8 | 7-9 | 7-9 | 7-9 |
| WK 4 | 9-6 | 7-8 | 9-6 | 10-5 | 12-3 | 9-6 | 11-4 | 12-3 | 8-7 | 9-6 | 11-4 | 0-15 |
| TOTAL | 31-30 | 29-32 | 32-29 | 35-26 | 38-23 | 26-35 | 37-24 | 37-24 | 32-29 | 34-27 | 33-28 | 23-38 |
Current Season Standings
| Place | Name | Record |
| --- | --- | --- |
| 1 | Mike P. | 38-23 |
| 2 | Tina | 37-24 |
| 2 | Tommy | 37-24 |
| 3 | Ryan | 35-26 |
| 4 | Zac | 34-27 |
| 5 | Zach | 33-28 |
| 6 | Eric | 32-29 |
| 6 | Noah | 32-29 |
| 7 | Joe | 31-30 |
| 8 | Brian | 29-32 |
| 9 | Terry | 26-35 |
| 10 | Chase | 23-38 |