Each week a panel of SCU contributors will pick their winners and losers. Let's see who does the best by the end of the season!
I told yinz we'd come around!
Wow, what a week: capped off by a perfect set of predictions from Tina Rivers, the SCU crew almost all had a terrific Week 8, hitting on nearly all of their picks.
This week looks like a lot of shared enthusiasm across the board for many of the same games. Let's see if the records hold up. Here's our Week 9 picks.
Week 9 Picks
Last Week's Picks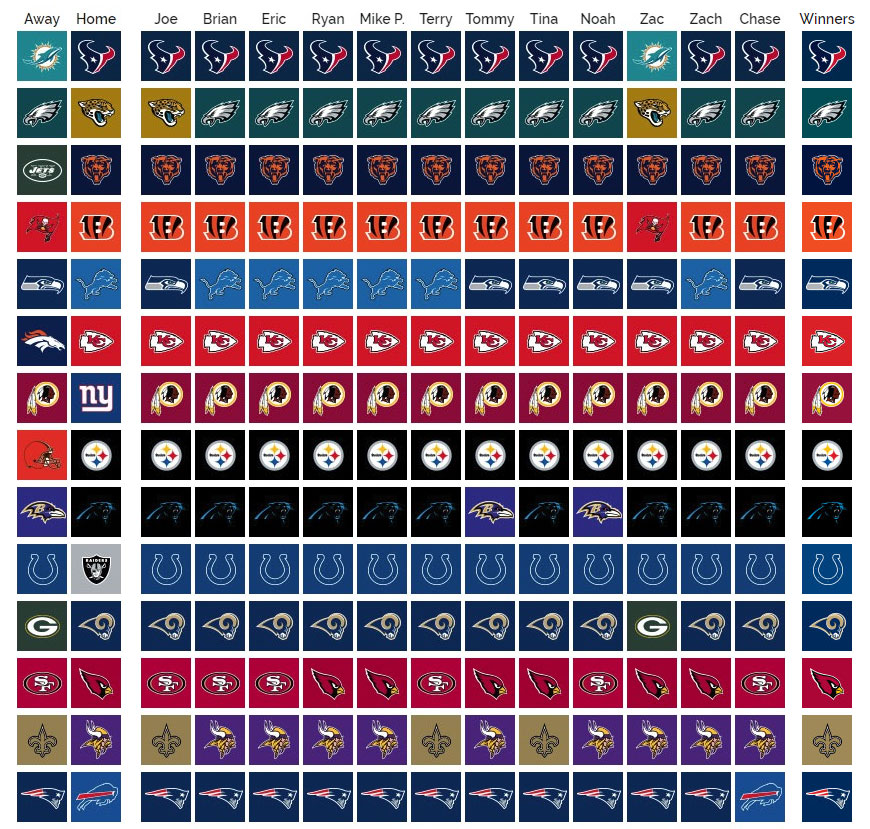 Overall Weekly Record
| Name | Record |
| --- | --- |
| Tina | 14-0 |
| Joe | 12-2 |
| Mike P. | 12-2 |
| Ryan | 12-2 |
| Terry | 12-2 |
| Tommy | 12-2 |
| Zach | 12-2 |
| Brian | 11-3 |
| Chase | 11-3 |
| Eric | 11-3 |
| Noah | 11-3 |
| Zac | 9-5 |
Overall Season Records
| | Joe | Brian | Eric | Ryan | Mike P. | Terry | Tommy | Tina | Noah | Zac | Zach | Chase |
| --- | --- | --- | --- | --- | --- | --- | --- | --- | --- | --- | --- | --- |
| WK 1 | 6-9 | 7-8 | 8-7 | 10-5 | 9-6 | 7-8 | 8-7 | 8-7 | 10-5 | 9-6 | 8-7 | 8-7 |
| WK 2 | 8-7 | 7-8 | 7-8 | 7-8 | 7-8 | 5-10 | 8-7 | 8-7 | 6-9 | 9-6 | 7-8 | 8-7 |
| WK 3 | 8-8 | 8-8 | 8-8 | 8-8 | 10-6 | 5-11 | 10-6 | 9-7 | 8-8 | 7-9 | 7-9 | 7-9 |
| WK 4 | 9-6 | 7-8 | 9-6 | 10-5 | 12-3 | 9-6 | 11-4 | 12-3 | 8-7 | 9-6 | 11-4 | 0-15 |
| WK 5 | 10-5 | 11-4 | 10-5 | 11-4 | 9-6 | 9-6 | 7-8 | 10-5 | 10-5 | 11-4 | 9-6 | 9-6 |
| WK 6 | 10-5 | 7-8 | 10-5 | 9-6 | 11-4 | 10-5 | 11-4 | 10-5 | 10-5 | 11-4 | 11-4 | 10-5 |
| WK 7 | 9-5 | 8-6 | 11-3 | 10-4 | 10-4 | 12-2 | 10-4 | 11-3 | 12-2 | 11-3 | 10-4 | 11-3 |
| WK 8 | 12-2 | 11-3 | 11-3 | 12-2 | 12-2 | 12-2 | 12-2 | 14-0 | 11-3 | 9-5 | 12-2 | 11-3 |
| TOTAL | 72-47 | 66-53 | 74-45 | 77-42 | 80-39 | 69-50 | 77-42 | 82-37 | 75-44 | 76-43 | 75-44 | 64-55 |
Current Season Standings
| Place | Name | Record |
| --- | --- | --- |
| 1 | Tina | 82-37 |
| 2 | Mike P. | 80-39 |
| 3 | Ryan | 77-42 |
| 3 | Tommy | 77-42 |
| 4 | Zac | 76-43 |
| 5 | Noah | 75-44 |
| 5 | Zach | 75-44 |
| 6 | Eric | 74-45 |
| 7 | Joe | 72-47 |
| 8 | Terry | 69-50 |
| 9 | Brian | 66-53 |
| 10 | Chase | 64-55 |