SCU's 2018 NFL Pick'em: Week 13
Each week a panel of SCU contributors will pick their winners and losers. Let's see who does the best by the end of the season!
The SCU crew had a great week… with the exception of one specific pick in Week 12 (cough, Denver) our contributors were (mostly) thrilled with their results.
That doesn't mean there still weren't anomalies. One guy unsuccessfully picked the Raiders to beat the Ravens (they didn't) and only one gal thought felt that the Bills could beat the Jaguars (and they did… somehow).
This week there's another menagerie of somewhat educated and otherwise going with the gut picks.
Without further ado are SCU's Week 13 picks!
Week 13 Picks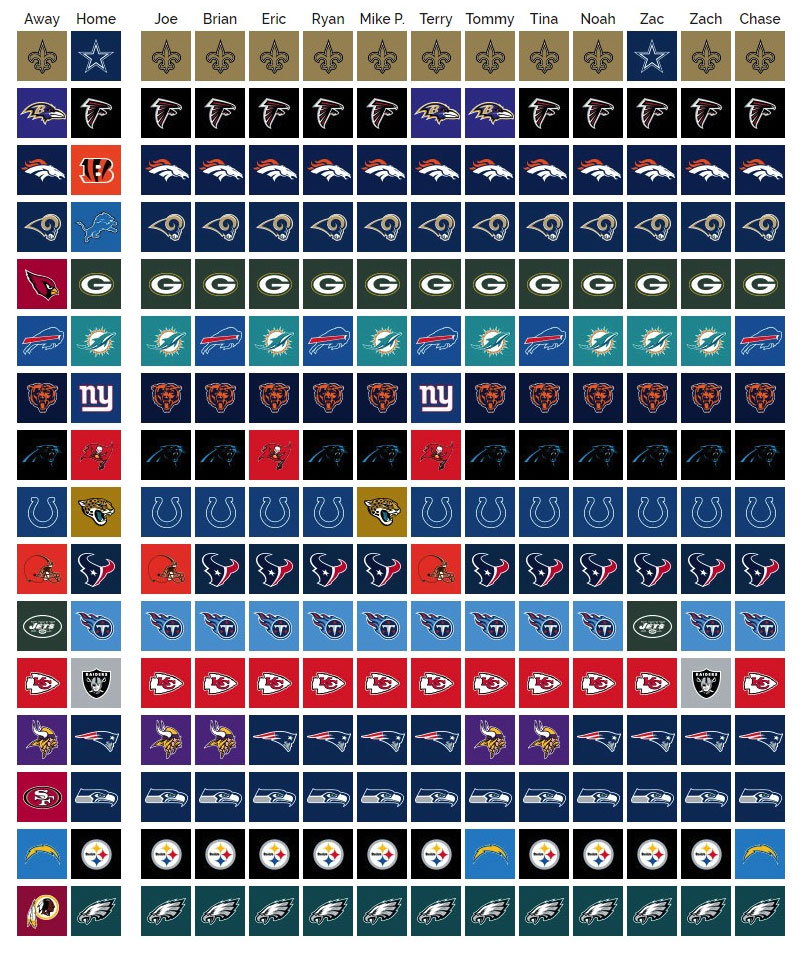 Last Week's Picks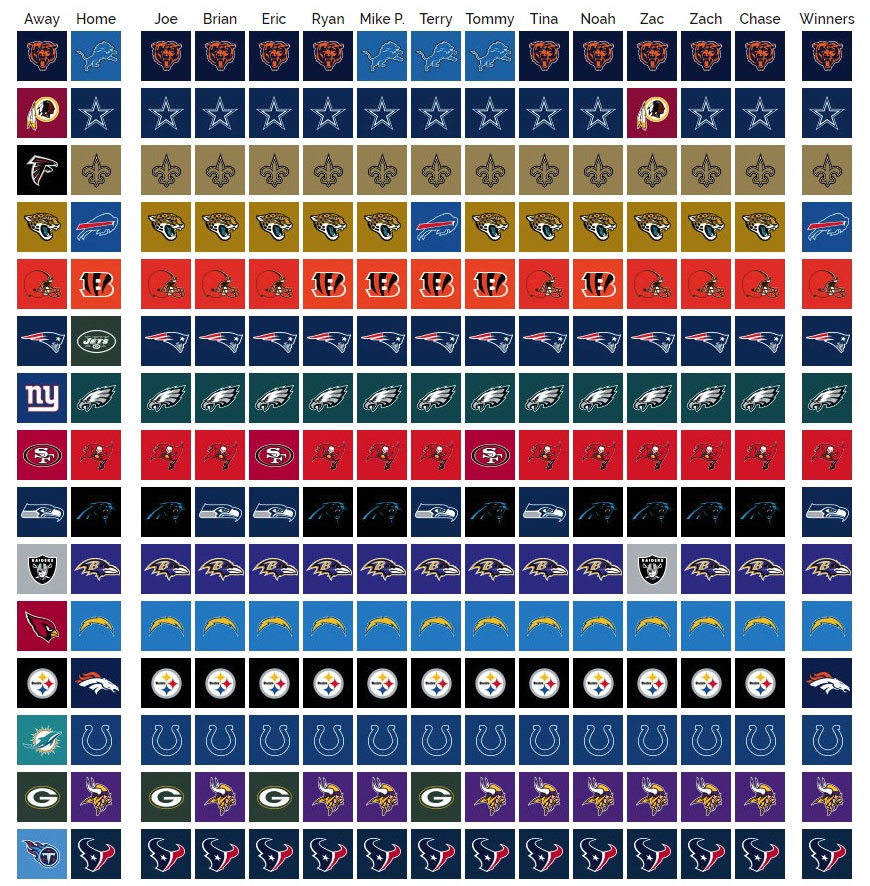 Overall Weekly Record
| Name | Record |
| --- | --- |
| Brian | 13-2 |
| Tina | 13-2 |
| Chase | 12-3 |
| Zach | 12-3 |
| Eric | 11-4 |
| Joe | 11-4 |
| Noah | 11-4 |
| Ryan | 11-4 |
| Terry | 11-4 |
| Mike P. | 10-5 |
| Zac | 10-5 |
| Tommy | 9-6 |
Overall Season Records
| | Joe | Brian | Eric | Ryan | Mike P. | Terry | Tommy | Tina | Noah | Zac | Zach | Chase |
| --- | --- | --- | --- | --- | --- | --- | --- | --- | --- | --- | --- | --- |
| WK 1 | 6-9 | 7-8 | 8-7 | 10-5 | 9-6 | 7-8 | 8-7 | 8-7 | 10-5 | 9-6 | 8-7 | 8-7 |
| WK 2 | 8-7 | 7-8 | 7-8 | 7-8 | 7-8 | 5-10 | 8-7 | 8-7 | 6-9 | 9-6 | 7-8 | 8-7 |
| WK 3 | 8-8 | 8-8 | 8-8 | 8-8 | 10-6 | 5-11 | 10-6 | 9-7 | 8-8 | 7-9 | 7-9 | 7-9 |
| WK 4 | 9-6 | 7-8 | 9-6 | 10-5 | 12-3 | 9-6 | 11-4 | 12-3 | 8-7 | 9-6 | 11-4 | 0-15 |
| WK 5 | 10-5 | 11-4 | 10-5 | 11-4 | 9-6 | 9-6 | 7-8 | 10-5 | 10-5 | 11-4 | 9-6 | 9-6 |
| WK 6 | 10-5 | 7-8 | 10-5 | 9-6 | 11-4 | 10-5 | 11-4 | 10-5 | 10-5 | 11-4 | 11-4 | 10-5 |
| WK 7 | 9-5 | 8-6 | 11-3 | 10-4 | 10-4 | 12-2 | 10-4 | 11-3 | 12-2 | 11-3 | 10-4 | 11-3 |
| WK 8 | 12-2 | 11-3 | 11-3 | 12-2 | 12-2 | 12-2 | 12-2 | 14-0 | 11-3 | 9-5 | 12-2 | 11-3 |
| WK 9 | 11-2 | 10-3 | 9-4 | 8-5 | 11-2 | 8-5 | 8-5 | 9-4 | 8-5 | 9-4 | 9-4 | 9-4 |
| WK 10 | 7-7 | 9-5 | 8-6 | 9-5 | 8-6 | 10-4 | 9-5 | 8-6 | 9-5 | 9-5 | 7-7 | 9-5 |
| WK 11 | 6-7 | 6-7 | 8-5 | 7-6 | 7-6 | 6-7 | 9-4 | 6-7 | 5-8 | 7-6 | 5-8 | 8-5 |
| WK 12 | 11-4 | 13-2 | 11-4 | 11-4 | 10-5 | 11-4 | 9-6 | 13-2 | 11-4 | 10-5 | 12-3 | 12-3 |
| TOTAL | 107-67 | 104-70 | 110-64 | 112-62 | 116-58 | 104-70 | 112-62 | 118-56 | 108-66 | 111-63 | 108-66 | 102-72 |
Current Season Standings
| Place | Name | Record |
| --- | --- | --- |
| 1 | Tina | 118-56 |
| 2 | Mike P. | 116-58 |
| 3 | Ryan | 112-62 |
| 3 | Tommy | 112-62 |
| 4 | Zac | 111-63 |
| 5 | Eric | 110-64 |
| 6 | Noah | 108-66 |
| 6 | Zach | 108-66 |
| 7 | Joe | 107-67 |
| 8 | Brian | 104-70 |
| 8 | Terry | 104-70 |
| 9 | Chase | 102-72 |
---
Suggested articles from our sponsors