A visual representation of the Steelers offensive woes last season
My previous column entitled Steelers fans should STOP asking to sign another quarterback stirred up some controversy from those who feel the team's current backup situation, behind Ben Roethlisberger, is less than adequate.
However, I wonder what the 2019 season may have held in some alternate dimension where either Ben Roethlisberger remained healthy, Mason Rudolph never got concussed, or Devlin Hodges had the full compliment of offensive starters for more than one game (if he got that!)
Maybe to the surprise of others (not myself) there were several games where two or more offensive starters did not play. Actually, this was the case quite frequently in 2019 – and this doesn't factor in Ben Roethlisberger.
Below is my breakdown.
To explain some of what you're seeing, the colored headers are as follows: red on an opponent's name indicates that the Steelers were missing at least two starters for that game.
Each of the percentages show the share of how many snaps a player played in a given game (by percentages).
Counting "Starters"
My representation of "starters" includes the traditional five offensive lineman, RB1, WR1, and TE1 – in this case, James Conner, JuJu Smith-Schuster and Vance McDonald.
Some other interesting notes are:
While I counted "starts" or "participation" of the starters above, Conner, JuJu, McDonald and others were not always available for each game.
The orange highlight for the Thursday Night Football Week 11 game against Cleveland is due to losing Conner, JuJu, and Diontae Johnson over the course of the contest.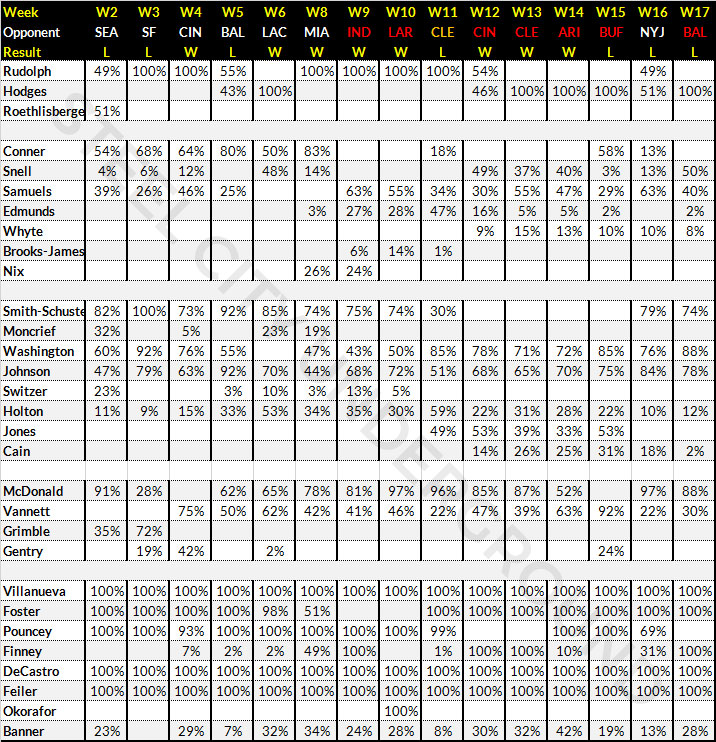 The turning point in the season is definitely Week 9, which followed the Steelers release of Moncrief in order to retain their compensatory draft pick consideration.
At this point Moncrief wasn't heavily involved in the offense, and had actually led to the ball being turned over on more than one occasion. However, he was still a veteran player on the field.
Some more notes on the receivers:
The wide receiver corps would lose Smith-Schuster during the first Browns game in Week 11 until Week 16 against the Jets.
Johnson, who left the Browns game, would end up being okay.
Tevin Jones, called up from the practice squad, would lose his spot near the end of the season.
Ryan Switzer was placed on IR in Week 11.
Quarterback Carousel
The guys throwing to the receivers were also a rollercoaster ride. In several games more than one quarterback played for Pittsburgh:
Week 2 (Roethlisberger/Rudolph)
Week 5 (Rudolph/Hodges)
Week 12 (Rudolph/Hodges)
Week 16 (Hodges/Rudolph)
(That's a quarter of the entire Steelers season.)
The running back situation became dire as well:
There were two games in which neither Conner or his backup, Benny Snell, were available to play.
Conner left the Week 11 Browns game early: Snell was inactive.
While not marked in red, Conner and Maurkice Pouncey both left the Week 16 Jets game early – a definite blow to the Steelers running game and pass blocking ability.
Jaylen Samuels was also inactive for two games in Weeks 6 and 8.
Kerrith Whyte joined the team in Week 12.
Tony Brooks-James joined the team in Week 9 and was let go to make room for Whyte in Week 12.
Fullback Roosevelt Nix missed all but two games the entire season.
Trey Edmunds was initially a practice squad player who was called up to the main roster due to all of the injuries.
The tight end situation was also a mess…
Vance McDonald actually played more games than any non-offensive lineman all season: that includes receivers, backs and
Despite playing in most games and logging a lot of snaps, McDonald was also banged up in games and missed time.
Xavier Grimble was quickly released when the Steelers traded with Seattle for Nick Vannett, who joined the team in Week 4.
Vannett would immediately start with McDonald out that week.
Rookie Zach Gentry was sparsely used.
Finally, the offensive line wasn't immune to change either:
The Steelers offensive line starters were together for only 11 of the 16 total regular season games.
Chukwuma Okorafor started, and played a full game at right tackle against the Rams in Week 10. Matt Feiler was moved from right tackle to left guard, in place of Ramon Foster, for this game.
J. Finney started four times in 2019, three of those at center for Maurkice Pouncey.
Pouncey would leave for a single snap during the infamous TNF Browns game penalty, where he was left standing alone while the rest of the line moved, anticipating a snap which never happened.
Conclusion
I hope this chart helped illustrate many of the issues with the Steelers offense last season. My main goal in showing this visual representation is to illustrate to fans that the team's issues were not exclusive to the quarterback position.
Considering as many as 40 offensive players were active on game day (31 of them played – others such as Paxton Lynch and Patrick Morris, did not) we should commend Mike Tomlin on his coaching job to keep the team relevant, especially after losing his franchise quarterback and playing with a number of new members during the home stretch toward the end of the season.