Debunking the stupid Steelers "Mike Tomlin Playoff History" social media post
I get it Steelers Nation, losing sucks. As fans we invest 17 weeks of our life from September, and perhaps a bit more before that, into looking forward to our team making a march toward a championship.
Ultimately only one team will be named Super Bowl Champions when its done, and unfortunately, that team won't be the Pittsburgh Steelers this season.
Following the loss to the Cleveland Browns on Sunday night I started to see this unchecked screen capture floating around the Internet, documenting Mike Tomlin's "success" (or lack thereof) in the postseason.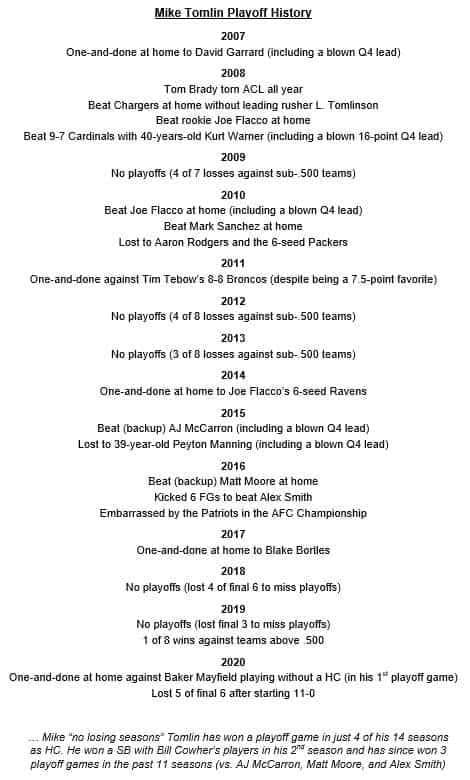 For anyone sharing this yourselves, you should be ashamed to have not looked deeper into some facts before doing so, as its riddled with false information and further downplaying other bullet points as to make the Steelers head coach look completely inept.
Here's each of those items broken out with details to separate the fact from fiction.
2007 One-and-done at home to David Garrard (including a blown Q4 lead)
One of the recurring themes in this entire post is to downplay the talent level of opponents, particularly opposing quarterbacks.
Such is the case here with David Garrard, formerly of the Jacksonville Jaguars, who was a sixth-year quarterback who had started 22 games over the previous two seasons and got named to the Pro Bowl the following one.
Garrard didn't have a great game here, finishing 9-of-21 for 140 yards, 1 touchdown and 2 picks.
However, Ben Roethlisberger was equally bad, throwing 3 interceptions and getting sacked six times.
Entering the fourth quarter, the Steelers were actually down 28-10 and hadn't had a lead the entire game until a Najeh Daveport touchdown run put them up 29-28 with 6:21 to go. They would lose by a final score of 31-29 off of a Josh Scobee 25-yard field goal.
It should be noted that this was Tomlin's rookie season and while many claim he inherited "Bill Cowher's players", the Hall of Fame coach followed up his Super Bowl win from the sixth seed with an 8-8 season, missing the playoffs in 2006. (More on "Cowher's players" in another upcoming article.)
2008 Misc
Tom Brady tore his ACL and apparently that means the Steelers were able to easily walk into the playoffs and win the Super Bowl, right?
The Patriots still went 11-5 with Matt Cassell as their quarterback, but missed the playoffs. The Steelers would face the Chargers, "without LaDainian Tomlinson", but San Diego would never hold a lead past the 0:40 mark of the second quarter – and would only attempt 11 rushes in the entire game, all by RB Darren Sproles.
The Steelers would never squander any lead against the Ravens in the AFC Championship game, where a rookie Joe Flacco led his team to that title game, but threw three interceptions, including a pick-six to Troy Polamalu.
The Steelers would face 37 (not 40) year-old Hall of Fame QB Kurt Warner and ended up on the right side of history in what is widely considered one of the greatest Super Bowls of all time. Warner had a 112.3 QB rating and actually outplayed Ben Roethlisberger, aside from his famous strike to Santonio Holmes.
2009 No playoffs (4 of 7 losses against sub-500 teams)
Another recurring theme in this "playoff history" is to discredit Tomlin by painting an image that he struggles against subpar competition. In doing so, the author took extreme care to count both the current record of teams – such as a 10-6 division-winning Bengals team who were 1-1 when they played the Steelers in Week 3.
The Steelers went 9-7 and missed the playoffs. Two of their losses were in overtime, with two to aforementioned Bengals. Two more losses came in overtime (the Chiefs were 2-7 and finished 4-12) and the other came at the hands of a 5-5 Ravens team that ended the season 9-7 and held the tiebreaker that kept the Steelers out of the playoffs.
Two other losses came from the 5-11 Raiders and 1-11 Browns, who won four-straight games to finish their season 5-11.
2010 Misc
The ability of the author to downplay the Ravens of this era, complete with Ray Lewis, Ed Reed, and Terrell Suggs, is truly imaginative. Baltimore held a 21-7 advantage over the Steelers heading into halftime, with the game going back and forth with both tied at 21-all entering the fourth quarter.
The "blown Q4 lead" alludes to Shaun Suisham putting the Steelers up by three with twelve minutes remaining in the game. The Steelers would win 31-24.
Beating Mark Sanchez was underscored by the fact the same Jets team eliminated the New England Patriots one week earlier. The Steelers never trailed in this game, the coldest in Heinz Field history.
I think we all know what happened against Aaron Rodgers in the Super Bowl, but calling the Packers a sixth-seed is disingenuous, as both the Steelers (2005) and the Giants (2007, 5th seed) each won the Lombardi Trophy in similar fashion.
In other words, it wasn't unheard of.
Note: The Steelers still went 12-4, won their division, and made the playoffs missing Ben Roethlisberger for four games to start the season.
2011 One-and-done to Tim Tebow's 8-8 Broncos
This one doesn't sit well with Steelers fans, as they had to travel to Denver as the Broncos won their division with an 8-8 record while three AFC North teams made the postseason, with the Steelers and Ravens each finishing 12-4.
Due to playing in the Mile High climate, the Steelers were without safety Ryan Clark (sickle cell disease) which was exploited by a Tim Tebow pass to Demaryius Thomas in overtime, with that touchdown ending the game under the new sudden death rules that were executed for the first time in league history.
Note: the Steelers were also without leading rusher, RB Rashard Mendenhall, who suffered a torn ACL in the final regular season game against the Browns.
2012 and 2013
Is it equitable to say the Steelers were failures for losing to teams with a sub-500 record when they themselves were only a .500 team?
Probably not, but in any case, the Steelers absolutely folded in part due to injuries. Among those who finished on IR in 2012 were rookie OT Mike Adams, OT Willie Colon, OT Marcus Gilbert (seeing a pattern here?) as well as CB Ike Taylor and WR Mike Wallace.
Ben Roethlisberger was also absent for three games, with the Steelers losing two of those three: one with Byron Leftwich agaisnt the Ravens (13-10) and one with Charlie Batch at quarterback on the road against the Browns (20-14).
The 2013 season opened against the Titans losing five players to injuries including C Maurkice Pouncey, ILB Larry Foote for the entire season. According to then Pittsburgh Post-Gazette reporter Ed Bouchette:
The Steelers now have a starting center in tackle-guard Kelvin Beachum, who never played the position in his life before this spring. Their new starting inside linebacker, Kion Wilson, was released by two teams and was not on an NFL roster in 2012, his third season.
The Steelers would start 0-4 but eventually turn their season around to finish 8-8. (The three sub-500 losses carries water here, however, the Titans loss was in Week 1, the Vikings in Week 4 and the Raiders in Week 8.)
2014 One-and-done to Joe Flacco's 6-seed Ravens
If the Steelers are downplayed by beating a Chargers team without Tomlinson, then what are the Ravens playing a team without Le'Veon Bell?
Replaced on a short week's notice by free agent Ben Tate and undrafted practice squad running back Josh Harris, the Steelers backfield was incapable of moving the ball without Bell. So much so that Tate was wholly responsible for two turnovers in the game.
Note: this would be John Harbaugh's only post-Super Bowl win (since 2012) until the Ravens victory last weekend. (I said winning in the NFL is tough, right?)
2015 Misc
The Steelers beat A.J. McCarron, but they had also lost Ben Roethlisberger in this game and were once again playing with Bell or his backup DeAngelo Williams. They were replaced by the duo of Jordan Todman and Fitzgerald Toussaint. A famous Vontaze Burfict and Pacman Jones meltdown resulted in penalties that gave the Steelers a victory off of a Chris Boswell 35-yard field goal with 14 seconds remaining.
Fans will also recall that Burfict's hit placed Antonio Brown out of the next game against Denver with a concussion.
They would be down both Brown and Bell in another "blown Q4 lead" that is overly exaggerated. The Steelers never led by more than four points at any point and entered the fourth quarter up by one, 13-12. They would fall behind 20-13 and eventually lose after Toussaint fumbled on the Denver 35, giving the Broncos a short field to get the go-ahead score.
It should also be noted that the team made the postseason despite Roethlisberger having missed four games. The Steelers went 2-2 in those games with Michael Vick and Landry Jones.
2016 Misc
Okay, there's no mincing words here. The Steelers absolutely blew the doors off of the Dolphins in the Wild Card game. Matt Moore or not, Pittsburgh got up 14-0 early and never looked back, with a 30-12 win, behind Le'Veon Bell's first playoff appearance ever after being drafted in 2013. (And with the Killer B's at full strength.)
The next field goal fest against the Chiefs saw both teams play in the latest kickoff ever at that time for a Divisional game, as snow storms threatened the Kansas City area. The Chiefs finished 12-4 and received a first-round bye… with Alex Smith.
The Steelers would get smoked in the AFC Championship game against the Patriots, as Le'Veon Bell exited the first quarter with only five carries, never to return. (Note: I'm not making excuses, but just playing by the "not having LaDainian Tomlinson" rules of the author!)
I should also note that the moment was deemed "too big" for Big Ben's primary receivers outside of AB, including Cobi Hamilton, Sammie Coates, Eli Rogers, and Jesse James.
2017 One-and-done at home to Blake Bortles
This one is still unforgiveable and truly shows what the loss of Ryan Shazier did for the defense, as the Steelers turned the ball over on an interception and a failed fourth-down conversion to fall behind 21-0 early in the second quarter.
A 50-yard Telvin Smith fumble recovery for a touchdown gave the Jaguars a 28-7 advantage with 2:20 remaining, but the Steelers would never recover, and never lead, losing 45-42 (with a JuJu Smith-Schuster touchdown in the final seconds of the game making the score look closer than it was).
Blake Bortles would complete 14-of-26 passes as the Jaguars mainly chewed up clock behind Leonard Fournette's 109 rushing yards and three touchdowns – a rushing performance that could not be stopped by Shazier fill-ins Sean Spence and L.J. Fort.
2018 No playoffs (lost 4 of final 6 to miss playoffs)
Yes, they did… including three-point losses to the Chargers and Saints, both riddled with missed calls by the officials.
Anyone who remembers the false start touchdown against the Chargers (where the Steelers defense froze entirely anticipating a flag) or Joe Haden's "pass interference" call against Alvin Kamara can at least sympathize with what I'm saying.
Amazingly, the Steelers beat Tom Brady and the Patriots at home for one of those wins.
Then Antonio Brown quit the team… and Le'Veon Bell, who was franchise tagged to start the year, never reported.
2019 No playoffs and 1 of 8 wins against team above .500
The Steelers offense played Mason Rudolph and undrafted rookie Duck Hodges in lieu of Ben Roethlisberger for all but a game and a half at the start of the season. They would field 31 total different players on offense to cover for various injuries and suspensions, including James Conner, JuJu Smith-Schuster, Diontae Johnson and Maurkice Pouncey.
It's a miracle that the Steelers even finished 8-8 and were in postseason contention. Their three losses at the end of the year saw Duck Hodges play 10 of 14 quarters, completing 53.75% of his passes for 1 touchdown and 6 picks – a 39.6% QB rating compared with a 103.2 rating in his other five appearances.
Conclusion
I won't go into the 2020 game just played – enough has been said about that (particularly on the SCU podcast). The game is a disappointment, but in the end, coaching isn't the cause of five turnovers either.
If anything, Mike Tomlin has coached his team into contention more years than any other team in the NFL, save for the Patriots – and the Steelers own more division titles than even the Patriots going back to Bill Cowher, who I may add, lost four AFC Championship games and a Super Bowl, before finally winning his lone Lombardi a year before retirement.
That's why the Steelers front office is patient. They realize that winning comes at a premium and that even the best coaches struggle for playoff wins. (I will write more on that topic in the coming day, so stay tuned!)I get it Steelers Nation, losing sucks. As fans we invest 17 weeks of our life from September, and perhaps a bit more before that, into looking forward to our team making a march toward a championship.