3Rivers' 3-round Steelers 2023 mock draft: trading back to get more
It's time! The 2023 NFL Draft is about ready to place teams on the clock in Kansas City. I opted to utilize two very respectable trade options in my Steelers mock draft that, if actually occurred, would give Pittsburgh even more draft opportunities than they'd have upon entering the event.
Pittsburgh (as of April 26) has the following picks in the 2023 NFL Draft:
Round 1, Pick 17
Round 2, Pick 32 (From CHI)
Round 2, Pick 49
Round 3, Pick 80
Round 4, Pick 120
Round 7, Pick 241 (From MIN via DEN)
Round 7, Pick 251 (From LAR)
Allow me you to show you how things fell through three rounds by making two trade decisions:
In the first round, the Steelers have pick No. 17. In my mock, the Detroit Lions wanted that spot and gave Pittsburgh pick No. 18. It's one spot. Detroit also gave up pick No. 55 with pick No. 155 (fifth round) and pick No. 194 (sixth round).
As a result, the best player available at a position I believe they'll practically need to address in order to get Top 10 talent before the big run – cornerback – was Deonte Banks of Maryland.
I realize that there are a ton of people desiring Joey Porter Jr. at this spot. Other teams that need corner help know this, too. I ran this potential simulation ten times, with the same scenario (trade with Detroit) and got a 60/40 split where Banks was the guy or Porter Jr. fell into the Steelers' laps.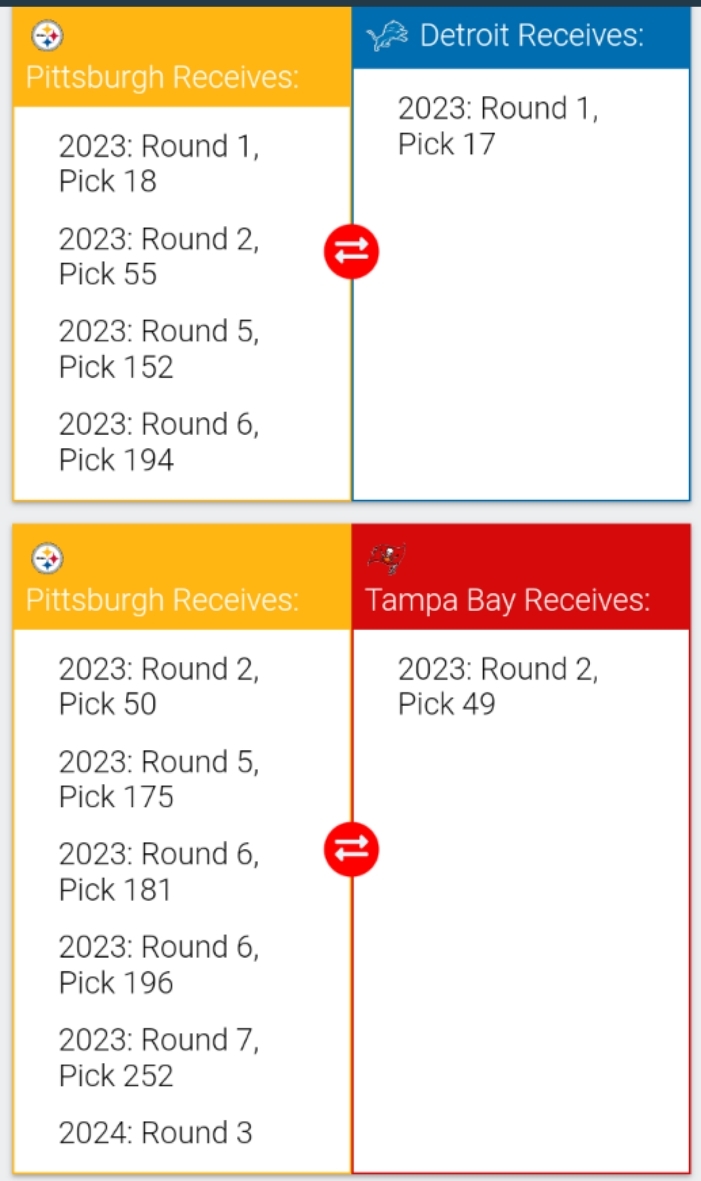 The Steelers enter the second round ready for pick No. 32 and, having addressed cornerback, have defensive lineman Mazi Smith out of Michigan sitting at the top of the board (again, position of need). They hold pat and grab a guy that could make an immediate impact.
As a result, the Tampa Bay Buccaneers make a call to move up for pick No. 49, offering pick No. 50 in return (again, one spot) plus pick No. 175, pick No. 181, pick No. 196, pick No. 252, and a third-round pick in the 2024 NFL Draft.
The Steelers, who would have been taking a long break in the fifth and sixth round, waiting for the seventh round had they not made these trades, now receive opportunities to make additional selections and/or trades.
With pick No. 50, interior linebacker Jack Campbell from the University of Iowa is staring at them. They grab the T.J. Watt-like disruptive linebacker and, boom, three defensive positions of need are filled.
Following those two trade offers, everything else suggested was not favorable to the Steelers this year, or were late-round picks in 2024. I opted to reject all other trades.
This is how the No. 55 and No. 80 selections went down to finalize their first three rounds: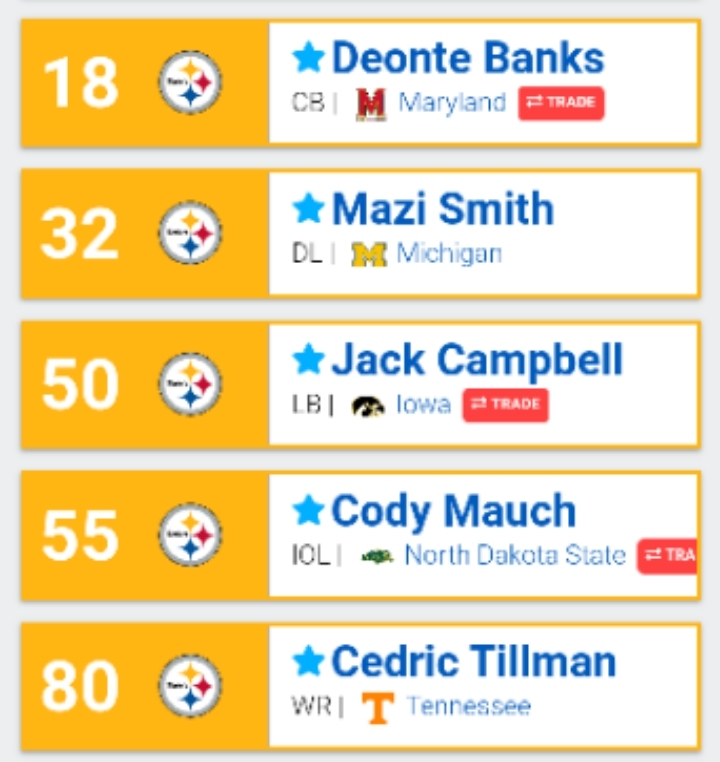 Cody Mauch would need to compete to win a long-term spot, but I'm not of the opinion that every spot along the Steelers' offensive line is already set in concrete. Every player will be put to the test along that line come training camp.
Cedric Tillman would be a nice addition to a wide receivers group that is shaping up with veteran free agent additions, but the Steelers love banking talent for the future. Tillman fits the bill.
This three-round mock may not be acceptable to fans. I like to remind those who count on mock drafts that the predictions are wildly inaccurate; rarely do things occur as predicted in any NFL draft.
I didn't complete the rest of my mock based on what Pittsburgh still had available. The later in the draft, the more uncertain the selections become due to who already came off the board.
I believe that, should these trades actually occur, the Steelers would still look at depth at cornerback and safety with the extra picks they acquired. I also believe that they would make offers to trade at least two of those picks to other teams for future draft capital.
---
Suggested articles from our sponsors