2019 SCU Steelers Awards: Two-man race for Rookie of the Year
Steel City Underground presents the 4th annual SCU Awards. Our panel of contributors voted on various awards for the Pittsburgh Steelers based on their performances during the 2019-20 NFL season. Comment and let us know if you agree or disagree with our winners and nominees. 
The Pittsburgh Steelers selected nine total players in the 2019 NFL Draft, with their first and second picks going to Devin Bush (No. 10 overall) and Diontae Johnson (No. 66 overall) respectively. Although Justin Layne, Benny Snell, Zach Gentry, Sutton Smith, Isaiah Buggs, Ulysees Gilbert, and Derwin Gray were selected, both the Steel City Underground panel and fans on the SCU Facebook page made this Rookie of the Year award a two-man race. In the end, the vote was very close between Bush and Johnson.
Bush made a big statement in his rookie season
The rookie linebacker made an early impact during the 2019-20 NFL season for the Steelers and that helped earn him to the 2019 Pro Football Writers of America All-Rookie Team and the Joe Greene Great Performance Award, presented by the team to their top rookie. In his first season, Bush led the team and set a Steelers' history record (most by a rookie) with 109 tackles, including 72 solo stops. He was the only rookie in franchise history to record more than 100 tackles in a season and led all NFL rookies in those two categories. Bush also tied for the team-lead (ranked a tie for second in the NFL) with four fumble recoveries. He also grabbed two interceptions and nine tackles for a loss.
With the way the Steelers defense played last season, it might appear that Bush would be the runaway favorite for the SCU Rookie of the Year Award… but hold up one second.
Johnson gave a big spark to a struggling offense
Despite most of the post-season recognition straying far from the Steelers offense that did everything it could to field eleven healthy personnel from week to week, Johnson – the former Toledo Rocket – was named second-team AP All-Pro (receiving) and All-AFC (as a punt returner). The young receiver finished his rookie season with 59 receptions for 680 yards (11.5 y/r average) and five touchdowns. He averaged 42.5 receiving yards per game. In another year, those numbers may not have been as impressive but if you were a Steelers fan enduring the adversity with the team week-in and week-out, it was hard not to have your eyes opened with Johnson stepped up to become the top receiving target, especially when he picked up extra yardage after the catch.
His special teams' contributions included an 85-yard punt return for a touchdown that got everyone fired up.
How the SCU Panel voted
Zac Celedonia: You know this may be somewhat of a surprise but my vote is gonna be for Diontae Johnson just slightly over Devin Bush. Bush had an awesome season and I'm excited about his future. I think he was a key piece to one of the NFL's best defenses, and we NEEDED HIM in order to secure (at least) a handful of the 8 wins this year. But Diontae Johnson was arguably THE BEST player on the Steelers offense all season long and certainly, definitely, was a key piece to some of the team wins as well. Arizona immediately comes to mind with his 2 scores. The kid led the team in virtually every single receiving category and was voted 2nd team all-pro punt returner. And I feel like Bush is the popular vote so I'm gonna go with Diontae to be different and because he deserves it.
Derek Overly: I'll start with my secondary vote, which is for Devin Bush. Bush will ultimately be the best pick from this class, but he hit that proverbial rookie wall and the turnovers diminished towards the end of the season, as well as struggling in pass coverage (which is to be expected of a rookie linebacker). My top pick for rookie of the year in 2019 is Diontae Johnson. DJ came in being compared to Antonio Brown, and he showed why. He was top 10 in the NFL in yards of separation per route run, as well as missed tackles forced while flashing big-play ability in the return game. He should quickly rise to become one of Ben's favorite targets in 2020 and was a steal in the third round.
Noah Freeman: (Top Pick: Devin Bush). After the injury to Ryan Shazier, the Steelers had a major hole in the defense with the middle linebackers. Although Bush may not have had eye-popping statistics this season, he and Minkah Fitzpatrick were two of the main reasons as to why this defense was arguably the best defense in the league this season. A major hole that was filled by a rookie, who played well in his first year. (Secondary Pick: Diontae Johnson). Imagine how the receiver room may have looked at points this season when many players were injured if Diontae didn't have the impact he made. In a position that was tough to find stability in the person throwing you the ball, Diontae showed a lot of promise and was the reason the Steelers were able to win multiple games this season. At times, he was the only source as a receiver the quarterback had.
Terry Fletcher: Diontae Johnson gets my vote for ROTY. His breakout game for me was his immediate punt return for a TD in Arizona and his speed was mindful of a Martavis Bryant that could catch. But Diontae Johnson was, in my opinion, the best offensive player on the team once Ben Roethlisberger, JuJu Smith-Schuster, and James Conner were out for injury most of or all of the season. Johnson led the team in almost every receiving category and was voted 2nd team all-pro punt returner. When targeted, Diontae had virtually no drop balls and as our 3rd round 2019 pick, he was well worth it. I can't wait to see what he does with Big Ben back. My back up pick would be RB Bennie Snell. When Tomlin was mic'd up, we could hear him say "That's Bennie Snell football! I was sitting in my hotel room and knew I wanted to draft your ass!" He was the old throwback type RB. Pounding his way through defenders with that burst of speed. His 426 yards and 2 TD as a back up to the now often injured James Connor could see him finding the field in 2020 as a tandem RB to preserve injuries.
Mike Sofis: I think if Diontae Johnson isn't on this team last year, then the Steelers win 5 games. He was by far their most consistent offensive weapon all year. Although Devin Bush had a good year overall, his stats were not particularly impressive (1 sack, one FF) and his pass coverage was only okay which suggests his unimpressive stat line can't be ignored because he was killing it in pass coverage instead. Given his stats and pass coverage, his presence gave them maybe an extra win in part because he displayed great open-field tackling last year to shore up the run defense. In general, I think that the Fitzpatrick signing had a much bigger role in the defensive turnaround when you look at when this defense turned things around last year.
Joe Kuzma: It's a two-horse race as Mike (Sofis) said. Bush was the shiny new toy early on and really stood out when the spotlight was on him. That faded as the rest of the defense rose to prominence with Bush and then Fitzpatrick filling in the missing links. Johnson, on the other hand, deserves this award based on not only his ability to be consistently playing with three different quarterbacks this season but also for his special teams play. According to PFF he also led all receivers in the league – yes, all, not just the rookies, in broken tackles. Both great first seasons, but Johnson's has left the lasting impression to be my choice as the team's rookie of the year.
Christina Rivers: While Bush provided the boost the Steelers needed at middle linebacker, I have to say that the emergence of Johnson as a true receiving threat during a very difficult season due to quarterback rotation, injuries, and personnel changes made a bigger statement for this 2019 Steelers squad. His ability to give a boost to special teams was much-needed, as well. If Bush can give an even better sophomore performance (2020-21 season), he'll be given even more adoration. I just can't help but see that Johnson was more pivotal in getting this team as far as they did last season.
Ryan Lippert: My ROTY is Devin Bush. To put things simply, he is the athletic middle linebacker that this defense has needed since the Shazier tragedy happened. The guy can come downhill and make tackles, run all over the field, and can cover. He has done everything the Steelers have asked from him and has shown why we traded up for him in the draft. My secondary pick is Diontae Johnson. With JuJu battling injuries for most of the season, Johnson became our most reliable option in the passing game this season. He has the speed to be dangerous in the deep passing game but also has the ability to become a playmaker on screens and short passes to turn them into long gains. His impact on special teams also cannot be overlooked as he has given us our first truly electric returner since the prime AB days. I'd add a third pick (honorable mention) for Benny Snell, Jr., just because he's the man and RB of the future, lol.
Ben Beberman: I would have to cast my vote for ROTY for Johnson. He was arguably the most consistent performer on offense and showed his tremendous potential. He made a lot of clutch plays throughout the year and was a highlight of our abysmal offense. His punt return against the Cardinals showed his return skills and he displayed his route running and acrobatic abilities to catch the ball. Overall he gave us a taste of a bring future in the Black and Gold.
Final vote tally: Johnson (7), Bush (2), Snell (honorable mention)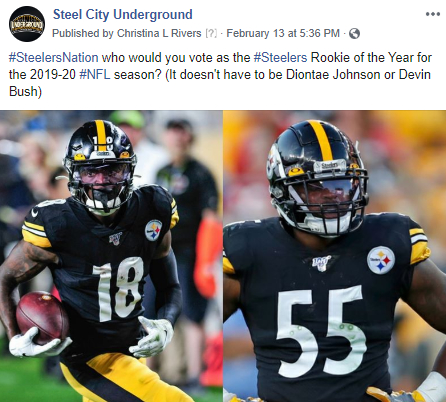 How Steelers fans voted on Facebook
Quinton Mims – "Bush had big shoes to fill & played solid early & kinda got quiet mid-late season… Dionte was an unexpected surprise & was very good especially with the WR injuries we had, so for that, he would get my vote. Both will be standouts in the future!!!"
Jesse Heineman  – "Devin Bush. Kid understands the field man. But both deserve credit for sure. Looking forward to what they do this year."
It was no surprise that fans were divided on whether Bush or Johnson should be named the Rookie of the Year by Steel City Underground. In the end, it was Bush who received more accolades between those who left a comment.
As the votes went, it just further verified that both rookies earned top marks and were deserving of the Rookie of the Year Award.